NASCAR News The Latest Breaking Stories From NASCAR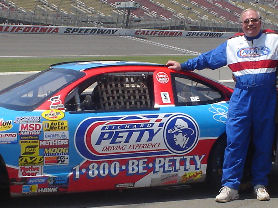 Welcome To the Everything About RVing NASCAR News Page.

This page is constantly updating with the latest NASCAR information.  So if you want to stay up to date come back and visit this page often.  This is just another service we are happy to provide to our RVing Friends.

RVing Al Ready To Drive At California Speedway

Don't Forget To Visit Our New NASCAR Collectibles Store

Here Are Some Free Racing Videos For Your Enjoyment

Below is a video we recently shot of the NASCAR Hauler Parade down Las Vegas Boulevard.

For more great reading about RVing, Camping, Outdoor Sports, and traveling through the US and Canada, visit The Everything About RVing Book Store

Look below to see what is going on in NASCAR Now!

If you have any questions or suggestions please

Contact Us and help us make Everything-About-RVing.com better. 

Thanks for stopping by and

Happy RVing.

Return To The NASCAR Store Page From The NASCAR News Page