Camping In Washington State, What To See and Do While You're There
"Camping In Washington, The Evergreen State"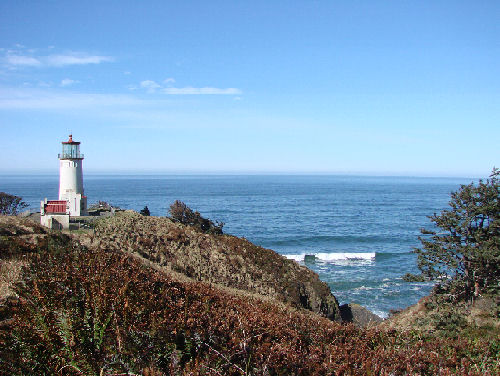 North Head Lighthouse
What to see and do when RVing and Camping in Washington State  here are the things you need to see and do.  
The links on this page will give you valuable travel information about Washington State.
These books will help you plan your trip to Washington State
Here are some interesting facts about Washington State
Statehood:  November 11, 1889.
Capitol:  Olympia.
Name Origin:  Named after George Washington
Nickname:  Evergreen State.
Land Area:  66,582 sq. mi., 20th largest state in the US.
Largest Cities: Seattle, Spokane, Tacoma, Bellevue, Everett.
State Bird:  Willow Goldfinch.
State Flower:  Western Rhododendron.
State Tree:  Western Hemlock.
State Slogan:  SayWA! (we don't make these up, this is a play on the phrase "Say What")  (State slogans change frequently and some states have more than 1, so we will do the best we can in figuring out which one to use).
Here Are Some Great Videos All About Washington State
IMPORTANT!!!
The player below has over 15 videos.  To choose a video click on the "Playlist" icon on the bottom left corner of the player
FREE coverage for your spouse & dependent children. Good Sam Roadside Assistance. Learn More!
Tell Us About Your Favorite RVing Destination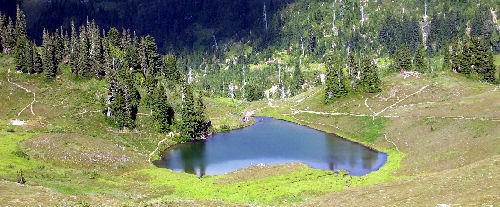 Heart Lake in Olympic National Park Photo by Jason Pratt
Tell Us About Your Favorite RVing Or Camping Destination
Here Are Links To Websites With Great Information all About Washington State
Camping in Bellingham, WA is a great place to start! The City of Subdued Excitement is a laid-back and eclectic little spot to pitch your tent or hook-up you RV, with lake side or Puget Sound views!
Simply-San-Juan.com  A detailed guide to San Juan Island, describing things to do and the places to see on this beautiful Washington State Island.
Hopefully, this information will help you when camping in Washington State.
Return To The Camping In The USA Page From The Camping In Washington State Page
Recommended Reading For You
Over 1,500,000 successful roadside rescues—Good Sam RV Emergency Road Service
Check out what's on Sale at Camping World! Hundreds of Items - Huge Savings. Click here to shop!