How Do I Connect 4 Six Volt Batteries To My 12 Volt RV House Battery System
by Rob Ravenstine
How to Connect 4 Six Volt Batteries to Your RV's House Battery System
I need a diagram of how to hookup 4-6 volt deep cycle batteries for a 12 volt system?

Thank You
Rob Ravenstine

ANSWER: Hi Rob, I have included two diagrams. The first one is the one you requested on hooking up 4 six volt batteries to your RV's House Battery system. The second one is for those folks that want to hook up 2 six volt batteries to their RV House Battery system.

Hooking up 4 six volt batteries to House Battery System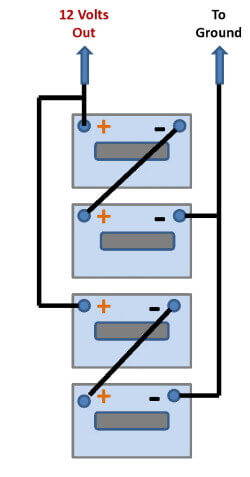 You might also want to take a look at the video below to see how easy it is to setup the house batteries properly.
Save 50% off of Campsites With Passport America
Hooking up 2 six volt batteries to house battery system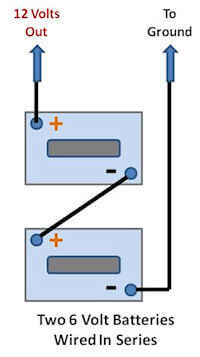 For more information on why you should use
6 volt deep cycle batteries
as house batteries in your RV, you should read my answer to:
Should I Use Six Volt Deep Cycle Batteries as House Batteries in My RV?
.
I hope that this information has been helpful to you.
Do you have any suggestions or comments on this topic? You can add them to this page by clicking on the "Click Here To Post Comments" link located near the bottom of this page.
Happy RVing
RVing Al
Over 1,500,000 successful roadside rescues—Good Sam RV Emergency Road Service
Check out what's on Sale at Camping World! Hundreds of Items - Huge Savings. Click here to shop!