How Do I Connect 4 Six Volt Batteries To My 12 Volt RV House Battery System
by Rob Ravenstine
How Do I Connect 4 Six Volt Batteries To My 12 Volt
I need a diagram of how to hookup 4-6 volt deepcycle batteries for a 12 volt system?

Thank You
Rob Ravenstine

ANSWER: Greetings Rob thanks for submitting your question on our Ask An RV Question Page.

I have included two diagrams. The first one is the one you requested on hooking up 4 six volt batteries to your RV's House Battery system. The second one is for those folks that want to hook up 2 six volt batteries to their RV House Battery system.
Hooking up 4 six volt batteries to House Battery System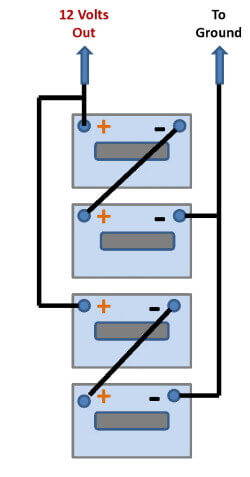 Leave your RV repair bills to us—Good Sam Extended Service Plan
Hooking up 2 six volt batteries to house battery system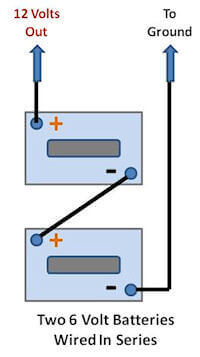 I hope these diagrams helped.
Do you have any suggestions or comments on this topic? You can add them to this page by clicking on the "Click Here To Post Comments" link located near the bottom of this page.
Now protect all of your Vehicles and your family while on the road: Join Good Sam Emergency Road Service Today and save!
Happy RVing
RVing Al
Good Sam RV Parks: Top Rated Parks Across the Country. Listings on Over 2,100 RV Parks!
Don't Forget To Visit The Everything About RVing Stores. If It Has To Do With RVing And The Outdoors The EARV Stores Have What You Are Looking For!
RV Accessories - Sporting Goods - RVing and Travel Books and How To Videos - Kindle Accessories and Books - The RVers Gift Shop - The RVer Mall - Buy or Sell An RV - The NASCAR Collectibles Store