FTC Disclosure: I get commissions for purchases made through some of the links in this article. For more information, visit our Advertising Disclosure Page.
Summer RVing Tips
"The days are long and the sun is hot. This can only mean one thing – summer is here!"
The days are long and the sun is hot. This can only mean one thing – summer is here! Summer is the season that you and your family look forward to all year long. It's a time where family bonds are strengthened and lifetime memories are made. That's why it is essential to make sure your RV is running properly to avoid a premature end to your vacation. 
To get the most out of your vacation time this summer, a pre-trip RV check is your best bet for a hassle-free trip. However, before you even begin to look over your rig, a good starting point would be to make sure everything you need is packed and ready to go. 
As for what to pack, a lot depends on where you are going, what time of year and for how long. Start by allowing every passenger one suitcase for clothing, toiletries, medication, and "must-have" items. As for the rest of the provisions, here are a few suggestions on what to take: food and drinks, skillet, garbage bags, silverware, plates and dishes, cups, toilet paper, towels, cell phone and lawn chairs. 
Once you've taken inventory of all the items you'll need for your trip, you can begin to inspect the most vital component for a safe and smooth vacation – your RV! 
Prior to each trip, try to get in the habit of walking around the outside of your RV to see if anything is out of place. How do your tires look? Are they low on air? Have all slide-out rooms been retracted? Are all of your items and accessories properly secured? Other areas to check or adjust include: engine oil and fluids, trailer attachment to hitch, awnings, signal and brake lights, side mirrors and seatbelts.
Good Sam Roadside Assistance covers all of your vehicles not just your RV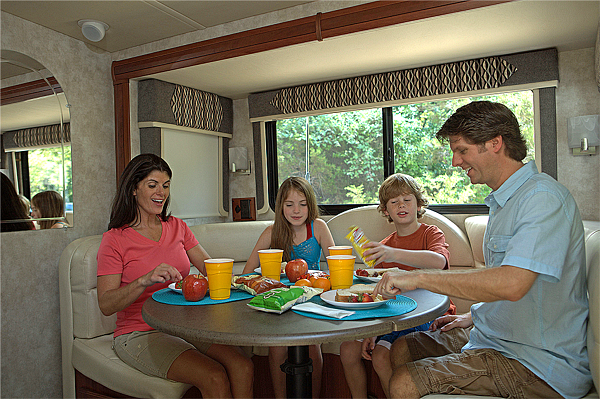 And last, but certainly not least, you want to make sure that your RV and family are taken care of in case of an RV or Tow Vehicle Breakdown with Good Sam Roadside Assistance.  There are 4 different plans to choose from, depending on whether you own a towable or motorized RV.  Your spouse or domestic partner, and dependent children under 25 are automatically included in your plan-at no additional cost.
With the top level Good Sam Platinum Complete Roadside Assistance, you and your family are protected while driving all vehicles-multiple RVs and autos, even if they are rented, leased or borrowed. Your utility and sport utility trailers are also covered.

Your comprehensive Good Sam Platinum Complete Roadside Assistance membership includes

Full Good Sam Platinum Roadside Assistance benefits

Plus, these Platinum Complete Exclusives Benefits:

Tire & Wheel Road Hazard - Platinum Complete Exclusive

If a tire on your vehicle is damaged due to a puncture, bruise, or impact break, Tire & Wheel Road Hazard benefits will get you back on the road with a tire repair or replacement.

Tire Replacement

Wheel Replacement & Repair
Tire replacement & repair benefits covered up to $750 per incident (2 incidents per year)
Emergency Travel & Medical Assistance Services**- Platinum Complete Exclusive
If you become ill or injured while traveling away from home, Emergency Travel & Medical Assistance Services will help with costs typically not covered by insurance.

Emergency Medical Evacuation

Transportation Home after a Medical Emergency
RV/Vehicle Return after a Medical Emergency
Repatriation Services
See Member Benefit Brochure for complete benefits
Emergency Travel & Medical Assistance Services benefit up to $25,000 per qualifying medical event

Join the Good Sam Club Today! The world's largest RV and Outdoor Community Club.
Get Your Article Published
If you have written an article about RVing, Camping or the Great Outdoors and you would like us to publish it on Everything-About-RVing.com, please visit our
Submit An Article Page.
Do you have any suggestions or comments on this topic?  You can add them to this page by using the comments section located near the bottom of this page.
Return to the RV Lifestyle Articles page from Summer RVing Tips page