Camping In Ontario Canada, What To See and Do While You're There
"It's Beautiful In Ontario, Come and stay awhile"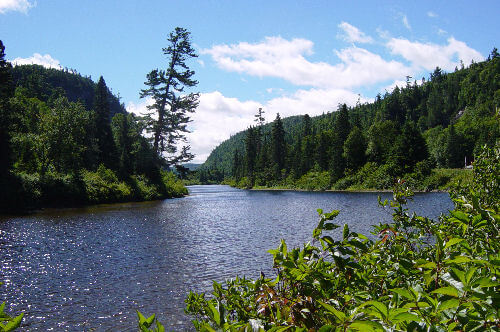 Agawa River Photograph by Dustin M. Ramsey
What to see and do when RVing and Camping in Ontario Canada,  here are the things you need to see and do.  
The links on this page will give you valuable travel information about Ontario Canada.
These books will help you plan your trip to Michigan
Here are some interesting facts about Ontario Canada
Became a Province:  In 1867.
Capitol:  Toronto.
Land Area:  415,598 square mi. (1,076,395 square km.)
Largest City: Toronto.
Provincial Bird:  Common Loon .
Provincial Flower:  Trillium.
Provincial Tree:  Eastern White Pine.
Provincial Motto:  Loyal she began, loyal she remains
Here Are Some Great Videos All About Ontario Canada
IMPORTANT!!!
The player below has over 108 videos.  To choose a video click on the "Playlist" icon on the bottom left corner of the player
FREE coverage for your spouse & dependent children. Good Sam Roadside Assistance. Learn More!
Good Sam's Extended Service Plan. Better Than A RV Warranty. FREE QUOTE

PT. Pele Marsh Boardwalk Photograph By Theyenine
Tell Us About Your Favorite RVing Or Camping Destination
Hopefully, this information will help you when camping in Ontario Canada.
Return To The Camping In Canada Page From The Camping In Ontario Canada Page
Recommended Reading For You
Over 1,500,000 successful roadside rescues—Good Sam RV Emergency Road Service
Check out what's on Sale at Camping World! Hundreds of Items - Huge Savings. Click here to shop!