FTC Disclosure: I get commissions for purchases made through some of the links in this article for more information, visit our Advertising Disclosure Page.
RVing and Camping in Canada What You Need to See and Do
Our neighbors to the North have a lot to offer RVers Camping In Canada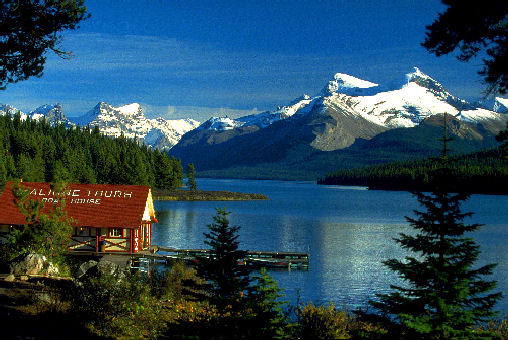 Malign Lake Alberta Canada
Further down this page you will see our collection of license plates from around Canada. Just click on the license plate of the Province you are interested in traveling to and you will be magically transported to that Province (we mean virtually transported). Once you arrive you will be given some great information to plan your trip. 
Go To Our Canadian License Plate Collection Now.
For even more information about traveling and camping in Canada visit The Everything About RVing Traveling In Canada Book Store Our Book Store is powered by Amazon and has 1000s of books divided up by Province. These books will definitely help you in planning your next RV Adventure.
What do you need to know about RVing and Camping in Canada?
The first thing you need to know is that our neighbors to the North have a lot to offer RV Campers. If you want beautiful scenery overload then you need to take some time to travel through all of the Canadian Provinces. Each Province has something unique to offer. But, one thing they all have to offer is scenery, scenery, scenery.
Make sure you pack your digital camera and have lots of room on your computer hard drive to save all the pictures you are going to take.
Share This Page
Save 10% on campground fees when you become a Good Sam member Today!
Vancouver Sunset Photo By Alan Bruce
Our family has traveled to Canada (by RV of course) and all we have to say is WOW it's beautiful there. You won't be able to see all of Canada, so you need to make sure that you visit the must-see destinations when camping in Canada.

Banff
Why are we doing this? Because we have done a bit of camping in Canada, but as of this date we still have not seen it and done it all (we are still working on it). Who better to give you tips on what to see and do then the people that live in the area.
As you can see our license plate collection is incomplete. Why, because we have not found a website or websites that give good information on that Province. We can use your help in completing our license plate collection. If you find a website that we should add a link to, please Contact US and give us the information and we will reach out to them and get their permission to put a link up on our site.
Now go ahead and explore and start planning your next RV adventure.
Alberta Motto Is "Strong And Free"

British Columbia Motto Is "Splendor Without Diminishment"
Ontario Motto Is "Loyal she began, loyal she remains"
Sign and Drive Coverage with Good Sam Roadside Assistance! Plans Starting at $49.95! Shop Now!
Hopefully, the above information will be helpful in planning your trip to Canada.  One thing is for sure you will never regret visiting Canada.
Thanks for stopping by and Happy RVing

Return to Everything About RVing Home page From RV Camping in Canada page