We Love RVing Because of the Other RVers We Meet
by Antonio
(Laughlin, Nevada)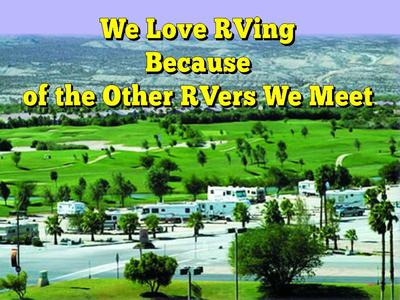 Pictured Above: Avi Resort Casino KOA Campground
This story was submitted on our Why Do You Love RVing Page
Yep I haven't met a fellow RVer male or female that I haven't enjoyed the company of.
We have been on the road for 6 months now and have met many people from all over this/our wonderful world.
Being the the explorers that we are; this summer we've been traveling in the heart of the Southwest visiting areas such as Prescott Arizona.
Parkers Black Meadow Landing on Lake Havasu is a must see!
We have survived the desert heat which hit 118 degrees, so we wimped out and bought two
Window Air Units
which made it very comfortable.
Let The Good Sam Extended Service Plan Pay Your RV Repair Bills
We just left Lake Havasu and are now at the RV Park at the Avi Resort and Casino in Laughlin, Nevada. The Avi Resort has a beautiful white sand beach right on the Colorado River and a gorgeous pool. The food here gets an A+ rating and is reasonable. With all these amenities and the reasonable camping rates makes the Avi Resort Casino a bargain. In addition, everyone here have been extra friendly especially to our veterans.
Happy Trails
Tony and Vicki
Tell us why you love RVing
Join the Good Sam Club Today! The Official RV Community Club
Check out what's on Sale at Camping World! Hundreds of Items - Huge Savings. Click here to shop!