FTC Disclosure: I get commissions for purchases made through some of the links in this article for more information, visit our Advertising Disclosure Page.
Why RVers Love RVing
"You Can Also Share Your Love Of RVing With Others"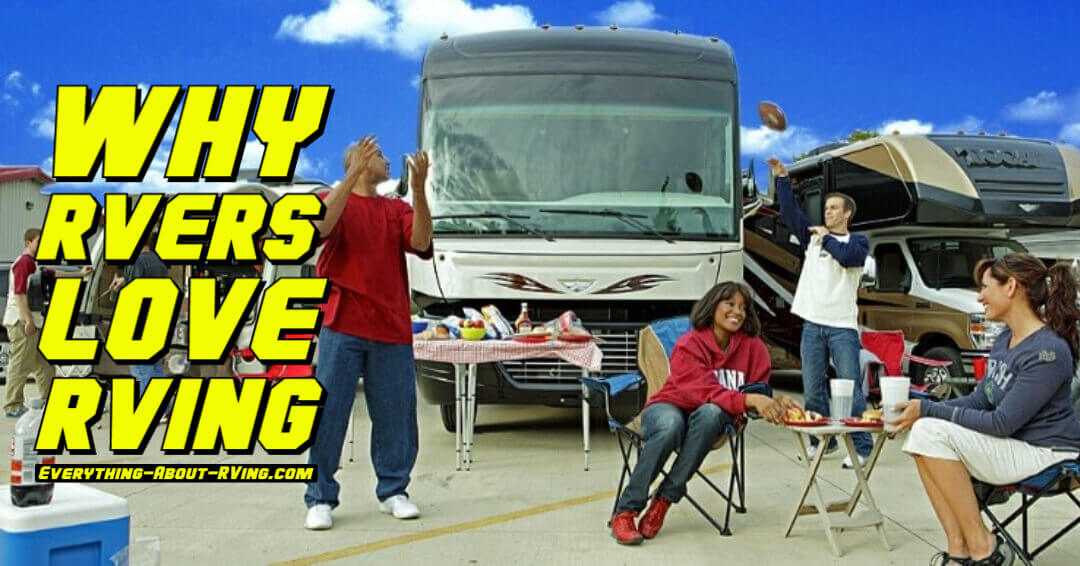 On this page you can find out why other RVers love RVing, or you can also tell others why you love RVing.  Scroll down the page to see why other RVers Love RVing.

Tell Us Why You Love RVing
We  ask that your story be a minimum of 850 words long.  The longer the better and don't forget to add some pictures.  
Your story may also be edited for spelling and punctuation.
Video Tribute to Over a 100 Years of RVing: The modern age of RVing is now over 100 years old. So, what better way to celebrate this momentous milestone than by presenting you with a video tribute to over a 100 years of RVing History.
Share Your Love Of RVing With Others
What do you like best about the RVing Lifestyle? Why should people RV?
How did you become an RVer?
What Other RVers Have Said
Click below to see why other RVers love the RV Lifestyle
More Reasons Why People Love RVing
Well, according to the RVIA (Recreation Vehicle Industry Association) almost one in 12 vehicle owning households in the U.S. can answer yes to this question. Whether you answered Yes or No to this question; this website is meant for you.
If you are like most people you lead a very hectic life. You feel like you are working harder now than you ever have before. The end result is you have less leisure time to spend with your family. So, once it is time for your vacation you are ready to get away from it all, relax and spend quality time with your family.
Going camping in an RV is an option you should consider for your next vacation. The reason is simple, it will allow you to slow down and unwind. When you go RVing you don't have to worry about missing a flight, losing your luggage or renting a car. You do not even have to worry about unpacking your luggage, as everything you need is already in the Recreation Vehicle.  If you are a pet owner you no longer have to worry about kenneling your pet because they can go.
An RV is a vacation home on wheels with one exception. One day you are in the mountains; the next day you could be at the beach. Try that with a vacation home. Recreation Vehicles come in all shapes and sizes. If you are looking for accommodations similar to those found in some of the best hotels in the world you may want to look at a Class A Motor Home or Fifth Wheel Trailer. If you want a more rustic experience, you might want to look at a Tent Trailer.
Regardless of which type of Recreation Vehicle you choose, you may find that vacationing in an RV provides more time to relax and bond with your family. While traveling in an RV, getting to your destination is half the fun. You will be surprised by some of the interesting places you run into along the way.
We hope this has has piqued your interest in taking your family on a RV Vacation Adventure. We're sure that you have many questions and that's why we are here.
If you look at the right side of this page you will see what is new at EARV. You can follow us on FaceBook, and follow us on Twitter.
Do you have any suggestions or comments on this topic? You can add them to this page by using the comments section located below.
Return to the Everything About RVing Home Page From The Why Do You Love RVing Page