FTC Disclosure: I get commissions for purchases made through some of the links in this article for more information, visit our Advertising Disclosure Page.
3 RV Buying Tips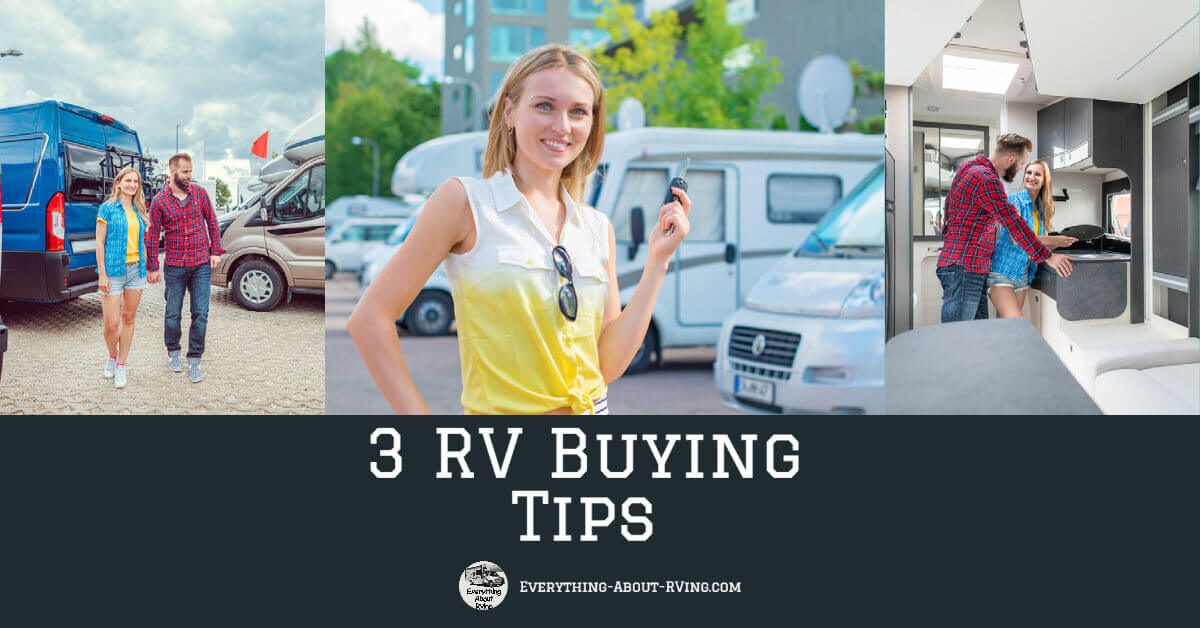 Purchasing an RV may be a challenge. Here are 3 RV buying tips to help you buy your RV
Here are 3 RV buying tips to help you buy your RV, because in the last few years, RVing has become very popular for individuals and families wanting to get out of the house. RVs provide an unmatched outdoor camping experience while keeping your creature comforts at your fingertips. An RV can be your home away from home and purchasing one may be a challenge if you are unaware of what you need in an RV and how to buy it. 
Share This Page
Save 10% on campground fees when you become a Good Sam member Today!
Settle on a Budget
The first consideration for buying your RV would be your budget. Depending on where you buy your RV, it can cost quite a bit. Prices range from $10,000 for a new entry-level trailer to $300,000 or more for a Motorhome. Various floor plans should be considered when looking for an RV. Think about how many sleeping spots you need or how big the kitchen area is. Remember that the bigger the RV, the more costly it will become.
Factor in the cost of fuel and camping fees into your budget as well. Depending on the type of RV, you will need various tools and accessories to operate your home on wheels. The sales operations team at a local RV dealership or parts store will know what you need for your RV. Suppose you plan on boondocking with your RV. In that case, you will want to put the costs of solar and whatever else you may need to add to your RV to make your experience comfortable.
Chose The Right RV

Once you know how much you are willing to spend on an RV, you will want to consider whether you wish to purchase a new or used RV. Remember that when an RV is older than ten years, it may become more difficult to find a park willing to reserve a camping spot for you. Finding a campground will not pose an issue if you plan on boondocking in your RV and skipping the RV parks altogether.
A used RV saves money but will not come with a warranty. The private seller may not divulge the entire history of the RV either. With a new RV, you can customize the vehicle to your specifications and know that it will not need repairs shortly after buying it. The new RV comes at a higher price tag and potentially high insurance.
Purchasing Your RV

When purchasing a used RV, getting a preapproved loan from your bank will help secure the camper you want from a private seller when you find one you like. Finding a used RV can be as easy as reading your local newspaper ads, or sometimes you find them by driving down the street. Used RV will not come with a warranty; if you want a warranty on your used RV, you may need to buy an extended RV warranty. Remember that not all RV dealers will offer a warranty on a used RV.
Dealerships near you sell new and used RVs. Finding a local dealer allows you to look at both used and new options to see which is more suitable for your needs. If you plan on traveling full time, you may want to consider a dealer that works nationwide. If you experience a breakdown, an RV under warranty may need to go to the dealership for repairs.
Following these 3 RV buying tips can help simplify the buying process so you can get outdoors and start camping. RV life should be fun and take the stress off your shoulders. It's time to enjoy life and get outdoors. Traveling in an RV can be fun for people with an active lifestyle and hopefully these 3 RV buying tips will get you into the right RV.
Give the Gift of Amazon Prime