FTC Disclosure: I get commissions for purchases made through some of the links in this article for more information, visit our Advertising Disclosure Page.
Types of RVs Available
There are many types of RVs available that you can choose from. Which one is right for you
What You Need to Know
There are many types of RVs available. There are many factors to consider when looking for an RV. The first consideration is whether you can afford it and most importantly is that the RV you buy fits your lifestyle.

Share This Page
Save 10% on campground fees when you become a Good Sam member Today!
Here is what you need to know about the different RV types.
RVs Are Divided into Two Main Categories
Motorized
Have a motor, that's why they are called Motorhomes or Motor Homes. This category includes the following classes of RVs:
They are literally houses on wheels and can have any option you want (for a price). In this section we will describe what's available and give you the pros and cons of the Class A Motorhome. In this section we will discuss the following topics The Class A Sub-Types, how a Class A is built.  Equipment that comes standard on a Class A.  Optional Equipment Available and finally The Pros and Cons of Class A. 
This RV proves that good things do come in small packages. It is a standard van that has been converted into a small RV. This RV is also known as a Van Conversion, Camper Van, or Touring Coach.  Their length varies between 15 to 20 feet.  They are also available with either a gas or diesel engine.
Just like the middle child it does not always get the attention it truly deserves. Quite a few of the luxuries that are found in its big brother the Class A Motorhome can be found in these RVs. These are built on Van Chassis; they are smaller than a Class A but larger than a Class B
Non-Motorized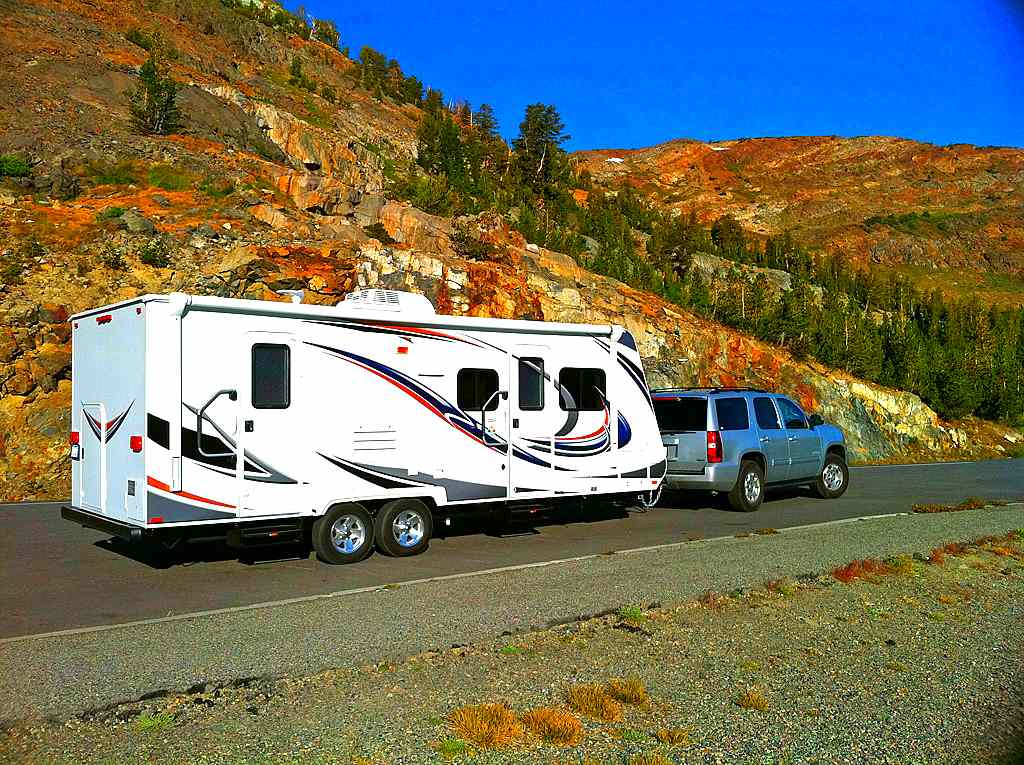 Don't have a motor.  This category includes  the following type of RVs:
The Fifth Wheel Trailer is One Classy Towable. The 5th Wheel Trailer (also known as the Fiver) has the most available living space of any RV.  They are also the most popular of the towable trailers category. If you want to experience the great outdoors and the great indoors at the same time, this is the RV for you.
The Travel Trailer is the middle child of the towable RV class and is extremely popular among RVers. It is smaller and lighter than a Fifth Wheel Trailer, which means it can be towed by a mid-sized car, van or pickup truck (this could mean using a lot less fuel to get where you are going).
Like camping in a tent, but much more comfortable.  Can be towed by almost any vehicle. A Tent Trailer is a small lightweight foldable trailer. It is also known as a Camping Trailer, Pop Up Trailer, or Folding Trailer. Although, it is the most inexpensive of the RVs, it still comes with some of the amenities that you would find in a more expensive trailer.
The Truck Camper Is the Go Anywhere RV. A little house that goes on the back of your truck and you will still be able to tow your boat. If a regular RV is too large for your needs or you go into places that no other RV can go, then this RV is for you.

Even the Types of RVs categories above have sub-categories within them. Look at the separate RV class pages to get a listing of those.
Conclusion
Here are some Questions you need to ask yourself before deciding which type of RV you should consider.
Are you even capable of choosing an RV?  Take the exclusive Everything-About-RVing.com RV Buffet Personality Profile Evaluation And see.

Hopefully, the above information will be helpful in steering you in the right direction. Once you have decided what the right type of RV is for you, you should head over to the Buying a RV section of this web site to get some more helpful hints.
Hopefully, we have helped you discover the several types of RVs available, so you can choose the right RV for your lifestyle. Now you can start your RV adventures and create some great memories.
Frequently Asked Questions
RVs are divided into two main categories: motorized and non-motorized.
A Class A motorhome is a large, luxurious RV that is built on a bus chassis. It is equipped with a motor and is often referred to as a "motorhome" or "motor home".
A Class B RV is a standard van that has been converted into a small RV. It is also known as a Van Conversion, Camper Van, or Touring Coach and typically ranges in length from 15 to 20 feet.
A Fifth Wheel Trailer is a towable RV that has the most available living space of any RV. It is also known as the "Fiver" and is the most popular of the towable trailers category.
A Truck Camper is a small, lightweight RV that is designed to be mounted on the back of a truck. It allows for mobility and the ability to access places that other RVs cannot.
Return to the Everything About RVing Homepage from the Types Of RVs page