FTC Disclosure: I get commissions for purchases made through some of the links in this article for more information, visit our Advertising Disclosure Page.
RV Repair Costs: How to Save Money and Plan your RV Budget with Eye-Opening New Statistics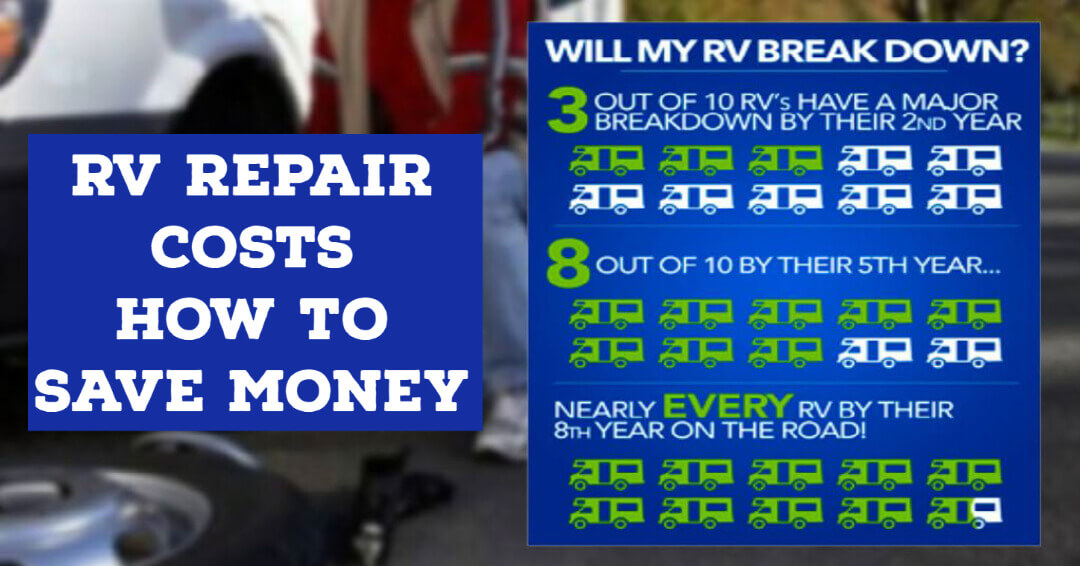 By: Jeff Shelton
Owner of Wholesale Warranties
Will the cost of repairs to your RV blow your travel budget?
If you are not informed about the potential cost of breakdowns for your rig, unexpected repairs could quickly wipe out your RVing budget. Failure to plan for these types of common expenses has caused many RV owners to skip vacations, deplete savings accounts, and even get out of RVing altogether.
Share This Page
Save 10% on campground fees when you become a Good Sam member Today!
So what is my risk?
The exact risk will always depend on the type of RV you own, but there is no denying that mechanical failures are on the horizon for all RV owners.  Modern RVs are essentially high-end homes which travel down the road at 60+ miles per hour, and these countless hours of vibration, bumps and abuse can cause items to fail at a much higher rate than anything you might experience with your everyday car or sticks and bricks home.  This results in a higher probability of mechanical breakdown than most RV owners commonly expect or budget for.

Industry statistics reveal that 3 out of every 10 RVs will need some type of major repair by only their second year on the road, jumping to nearly every RV by their 8th year.  Modern RVs have more bells and whistles that may suffer breakdowns, and these parts come with an ever-increasing cost of repair.  For example, most RV repair facilities have labor rates at the $100 per hour mark and higher, and this doesn't even include the cost of parts. So how much will parts run you?  We know that the nationwide average cost of parts will be about double the cost of labor. That is, for every $100 per hour spent on labor, the average parts expense will be $200, leaving you with a hefty bill of $300 per hour worked on your RV!
How much do typical repairs cost?
Again, the year, make, model and value of your particular RV will dictate many of the specific statistics regarding repair costs, but the following represents the typical range owners can expect to pay for common component failures to their RV:

Sign and Drive Coverage with Good Sam Roadside Assistance! Plans Starting at $49.95! Shop Now!

How do I go about preparing my personal RV budget?
The Bad News:
It is next to impossible to know for certain if, how often, and what components on your particular RV will breakdown.

The Good News:
RV owners and potential RV owners are now able to get extremely accurate information on how much the average costs of RV Breakdowns will be throughout the life of their RVing career by utilizing RV Extended Warranty cost quotes. Retrieving free information from an online RV Warranty provider such as Wholesale Warranties will provide you with information on the types of breakdowns commonly faced by RVers just like you. Wholesale Warranties takes into account the year, make and model of your vehicle, along with your usage (full-time or recreational), and traveling habits to create a personalized RV Warranty education package. This information will help you gauge the risk your RV budget faces each time you hit the road, and even give you the opportunity to see how much coverage might cost for you, making RV repair bills a thing of the past. After all, the best way to save money on RV repairs is to let an RV Warranty pick up the tab.

About The Author
Jeff Shelton is the owner of Wholesale Warranties, a leading provider of RV Extended Service Contracts, commonly referred to as RV Warranties, direct to consumer. Wholesale Warranties is dedicated to personalized service, education, and coverage that will be there for you when you need it most. Click here to learn more about budget-saving RV Warranties, and get free information from an RV Warranty Specialist today.
Do you have any suggestions or comments on this topic? You can add them to this page by using the comments section located below.