FTC Disclosure: I get commissions for purchases made through some of the links in this article for more information, visit our Advertising Disclosure Page.
RamKoh Port-A-Bench Review
The point of this bench is its portability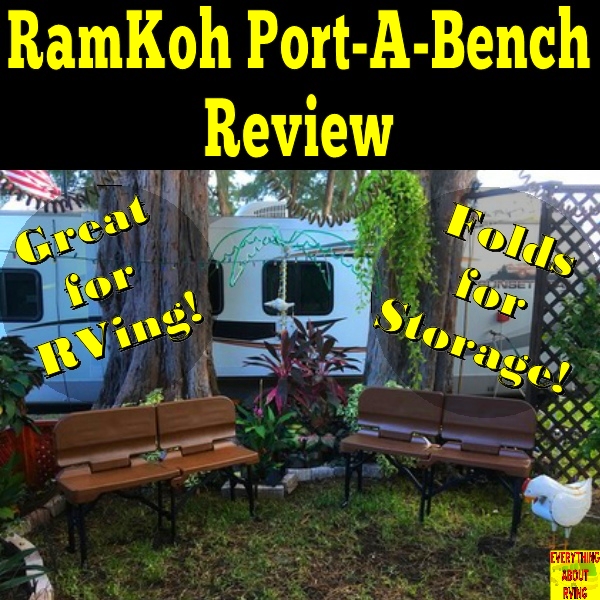 By Alan Wiener

Owner/Editor
Everything About RVing
The folks at RamKoh, inc. were kind enough to send me one of their Port-A-Benches for review.  Read below to find out what I think of this fold-able bench system. 
Here is what RamKoh Inc. says about their Port-A- Bench: "Port-A-Bench is made from high density UV resistant plastic and recycled material. When open, the Port-A-Bench provides 4 feet of comfortable seating. With its ComfortZone backrests the Port-A-Bench provides seating comfort over longer periods of time. With its patented design, there is never a struggle to get up from the Port-A-Bench. The Port-A-Bench folds into a compact cube with built-in handles for easy transportation and storage."
The Port-A-Bench costs $129.99.  The color choices available are Brown, Brown and of course Brown.  The only reason I bring this up is that as a retired UPSer (United Parcel Service Employee), the brown color they have is very close to UPS brown that I was around for many years.
Portability and Storage
The point of this bench is its portability.  So when I received the bench, I was rather surprised because it weighed in at a rather hefty 21.5 pounds.  That being said the handles that you carry it by (which are part of the seat-back assembly does make it a little easier to carry. 
One of the main concerns for RVers when they add anything to their RV is where am I going to store it when I am not using it. Depending on the type of RV you own, storage space can be at a premium and deciding factor when purchasing any accessory for your RV.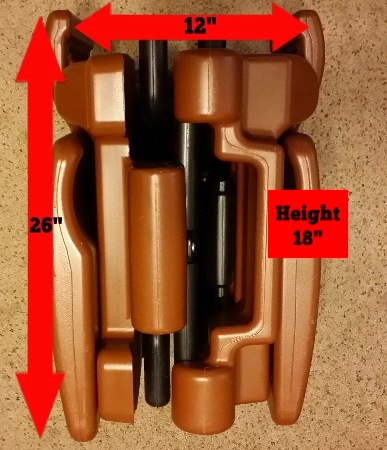 When folded closed the Port-A-Bench is:
12" Wide
18" High
26" Long
So it is not super small, but then again it does open up to give you 4 feet of seating.  If you are considering one of these benches you can use the dimensions I've provided to find it a storage home in your RV.  

The bench seats 2 people, but it does have does have a weight limitation of 450 pounds, so two of me could not sit on it without exceeding the weight limitations.  OK don't give me any grief because 2 of me would only exceed the weight limit by 10 pounds, just saying. :-)
Opening and Folding the Bench
Take a look at the video below from RamKoh on how to properly open and close the bench.  After the video I will share my experience when opening and closing the bench.
The video above shows how quickly you can open and close the Port-A-Bench. Unfortunately, I was not able to achieve that speed and agility that is shown in the video.  My first attempt went fairly quickly, but when I sat on the bench it was apparent pretty quickly that I didn't do it right, because the bench was wobbling all over the place when I sat in it.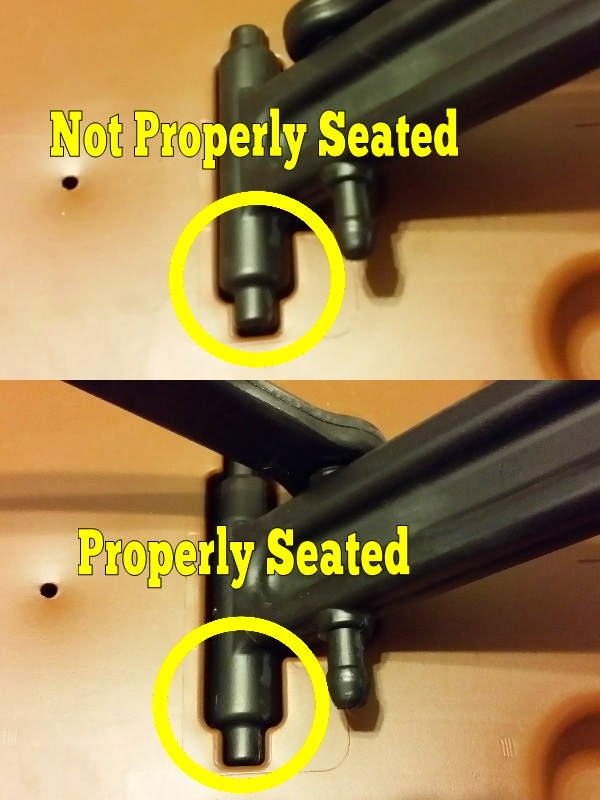 I figured out what I did wrong after re-reading the instructions that came with the bench and watching the video again.  I did not push the leg assembly to firmly seat it in the bench seat.  Take a look at the pictures above to see what I did wrong.
I had a hard time trying to get the legs properly seated in the seat bottoms, in fact on one of the leg assemblies I had to use a small hammer to properly seat it.  Closing it up was also quite hard trying to pull the leg assemblies out of the seat bottoms, took quite an effort.
I am pretty sure the difficulty I was having in the opening and closing effort was due to the bench being brand new.  I am sure that once the bench is opened and closed a couple of times, the plastic will get worked in enough to allow for easier seating and unseating of the legs.
Connecting Port-A-Benches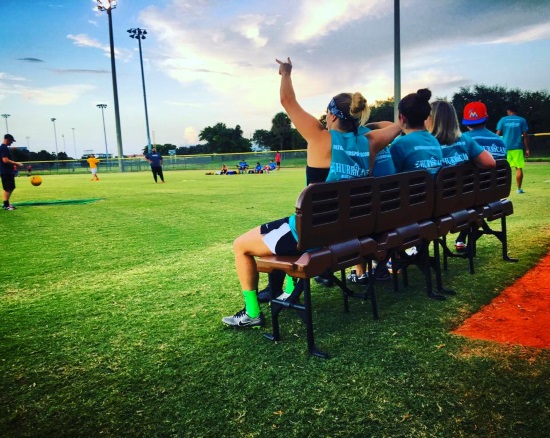 By the way, once the Port-A-Bench is opened up it can be connected to another Port-A-Bench (see picture above).  This is ideal for team sports like Soccer, etc.

Comfort
OK, the most important thing about a bench or chair is how comfortable it is when sitting on it.  The bench was comfortable for me, except I wish the seat back would go a little further back, it was a little too straight up and down for my personal preferences, but otherwise it was quite comfortable.
Since it is a bench it is also good if more than one person can fit on it.  Well, two people can fit on this bench at the same time.  Even someone like me whose back forty has gained a few acres over the years (in other words my butt has gotten larger as I have gotten older) can fit with another person on the Port-A-Bench.
Overall Rating and Pros & Cons
Rating

4.5


out of 5.0
Pros
Comfortably seats two people
Can be connected to other Port-A-Benchs
Can be completely folded up for easy storage
Cons
Opening and closing the bench the first couple of times takes some effort
When collapsed, it may not fit in smaller space-limited storage RVs
A little heavy and bulky when folded to make it easy to move far distances
For more information on the RamKoh Port-A-Bench you can visit  www.bestportablebench.com.
Do you have any suggestions or comments on this topic? You can add them to this page by using the comments section located below.