FTC Disclosure: I get commissions for purchases made through some of the links in this article for more information, visit our Advertising Disclosure Page.
9 Brilliant RV Bathroom Storage Ideas
These tips will help you use the limited space efficiently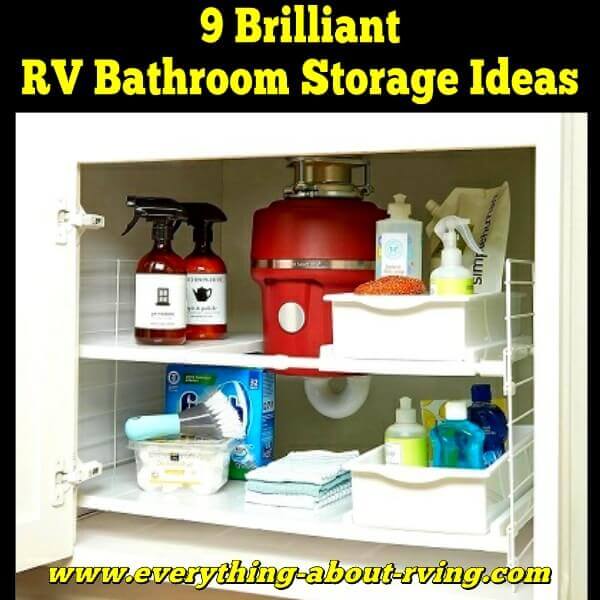 By Marina G.
While taking an RV to go on a vacation across the country might be what vacation dreams are made of, the space in an RV can be quite limited and you have to make do with whatever you get. While the RV itself is spacious and comfortable, bathrooms can be a little smaller than what you are used to. To make the most of the limited space, here are nine brilliant RV bathroom storage ideas to help you stay organized and tidy while on a vacation.

Share This Page
Save 10% on campground fees when you become a Good Sam member Today!
1. Get a shower caddy to store all showering products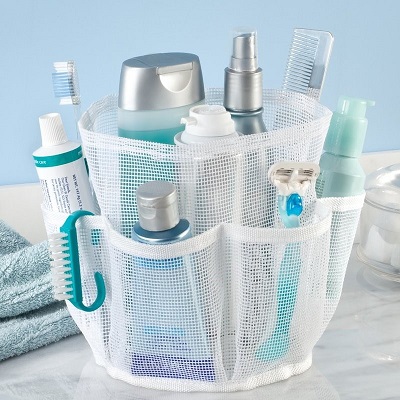 Image Credit: Joss and Main

A portable shower caddy is a must in small spaces and it saves so much space in RVs where the shower space is already limited. Choose from a wide range of shower caddies to keep the space neat and tidy. You can store all your shower gels, bath products, and loofahs in the caddy to reduce utilization of floor space.
2. Install cargo nets in dead spaces to keep additional items
Small hammocks made up of nylon or cargo nets are very useful in utilizing spaces that you do not use. For example, the space above your toilet can be used to store backups for toilet rolls, cleaning supplies and more. 

3. Get a roller shade to separate the dressing area whenever needed
A roller shade on the ceiling can give you the privacy of a separate space whenever you need and it does not require any additional space or construction. Some RV bathrooms do not have enough space to get a separate dressing area so these shades come in handy.

4. Use the space under the sink with rolling shelves
Image Credit: Bruce Ramos
When you have space issues, all the available spaces should be utilized for storage and the space below your sink can be useful for keeping all kinds of supplies and toiletries. It is also ideal for keeping a waste basket. Install rolling shelves with tiered design to use this space without a lot of effort or investment.

5. Mount hooks behind bathroom doors
Hooks can save so much floor space as they can be used to hang spare clothes, towels, night robes, brushes, laundry bags, and transparent organizers for storing smaller items. You can use hooks on both sides of the door to get more aerial space. 

6. Stick a magnetic knife strip behind the cabinet doors
Store all your beauty and grooming tools without having to keep them in bulky containers or bags only to ruffle through those containers in the time of need. Stick a magnetic knife strip behind the cabinet doors and you have your own vertical magnetic storage with ease of access.

7. Use see-through acrylic containers to store makeup and accessories besides the basin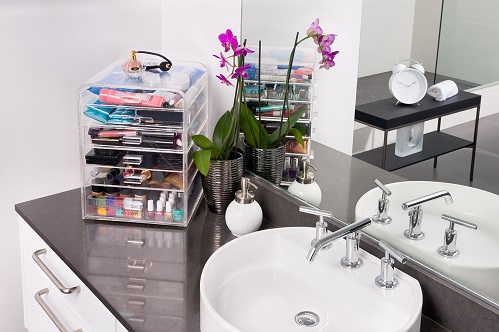 Image Credit: ediva
A brilliant way to store all your makeup and grooming accessories at an accessible place is to store them in transparent acrylic containers which can either be kept on the basin top or stuck on the wall with adhesive. Store light products like toothbrushes, pastes, and smaller makeup items on these shelves to keep them clean and handy whenever required.

8. Get a dual purpose mirror cabinet
A mirror is a must-have in a bathroom no matter how small the space is. Use some space on the wall by getting a mirror cabinet which turns into a big mirror when closed and a handy cabinet to store medicines and cotton balls when open. Make sure that the cabinet is sturdy and will be able to handle the weight of the mirror.

9. Install multiple shower rods beneath the hooks on the door of the bathroom
Image Credit: The Container Store
Use all the space behind the door by simply installing more shower rods or towel holders on the door. You can use these rods to hang multiple towels and spare clothes without taking up a lot of space.

We hope you will make use of these storage tips to utilize your RV space in a much better way and keep your bathroom organized and clean. They can also be used for regular bathrooms and other spaces but since you have limited space in an RV, they can be quite useful to keep all your products organized.

About the Author (Marina G):
I am working as the Sr. Writer for ShowerFanatics.com, a mother of 9 year old boy working as a full time writer for the leading editorial publications around the web. I am a home interior enthusiast who loves to share diverse and inspirational ideas on decorating and renovating a home.
Do you have any suggestions or comments on this topic? You can add them to this page by using the comments section located below.