FTC Disclosure: I get commissions for purchases made through some of the links in this article for more information, visit our Advertising Disclosure Page.
Benefits of Rv Living for Senior Health
Benefits of RV Living for Senior Health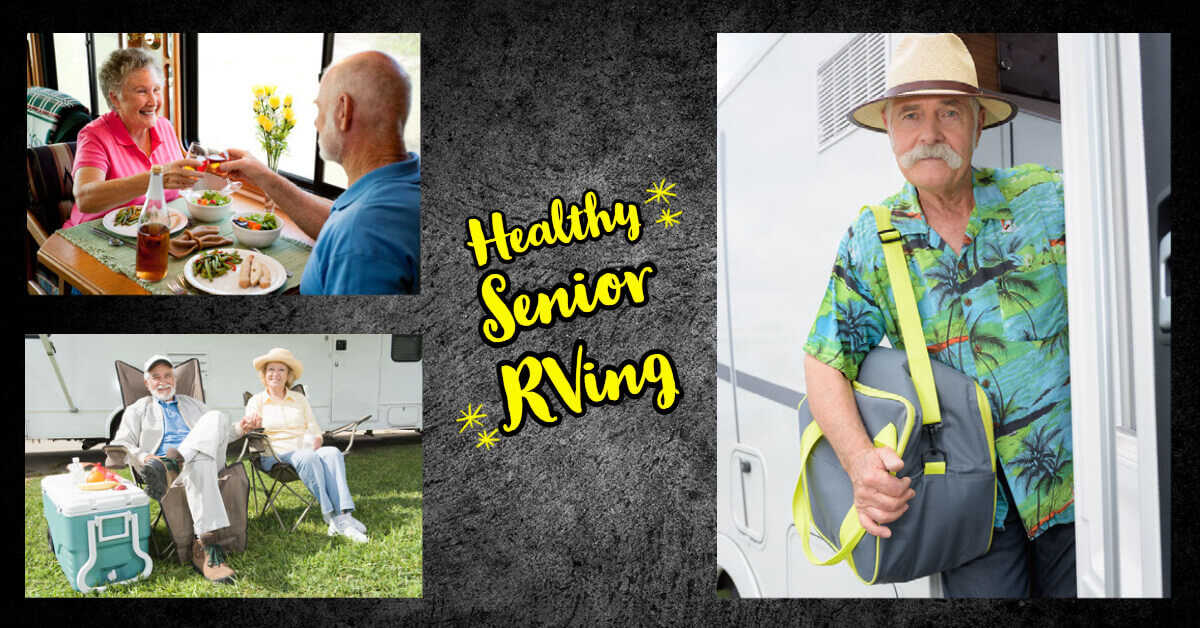 There are some great benefits of RV living for senior health 
If you've thought about spending more of your retirement years getting back to nature, riding wide-open highways, and exploring more sights, then RV living might be what you need. Here are the benefits of RV living for senior health.
Share This Article
There are numerous health benefits to RVing as a senior — whether full- or part-time. And you wouldn't be alone — assuming that hitting the road in an RV is a better way to live.
A recent study found that RVing has skyrocketed over the past few years, with just over 11 million households owning an RV. And the majority of those RV owners are over the age of 55.
So, if you too want to create a home on wheels or even take more trips to explore nature and the sights, RVing is a great way to do that.
Is Full-time RVing Right for You?
There are some great benefits of RV living for senior health, but it's not necessarily the right option for everyone. So, it's essential to understand what you'd be getting into before throwing a chunk of your retirement money at the endeavor.
Of course, you don't have to spend your retirement in an RV full-time. You can still maintain a stationary home and travel in an RV part-time. But even part-time RV living has pros and cons, especially for seniors who might have more needs and requirements to make an RV work for them. 
For example, consider your daily routines and how they translate to living in an RV. Do you have special mobility accommodations that will be possible in an RV? Health issues you can still quickly attend to?
What if your RV breaks down — are you equipped to handle that, or would you have access to the resources you would need to deal with such situations?
There's also the cost of living in an RV to consider. While RV living is generally considered more affordable than paying rent or owning a house, there are ways you can easily blow through a budget while RVing. If you don't have the right insurance, for example, or aren't mindful of gas usage or spending on food — these things can add up.
Then there is the RV lifestyle to keep in mind. Traveling in an RV is not the same as staying in a hotel. You have to put a lot more thought into where you will stay, laws on where you can park your RV, and how close you will be to things you want or need access to, such as grocery stores or medical facilities.
This is not to turn you off to RVing. There are generally so many pros than cons when living or traveling in an RV. Still, being informed and preparing for the best experience is important. 
RV Living is Great for Your Physical Health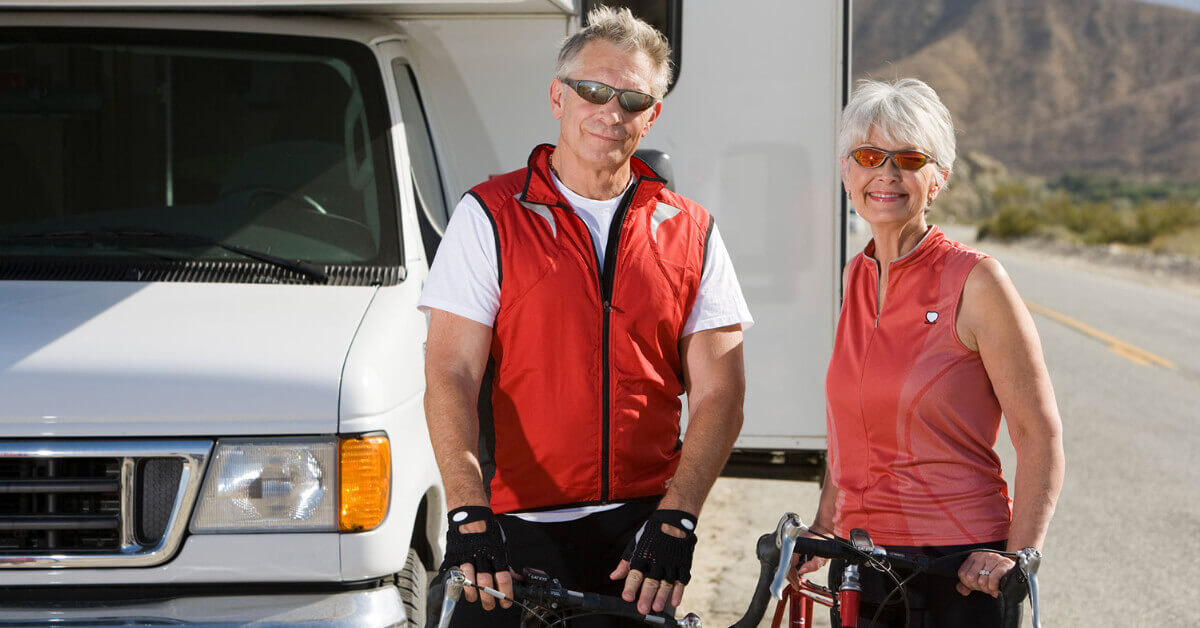 You can be as sedentary or as active as you'd like while living in an RV. However, most people choose this lifestyle as it offers them more opportunities to get out and explore more sights and be in nature without having to camp ruggedly.
Even visiting more places and getting out to explore those places means you will likely be more active than if you stayed full-time in a house or apartment. This includes traveling to more urban areas to walk around and explore new cities, parking your RV in more natural areas, and going on hikes.
One factor contributing to poor health as you age is becoming too sedentary. So living in an RV can help you stay more active.
Spending more time in nature is also excellent for your health, even if you aren't that mobile and can't tackle big hikes. Spending more time outside has been proven to improve physical fitness. So even if you sit outside and enjoy the fresh air more often while RVing, you will reap the rewards. 
RVing Can Boost Your Mental Health
Taking care of your mind is just as important as taking care of your body as you age — and RVing has many mental health benefits. The ultimate healthy self-care habit is allowing yourself to rest, relax, and explore more nature on the open road.
For many just living their daily lives is stressful and harmful to their mental health. But choosing to escape the stress of traditional living and living on a more relaxed schedule in an RV can help you feel calmer and relaxed. It can even help you refocus your priorities and connect more with yourself, so you can live a life that feels more fulfilling and in line with your wants and needs.
And one of benefits of RV living for senior health is that exploring nature more can be good for your physical health, it can also boost your mental health. Spending more time in nature can alter your brain chemistry and release more mood-boosting hormones like serotonin. So the more you explore nature in an RV, the more you can feel happier and more at ease.

How To Stay Happy and Healthy While Living in an RV
The key to staying happy and healthy while RVing is ensuring that all your necessities are covered. Traveling in an RV might make you happy, but if your RV is not equipped to handle your health needs or is not adequately prepared to manage your health needs while on the road, it can quickly turn a happy RV trip into a bad one.
So, do your research before purchasing an RV as a senior. Some RVs may be more equipped to accommodate your needs as a senior than others. You also want to ensure you buy an RV that aligns with your budget. You might be able to afford a big, fancy RV upfront, but will you be able to cover the cost of insurance, repairs, and gas long-term for a larger RV?
Something smaller might not be as luxurious, but it will likely be more affordable upfront and long-term — not to mention easier to manage and get around in. Large RVs are harder to drive and find spaces to park.
You might also need to make some upgrades to make your RV home more accessible and accommodating. For example, if you have mobility restrictions or a disability, you need to consider the cost of upgrading your RV on top of the base price.
You should also keep in mind having access to healthy foods and healthcare while on the road. Seniors need to eat nutrient-rich diets to maintain their health. So part of your planning should consider how you will eat healthy while RVing. And if you have health concerns, you should always be close to medical facilities.
While you might want to pick something easy and forgo the planning, these considerations will make a difference down the road and will play a significant role in your health and well-being while living in your RV.
Wrapping Up
Again, even if you don't plan to live in an RV full-time, you should still take the time to plan and do your research to make sure even part-time RV living is right for you. Even just taking RV vacations now and then can help you reap the health benefits, but it's still important to be mindful of your needs before taking those trips. But in the end, if you adequately prepare and have an RV with suitable accommodations, RV living as a senior can be incredibly fulfilling and highly enjoyable. Now you should understand that there are great benefits of RV living for senior health.