FTC Disclosure: I get commissions for purchases made through some of the links in this article for more information, visit our Advertising Disclosure Page.
How to Choose the Best Pickup for Travel Trailers
Choosing the right pickup for towing can sometimes be a daunting task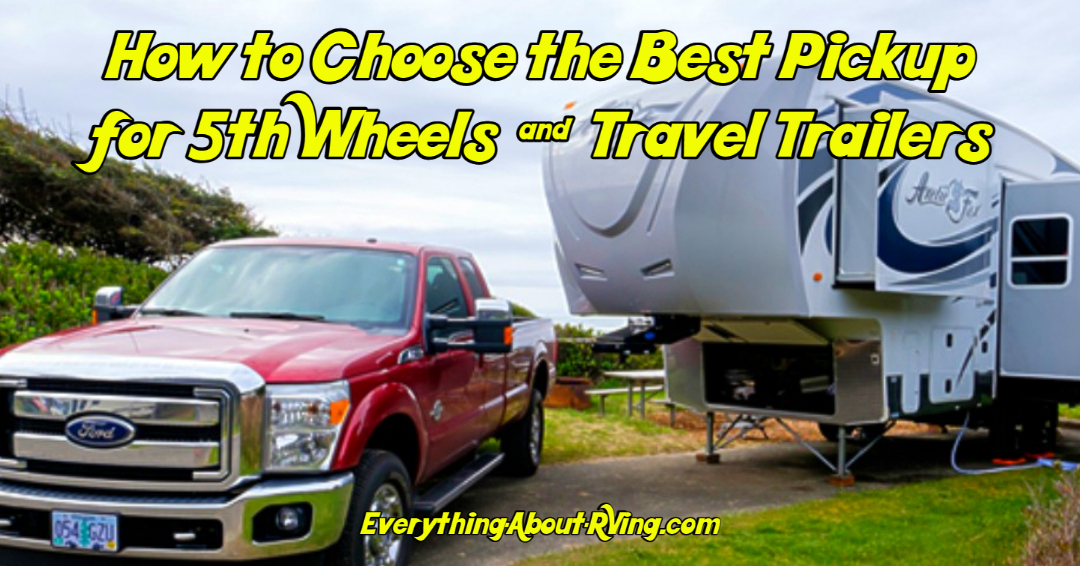 By Josh Joubert
With travel trailers becoming a popular investment for many people, so do the pickup trucks that are used to tow them. However, with so many options out there, choosing the right pickup can be a daunting task. There are many factors that should be taken into consideration when you are deciding which pickup will accompany your travel trailer. 
Share This Page
Save 10% on campground fees when you become a Good Sam member Today!
New Standards
If you have looked at towing ratings on pickup trucks in the past, you may have encountered a confusing comparison between the different brands. Each company was responsible for creating their own rating system, which could be confusing for the consumer. 

Recently, automakers have adopted a uniform method for testing and rating the towing capacity of pickup trucks. Many major automakers began using this rating system, beginning with their 2015 models. These include Ford, Ram, Chevrolet, GMC, Toyota and Nissan.
Whichever pickup you choose, you need to make sure it is rated to handle both your travel trailer's total vehicle weight, as well as the tongue weight. The tongue weight of your trailer is the weight that is handled by the tongue of the trailer, which connects to the hitch of the pickup. 
When looking at ratings it is also important to keep in mind how often you will be pulling your trailer. If you will only be pulling it a few times a year, it is okay to choose a vehicle with a rating just above your trailer's weight. However, if you are going to be pulling it regularly, you may want to look at a pickup with a higher rating

Light Duty vs. Heavy Duty
This is another important thing to consider when looking at pickups. Some light-duty trucks offer large towing capacities, with some more than 10,000 pounds.

However, if your travel trailer is larger, such as a fifth wheel camper, it may be better to look at a heavy-duty pickup. Once again, frequency of use should be a consideration while looking at this. If you do not plan to pull your trailer regularly, you may not want to shell out more money for a heavy-duty truck.

Gas vs. Diesel
This is a very important consideration when choosing your pickup. As you may already know, diesel is great for towing. It offers a lot of low-end torque, which is great to get you moving with efficiency at higher speeds, as well. 

That is a large reason why most commercial towing business, such as trucking companies, use diesel vehicles. Diesel motors are not strictly limited to heavy duty trucks. Many auto manufacturers now offer lightweight trucks with high performing diesel engines, as well. 

While diesel motors can add a lot of attractive benefits to your pickup, it can also add thousands to the purchase price. For this reason, it is once again important for you to consider how often you will be towing before purchasing a pickup with a diesel motor. While they can tow more and often achieve better fuel economy, if you are rarely pulling your trailer, it simply might not be worth it.
Four-Wheel Drive vs. Two-Wheel Drive
While four-wheel drive vehicles were originally designed for use in the military, they now have a large role in the public marketplace, as well. When considering which pickup to purchase to tow your travel trailer, it is important to consider whether you will need a pickup with four-wheel drive capabilities. 

Typically, a four-wheel drive pickup will have a slightly lower towing capacity when compared to the same vehicle with two-wheel drive. The four-wheel drive components add extra weight. 

They are also typically less fuel efficient when compared to their two-wheel drive counterparts. 
However, if you will be taking your trailer to an area with rugged terrain where a two-wheel drive vehicle may get stuck, it is best to choose a vehicle with a four-wheel drive drivetrain. 
Long Bed vs. Short Bed
There are a few reasons to compare long bed versus short bed pickups, when deciding which would be best to pull your travel trailer. If you were to choose a short bed pickup, it creates a longer length rig (the length of the pickup combined with the camper), thus making it easier to drive. 

On the other hand, long bed trucks will give you more space, and more options. Additionally, the resale value of long bed trucks is typically higher than that of the short bed, as these trucks are more desirable. 

Sign and Drive Coverage with Good Sam Roadside Assistance! Plans Starting at $49.95! Shop Now!
Preferences
It is important to recognize any preferences or preconceived beliefs you may have about a specific type of truck when wanting to buy. Are you absolutely opposed to a certain bran

Do you prefer gas engines over diesel engines? Personal preferences will narrow your options.

If you are steadfast in your beliefs and are not willing to compromise, it is important to understand that from the start. You may even want to consider this before choosing your travel trailer, as it can have an impact on what type of trailer you can pull.

Type of Cab
Save 50% Off of Campsites with Passport America

There are different types of pickup cabs you can consider when looking for a pickup. The three main types of cabs are the regular cab (two-door), extended cab (three-door) or four-door cab. 

When looking at your different options, it is important to keep in mind what your needs will be for the pickup. For example, if you need to accommodate more passengers, consider the extended and four-door cabs, which offer more space. 

There are, however, a few advantages in choosing a regular cab pickup. Regular cab trucks are typically cheaper than the other options. Additionally, they are shorter and lighter, which means they can offer an increase in payload. 

Single Rear Wheel vs. Dually
Finally, you should consider whether a singer wheel truck or dually truck is the better option for you. Part of this debate comes down to preference.

However, dually pickups will offer a higher payload rating than those with a single rear wheel. If you have any hesitation about a single wheel truck, playing it safe with a dually is the better option. 

Whichever truck you chose, remember to have the vehicle and trailer regularly maintained.  This includes replacing both truck and trailer tires when needed.
There are numerous aspects to take into consideration when deciding which pickup you would like to accompany your travel trailer. Most auto manufacturers offer several options for payloads and drive trains. With the proper research and consideration, you will find the right pickup at the right price, offering the features that meet your requirements.

Do you have any suggestions or comments on this topic? You can add them to this page by using the comments section located below.
Pictures:
https://www.shutterstock.com/image-photo/yachats-march-19-2016-campsite-large-394095835?src=Z7Q9fE1sJM3lKnIofmCOyQ-1-52
https://www.shutterstock.com/image-photo/caravan-recreational-vehicle-motor-home-trailer-485025634?src=Z7Q9fE1sJM3lKnIofmCOyQ-1-12
http://www.freeimages.com/photo/pick-up-1419184