FTC Disclosure: I get commissions for purchases made through some of the links in this article for more information, visit our Advertising Disclosure Page.
Budgeting for Life on the Road in an Rv
 Budgeting for Life on the Road in an RV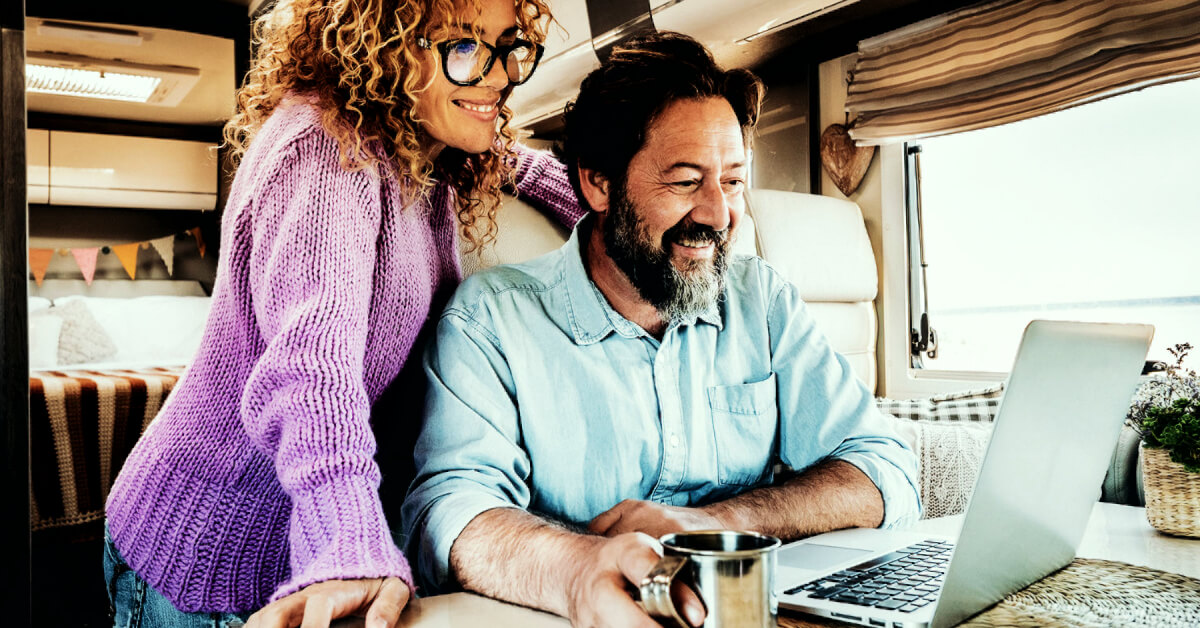 Ready to hit the road in an RV? This mini guide to budgeting for life on the road in an RV will help you make the most of your RV life
Living a life on the road seems like an exciting experience, and it is what you want to do in the next chapter of your life. However, living on the road requires a lot of research and thorough planning, especially if this is your first time trying it. Consider the following miniature guide to budgeting for life on the road in an RV.
Share This Page
Save 10% on campground fees when you become a Good Sam member Today!
Determine How Much Time You Can Afford to Spend on the Road
When it comes to being on the road, you need to figure out how much time you can afford to spend on the road. Will you still be living at home part of the time, or are you planning to spend your entire life on the road for a while?
Whatever you decide, you need to figure out how much time you can dedicate to RV life. For instance, if you work remotely, you can work from your RV as long as you have a consistent internet connection.
However, if you work at a physical office, you may have to take extra steps or determine whether you can take a vacation to try living on the road. Budgeting is not something to be taken lightly when it comes to RV life, whether it is your time or your money.
Budget For Necessities First
After figuring out how to budget your time, it is time to move on to budgeting your money. You will need to make a list of essentials first so you know that you can afford them without issue, and only then may you add in any luxuries that you want. For example, if you have any medications you will need to take for the duration of your life on the road, you will need to include them in the essentials of your budget, especially if they are vital for daily function.
However, if you want to keep a stash of your favorite snacks, that will go into the luxury column, as they are optional and can only be factored in if you have any money left over. Remember, though, that it is wise to dedicate only some pennies of your budget to something.
One of the essentials that you need to factor into your necessity budget is an emergency fund, so you are not wondering what to do if you need money but do not have it on hand.
Know How Long Your Supplies Will Last
Now that you have made a budget for essentials, established an emergency fund and allowed room for a few luxuries, you will need to figure out how long your supplies will last until you make another run. This is vital, especially since you will only have access to some things on your list immediately. This is also the knowledge that will take your budget and tailor it more specifically to your travel needs and give you an idea of when you will need the money to hit your bank account.
You need to break down whatever you have listed in your budget by month, week, and maybe even daily, depending on what you are looking at. For instance, where your food is concerned, you might break it down by portion size, then determine how long the average stock of portions will last.
Good Sam Club members enjoy instant discounts on fuel. Join Today!
If you are talking in terms of gasoline for your RV, you will need to know how much gas it takes to fill up the tank, as well as keep track of your daily gas usage and monitor the ever-shifting gas prices, so you know that you have enough money to keep the wheels turning.
Know How to Make the Money You Need to Sustain Yourself
Now that you have been budgeting for life on the road in an RV and factored everything into your budget and have determined when and how much money you will need to have to sustain your life on the road, you will need to find a way to make that money.
As previously mentioned, you will be set if you already work remotely. Make sure you contact your employer and communicate what is going on, so there are no surprises. Pay adjustments may have to be made depending on how pay works according to your employer's policy, and you will need to know that far in advance.
If you do not have a remote job, there are several ways that you can make money from your RV. You can look into available remote positions, become a content creator by documenting your journey and many other options.
If you already have the necessary income, you should make extra money when you return home. For instance, if you want to buy or lease a car when you come home, you should consult a car loan calculator. This calculator will consider many different factors and help you determine what kind of loan you need.
Life on the road can be incredibly exciting, and if you are adequately prepared, you will have a much better time. Keep budgeting for life on the road in an RV in mind as you are searching for your perfect RV and remember that the journey is what it is all about.