FTC Disclosure: I get commissions for purchases made through some of the links in this article for more information, visit our Advertising Disclosure Page.
Buying the Best RV for Your Family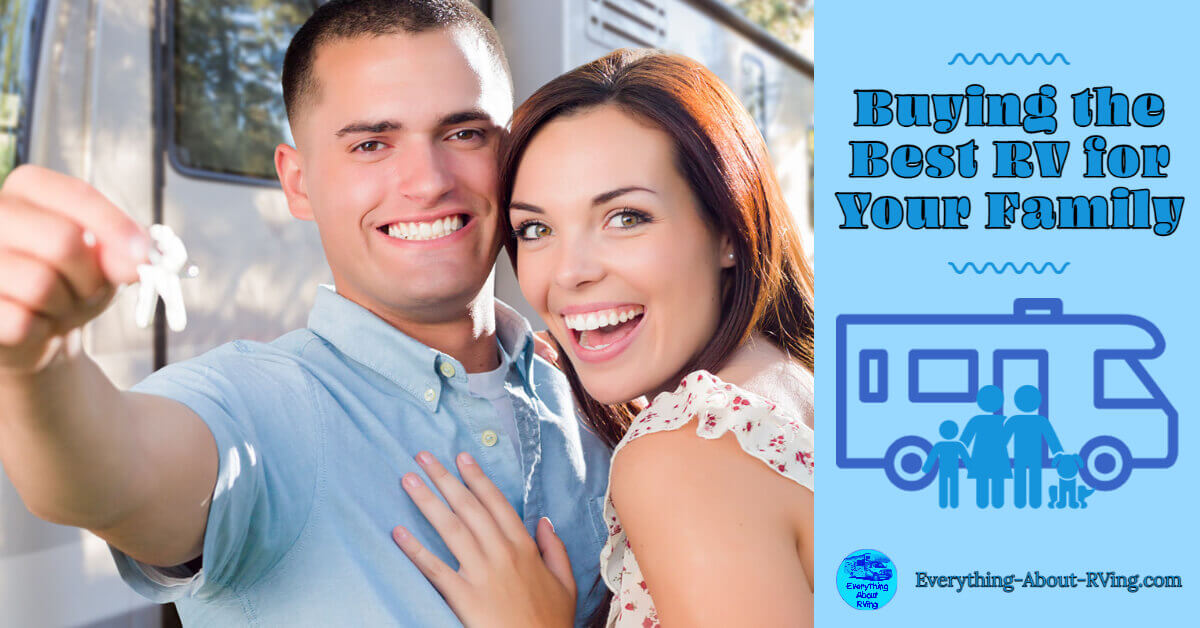 Here is what you need to consider when buying the best RV for your family
Buying the best RV is not something to be taken lightly. So much thought and planning go into buying the best RV for your family simply because RVs can be very expensive and will last your family a long time. Therefore, deciding which RV you should buy is a big commitment.
Your decision should be based on what you want to get out of an RV, which means that the best one will be different for everyone because the answer depends on you and your family's needs. Thankfully, you can keep a few important things in mind so that your decision will be easier to make.

Decide What Your Budget Will Be
Your budget is one of the most important things you can decide when purchasing a new RV. The reason is that knowing what your budget is will allow you to save time by not even stopping to consider the ones that are outside of it. After all, there are so many options available that it can be overwhelming. Removing some of those from the list of possibilities is great because it frees up your time and mental faculties only to consider the ones you can afford.
If you want to make all or most of your dreams, come true, you can always plan a budget based on what you know you can save up in the future. For example, you might decide to save up a certain amount of money for your purchase by using the best high-yield savings account. This is a great way to make your money go further and do more for you.
Listen to What Others Are Saying
When considering which RV is best for you and your family, you should listen to the voice of the customer. For example, there are many people who have already dealt with the companies you are considering purchasing from and/or purchased the RVs you are considering. This means you can use them as a valuable source of information by reading the reviews they have written about either experience.
It is always good to know if the business you might patronize or product you might buy generally has favorable reviews. Plus, they may mention things that never even crossed your mind but are actually of interest or important to you and your family, thus helping you come to a practical realization.
Decide What You Want From an RV
You should also decide exactly what you want from an RV. Different people will have other preferences. For example, you should make a list of all the features that are an absolute must and another list of all the ones that would be nice to have, if possible, but are not necessary. Using these lists, along with your budget and the information you gleaned from other people's reviews, you can make the best decision for you and your family.

If you are going to be traveling long distances frequently, for example, you should choose an RV with good fuel efficiency to save money on gas. You should also decide how large or small you want your RV to be, which will largely depend on its intended use. For example, the larger varieties would be the better option if you will be using it as a second home.
Similarly, you should decide what amenities you want it to have, such as whether you want it to have a microwave. One of the simplest but fun choices is what color it will be.

You should consider a few things if you are buying the best RV for your family. and your family. This includes your budget, what other customers say, and what you want from your RV. Considering all three of these things will lead you to the right choice.