Can I Plug My Fleetwood RV Into Home Electric?

()
I just bought a 29 foot Fleetwood Carry. The battery is down on it. I have it in my driveway can I hook it up to my house electric? If so, how? This is my first RV.

Thank You

Herman Doolin

ANSWER: Hi Herman, first let me congratulate you on your new RV and welcome you to the RVing lifestyle. Yes you can plug your RV into your home electric, but you will need some electrical adapters to do it. I have never heard of a Fleetwood RV model called a Carry, so I am not sure if you have a Fleetwood Trailer or Motorhome. It really does not matter though, because the procedure to hook up to your home electricity is the same.

Determine if your RV is set up for 50 Amps or 30 Amps:

If you have the owner's manual for the RV it will tell you if you require 30 amp or 50 amp service. Either way you can run some of the appliances (with limitations) off of a 15 or 20 amp household 3 prong receptacle. If you do not have the manual, the easiest way to determine the setup is taking a look at the male plug in the electrical compartment of Your RV. Then look at the pictures below.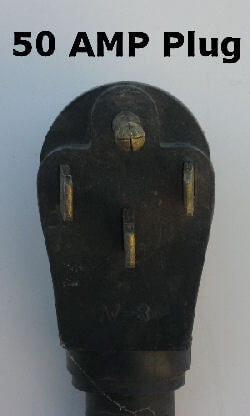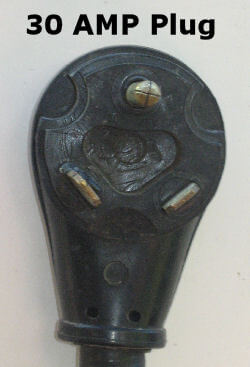 Now that we know what setup you have look below to find out what adapters you will need.
30 Amp Setup
The setup is pretty straight forward; all you need is a 30 Amp Female to 15 Amp Male Adapter. Either one of the adapters listed below will work.
Camco 55165 RV

12" PowerGrip Dogbone Electrical Adapter with Handle
Camco 55175 RV 18" PowerGrip Dogbone Electrical Adapter with Handle
50 Amp Setup
You will need one of the 30 amp to 15 amp adapters listed above and you will also need a 50 Amp Female to 30 Amp Male adapter. Either one of the 2 adapters listed below will work for you.
Camco 55185 RV 18" PowerGrip Dogbone Electrical Adapter with Handle
Dogbone Adapter with Handle, 30 Amp Male to 50 Amp Female
Now you would plug your RV into the 50 Amp to 30 Amp adapter and plug the other end of the adapter into the 30 Amp to 15 Amp Adapter and plug that adapter into your home electric.
Just a reminder, you will not be able to run a lot of your appliances all at one time, due to being hooked up to 15 Amps. You could run one Air Conditioner but not two. You cannot use the Microwave at the same time as the Air Conditioner as you will trip the circuit breaker in the house.
I also would not plug anything into the house electrical circuit you are going to have your RV plugged into.
As long as you understand the electrical limitations you will have by plugging your RV into your home circuit you should be fine. I hope this information has been helpful to you.
Do you have any suggestions or comments on this topic? You can add them to this page by clicking on the "Click Here To Post Comments" link located near the bottom of this page.
Happy RVing
RVing Al