Can My 1988 Dolphin Motorhome Go Any Faster Than 55 MPH?
by Anonymous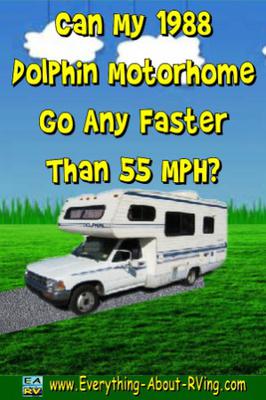 Can My 1988 Dolphin Motorhome Go Any Faster Than 55 MPH?
Can I get it to go faster?

ANSWER: Hi thanks for submitting your question on our Ask An RV Question Page.


Let The Good Sam Extended Service Plan Pay Your RV Repair Bills
Ok first thing your Toyota Dolphin Mini-Motorhome is not limited to 55 miles per hour. That being said; there are a some factors that could be limiting how fast it can go. These mini-motorhomes were never designed to be speed demons. Even when it was brand new it would be slow in climbing hills etc.
When manufactured these mini-motorhomes ranged from 10 feet to 23 feet in length. The longer and heavier the motorhome is the less responsive it will be to accelerating climbing hills etc.
I have listed a few things below that you can do that may help in getting your Dolphin Mini-Motorhome up to speed.
Tune Her Up
The engine in your motorhome is around 25 years old and if you are not the original owner you cannot tell how well the engine was maintained, so the first thing you should do is get a tune-up. Even with a tune-up, the motorhome may not be as perky as it was when it was new.
Put Her On a Diet
As I stated earlier the more weight you carry the less power your motorhome will have to accelerate and maintain speed. Take a stroll through your motorhome and see if you have excess items that you are taking with you and eliminate as much as you can.
If you are planning to stay at an RV Park or Resort that has water hookups; there is no need to fill up the freshwater tank on the motorhome. Always completely dump your holding tanks before leaving on a trip this will also help reduce your motorhome's weight.
Remember:
Less weight equals higher speeds.
I hope this helps.
Do you have any suggestions or comments on this topic? You can add them to this page by clicking on the "Click Here To Post Comments" link located near the bottom of this page.
Happy RVing
RVing Al
Over 1,500,000 successful roadside rescues. Good Sam Roadside Assistance.