FTC Disclosure: I get commissions for purchases made through some of the links in this article For more information, visit our Advertising Disclosure Page.
Don't Miss Out! All Good Sam Roadside Assistance Plans Are 50% Off! Learn More!
The Class C Motorhome
"The Mid-Sized RV"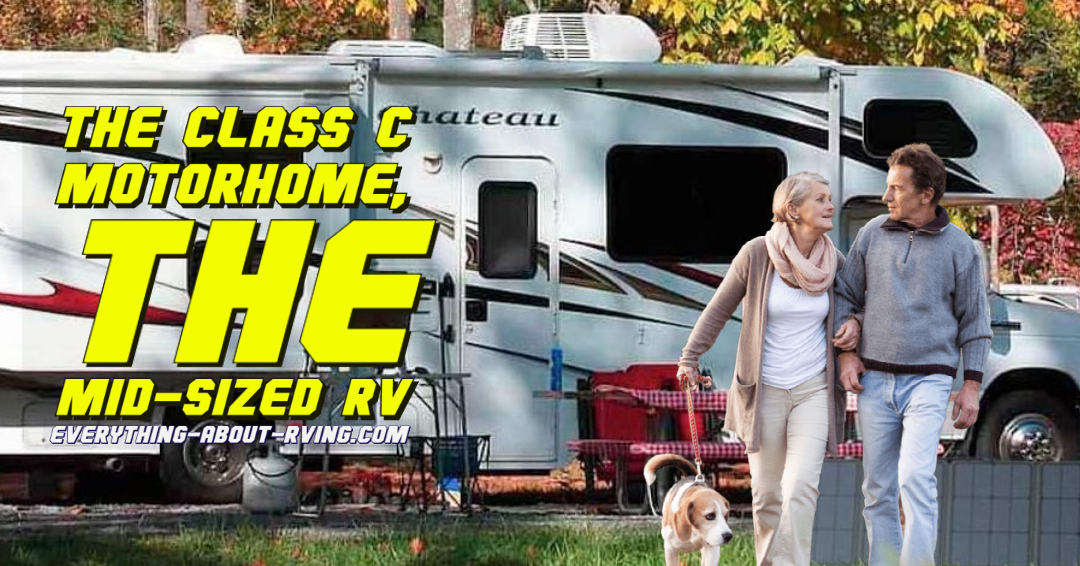 The Class C motorhome is the middle child of the Motorized RV family
By Alan Wiener

Editor: Everything About RVing
Just like the middle child it does not always get the attention it truly deserves. Quite a few of the luxuries that are found in its big brother the Class A Motorhome can be found in these RVs. 
They are built on a van chassis. It also goes by the name Mini-Motorhome. Their length varies between 20 and 35 feet.  They are also available with either gas or diesel engines.
In this section we are going to discuss how they are constructed and equipped. We are also going to review the PROS and CONS of owning one.
How They Are Constructed And Equipped
The Standard Class C
They are built on a Gasoline powered van chassis everything from the cab back is added by the RV Manufacturer.
The Diesel Super C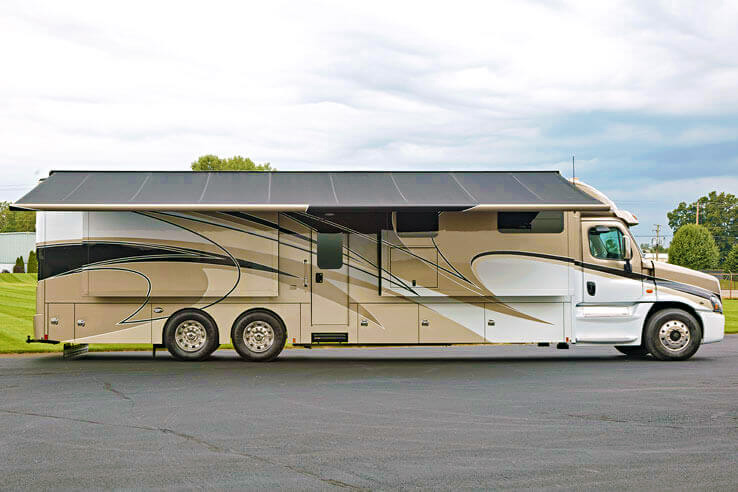 The Diesel Super C RV (like the Renegade XL Super C pictured above) is built on a Heavy Duty Diesel powered chassis everything from the cab back is added by the RV Manufacturer.
A Super C can be just as luxurious as a High-End Class A RV.
Standard Equipment can include but is not limited to:

 TV (for some RVers this is the most important piece of equipment)
Heating/

Air Conditioning

 Units

 Generator (to power the TV while you are out in the wilderness)
Optional Equipment Can Include, But Is Not Limited 
(except by your wallet) To:
 

Satellite Internet

 System
Towing Package, so you can tow a trailer with all of your toys in it, or even a car that you can use while you are camping.  
Because of its price, the standard Class C motorhome is ideal for cost conscious RVers and families just getting into the RVing lifestyle. 
One unique feature this RV has is the additional bed located above the cab which is great for kids or adults (who don't mind climbing a ladder to go to bed). 
We have owned two Class C motorhomes during our 40+ years of RVing.  The first one we had was a smaller early 70s model which our family camped with for several years.  We sold that smaller one and turned right around and bought a larger early 80s Class C. 
In 1986 we took 5 weeks vacation and traveled from California to the World's Fair in Canada.  We traveled with 3 adults and 2 kidlets.  Amazingly this RV never felt crowded at all.  Our family still has fond memories of that trip. As with any RV there are Pros and Cons to owning one.
Class C Motorhome PROS and CONS
Before you go through the Pros & Cons of a Class C Motorhome, you might want to watch the video below to see what Class C RVs have to offer.
PROS of a Class C Motorhome
Cost less than a Class A Motorhome (more money to spend on souvenirs).

Better fuel mileage than a Class A

Can be used to tow a boat or an additional car.

A Class C Motorhome is more maneuverable than a Class A.

Depending on the length,  could  fit in your driveway, eliminating storage costs.

Can be used for tailgating at sporting events.

Has additional bed above the cab (ideal for the kids or your in-laws).

Depending on the model, can sleep up to 10 people.
CONS of a Class C Motorhome
Because the driver's compartment is lower than a Class A Motorhome, your view of the roadway and scenery may not be as good

Slightly limited due to weight capacity in additional equipment you can add or carry

Less 

storage space

 than a Class A

Some RV parks may not allow you in as they are Class A parks only.

Not convenient for 

performing

 errands or sightseeing while camping.
Hopefully, the above information will be helpful in steering you in the right direction. If you have decided that a Class C Motorhome is the right type of RV for you, you should now head over to the Buying a RV section of this web site to get some more helpful hints.
If you are still not sure, continue browsing the other Types of RVs that are available. One thing is for sure you will never regret becoming an RVer regardless of the type of RV you choose.
Get Your Article Published on Everything About RVing
If you have written an article about RVing, Camping or the Great Outdoors and you would like us to publish it on Everything-About-RVing.com, please visit our
Submit An Article Page.
Do you have any suggestions or comments on this topic?  You can add them to this page by using the comments section located near the bottom of this page.
LEARN HOW TO RUN 2 RV A/Cs ON A 30 AMP CONNECTION

Recommended Reading For You
Over 1,500,000 successful roadside rescues—Good Sam RV Emergency Road Service
Good Sam Extended Service Plan is mechanical breakdown insurance for your RV, 5th Wheel, Trailer, and Tow Vehicle! FREE Quote