FTC Disclosure: I get commissions for purchases made through some of the links in this article for more information, visit our Advertising Disclosure Page.
Cleaning an Rv and Maintenance Tips
Cleaning an RV and Maintenance Tips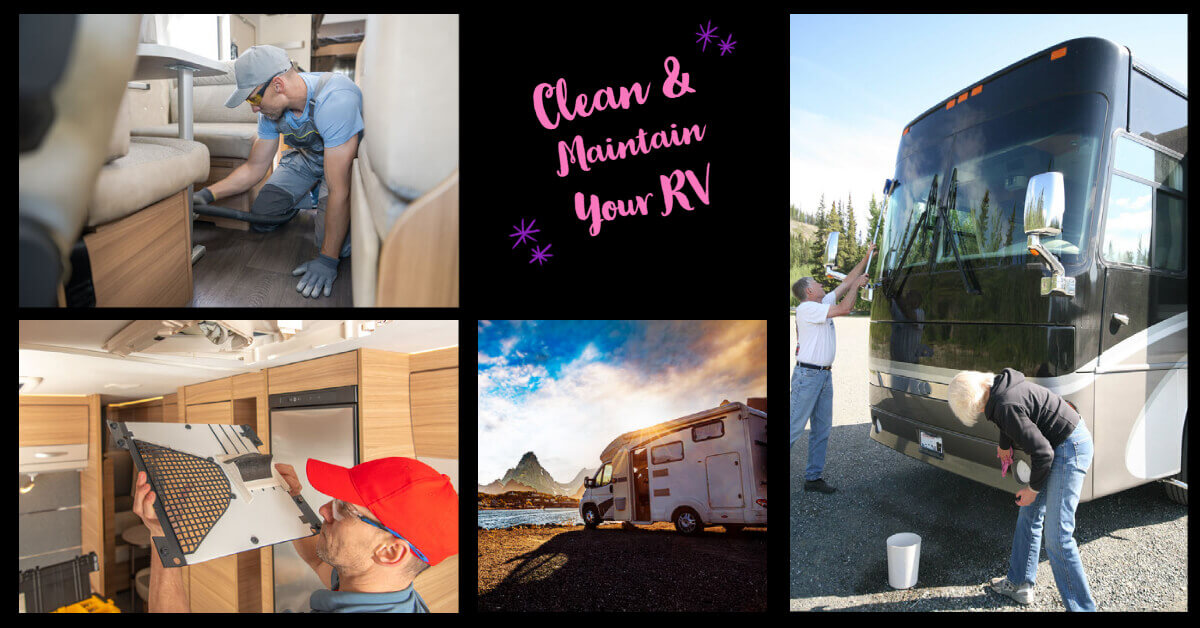 These cleaning an RV and maintenance tips will get you started on preparing for your next RV adventure
We start anticipating our next RV adventures when warmer spring months finally arrive. This means that spring is the perfect time to get our RV spring cleaning and maintenance up to date so we'll be ready for travel when the time comes. You need to remember that when you start a good spring cleaning and maintenance schedule, you need to ensure everything is thoroughly inspected and deep cleaned to ensure things are ready for those long road trips you plan to take this year. These cleaning an RV and maintenance tips will get you started.
Share This Page
Save 10% on campground fees when you become a Good Sam member Today!
Many people live in their RV year-round, and if that is what you do, spring is still the ideal time to get up to date on cleaning and maintenance. After all, what could be better than getting all the old winter smell out and bringing freshness into your rolling abode? On top of that, ensuring everything is working right and everything else is well-balanced and roadworthy is also important.
Getting the jump on your cleaning and maintenance routine means you need to do far more than spray a little Pledge to wipe the dust off the countertops. You need to get down and dirty to get things the way they need to be to start the season. This includes deep cleaning everything inside and out and inspecting all your mechanical systems, electrical system, plumbing and everything else that makes your RV move across this great land.
Let's start with various maintenance tips for ensuring your RV is road-worthy and ready to travel. This applies to small camper trailers and those fabulous luxury homes on wheels.
Air/HVAC Maintenance

Not all RVs have air conditioning and heat, but for those that do, having the HVAC (heating and cooling system) inspected every spring is wise. An HVAC pro can inspect not only the system itself but will also be able to alert you to issues with cracks in your roof that can cause air to leak outside.
They will also be able to replace filters, check for loose wires and other parts, and ensure your inside air is fresh and clean just in time for the adventures you have planned this season.
You can also check things on your own by grabbing a ladder and climbing on the roof to ensure there are no cracks on top, debris, or loose parts. RV air systems are not usually designed to be recharged; once they have lived their lifespan, they will need to be replaced. If you plan to journey through the desert this summer, you better ensure your air conditioning works well, or you will face sweltering heat waves with no way to cool down. No one enjoys traveling like that.

Sign and Drive Coverage with Good Sam Roadside Assistance! Plans Starting at $49.95! Shop Now!
General RV Maintenance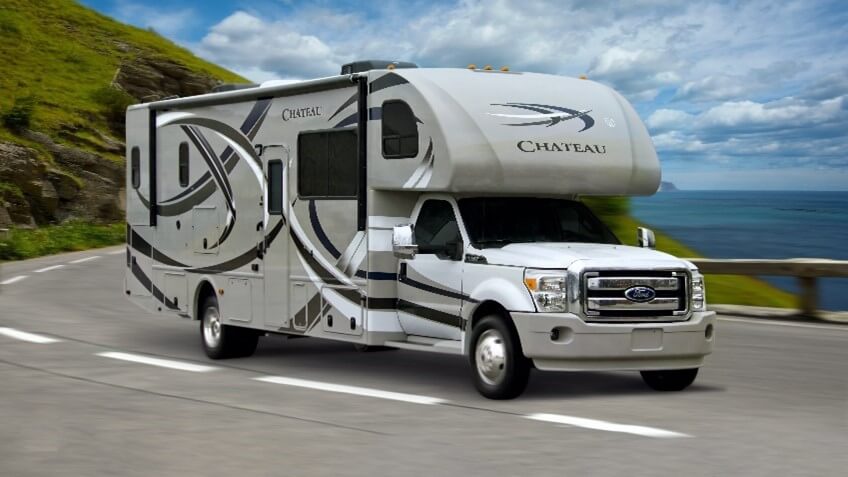 As we mentioned, spring is an ideal time to schedule RV maintenance. This is because it is usually a little warmer and easier to get a maintenance technician out and is also closer to travel time. You usually have enough "wiggle room" to order parts if necessary and have things repaired ahead of your travel time this summer.
There is no feeling worse than traveling and having the time of your life only to have a major breakdown in the middle of nowhere. When things like this happen, and they do happen at the worst times possible, you will often find weak or non-existent mobile phone service in the area, and even a long wait time to have A RV shipper pick it up and that is if you can use your phone to make a call and if you are able to find a local shop to repair the RV while you're on the road. Your best protection against a breakdown is to ensure that general maintenance is taken care of before you hit the road.
To combat breakdowns on the road, here are some of the top things to have checked during a maintenance inspection:
Exterior:

Roof sealants (check for cracking and other damage)
Roof vents (check for signs of breakage or further damage)
Awnings (check for mildew and tears in the fabric)
Windows and doors (check for cracks and breaks in the seal)
Waste System:

Pump water through to remove non-toxic antifreeze out of the water pipes
Change the water heater to summer settings
Check for signs of leakage underneath the RV
Electrical:

Battery (Check fluids and charge level. Replace if necessary)
Inspect battery cables
Check all wiring and cords to make sure rodents have not chewed anything
Make sure the water heater element is off before plugging it in
Check outlets to ensure they all work
Undercarriage:

Check the tires (look for dry rot and cracks and properly inflate)
Check wheel bearings for looseness
Check the brakes
Check holding tanks
The best way to ensure your RV has a thorough inspection is to schedule preventive maintenance with your local RV dealer or a mechanic working on RVs. Be sure to schedule this before it is late in the spring and shops are booked up, or parts may take longer than expected to ship in time for you to head out onto the road.
Spring Cleaning Your RV
When it comes to spring cleaning, a little wipe-down will not work. You need to put some elbow grease and dig in to ensure everything is clean for the journey ahead. Here are some suggestions for cleaning things, one section at a time.
Bathroom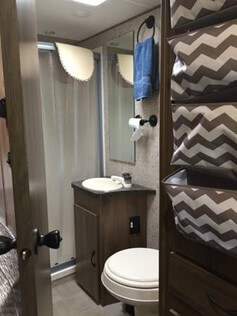 Let's start in the bathroom since this is a room most people frequently utilize while on the road.
Clean the toilet- Scrub inside with a natural cleaning agent and then wipe down with disinfectant wipes. While many will grab bleach, it's best to avoid it as it can damage seals and ruin your tanks.
First Aid Kit- Place a first-aid kit in the bathroom and keep it stocked with bandages, gauze, medical tape, bug bite ointment, hydrocortisone, antibacterial ointment and other wound care.
Sinks/Counters- keep the sinks and countertops clean using disposable disinfectant wipes.
Stock Up- Stock up on paper supplies like toilet tissue and also make sure you have soaps and shampoos to last during your travels.
Kitchen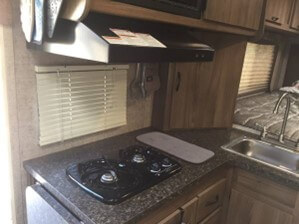 Chances are you will want your kitchen area sparkling clean. After all, who wants a messy kitchen when planning dinner, even when on the road? Nobody! That's who!
Oven- If you have been using your oven all winter, or even if you used it all summer or fall and never cleaned it, now is the perfect time to wipe the crud and germs away and start the traveling season with a shiny oven, free of grime and safe for cooking.
Cupboards- Clean all shelving to ensure dishes and utensils have a clean space to rest.
Fridge- A dirty fridge can harbor bacteria and germs that can be dangerous. Give the inside a wipe down using a mild detergent dish soap and be sure to dry with a clean towel.
Floor- Use a damp mop to clean up footprints and dirt tracked into the kitchen area.
Bedroom/Living Areas

The cozy areas of your RV need special attention as well!
Bedding- Change out heavy blankets and comforters for lighter blankets to use in warm weather. Be sure to keep a heavy blanket on hand for those chilly nights.
Mattress- Flip or rotate the mattress to fluff things up for comfort.
Dust- Take time to dust small tables and shelving, knock the dust out of your curtains, and wipe down the blinds.
Hidden Spots- Tackle the hidden spots like corners and small areas of the RV by taking a duster to get rid of the dust in areas that the naked eye doesn't always notice. This includes near electronics and other items, boxes and other items that dust can build up on and around.
You may feel like taking care of the maintenance and cleaning is going to be a time-consuming amount of work to tackle, and in all fairness, it can be very time-consuming. Following these cleaning an RV and maintenance tips before you hop in your RV and take off down the road, however, can mean the difference between having a stressful few days on the road and then breaking down. A nice, relaxing road trip journeying to those secluded areas around the country where you can spend days or even weeks breathing in the clean air, enjoying the summer sunshine and taking advantage of just how great the RV life can be.