FTC Disclosure: I get commissions for purchases made through some of the links in this article for more information, visit our Advertising Disclosure Page.
Most Common RV Problems Experienced by Owners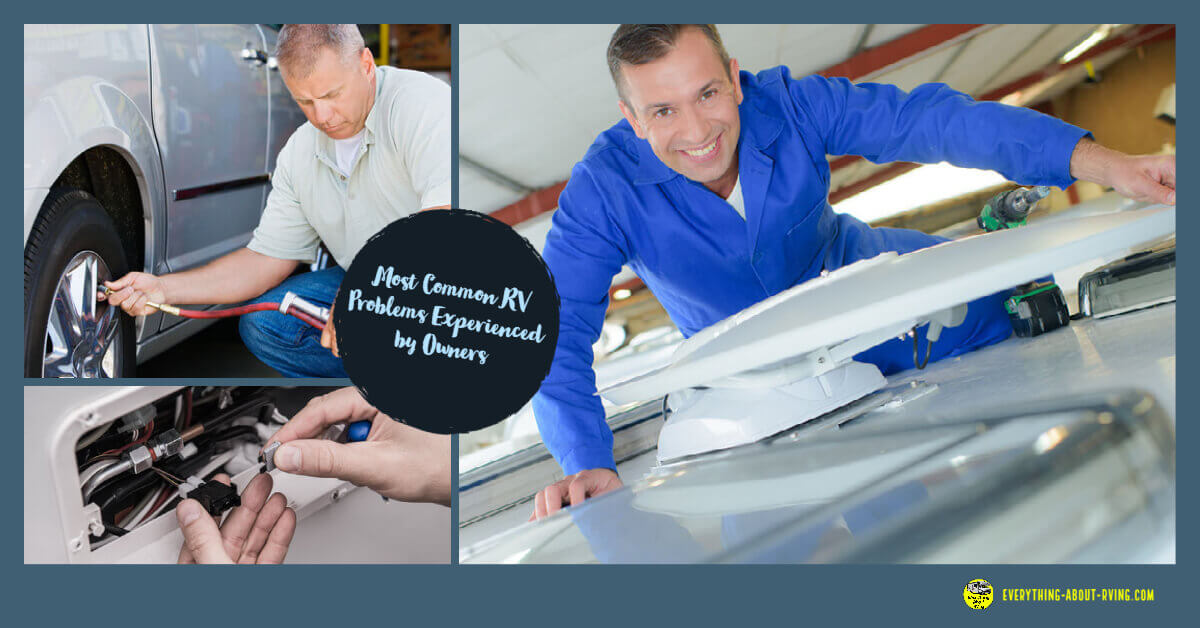 By Anna Timbrook
No matter which type of RV you choose, some common RV problems will be inevitable
There's no vacation quite like traveling across the countryside in an RV. You have your accommodation on the road with you, and there are excellent campgrounds across the U.S. and many places abroad that cost much less than staying in a hotel. But no matter which type of RV you choose, some common RV problems will be inevitable. That's because, unlike cars, which have parts manufactured and assembled by machines, humans build RVs using standard tools. Adding to the problem is that an RV includes features of a home that are otherwise stationary.
Share This Page
Save 10% on campground fees when you become a Good Sam member Today!
RVers should expect and be prepared for the following common RV problems:
Sign and Drive Coverage with Good Sam Roadside Assistance! Plans Starting at $49.95! Shop Now!
Roof Leaks

You can experience a roof leak in any RV. The common culprits are bad weather, harsh sunlight, and driving or parking a tall vehicle underneath tree branches. You can reduce the chances of roof leaks by parking it under a shelter or using a large RV cover.
Roof repair kits provide a temporary solution when your roof does spring a leak. And if one of the vents cracks, it will need to be replaced. If not, one leak will lead to more leaks.
RV Tire Blowouts

No other vehicle tires on the road get more wear and tear than RV tires. Traveling thousands of miles while supporting so much weight makes blowouts a common RV problem, especially if the tires aren't well-maintained.
You can help avoid tire blowouts by purchasing high-quality tires, inspecting them for wear and tear more often than the ones on your car, and keeping them properly inflated.
Burst Waterlines

Like in a house, water damage can devastate an RV. Fortunately, performing simple maintenance can avoid this problem. Water lines burst when the owner doesn't empty the water lines and holding tanks before storing the RV for the winter. Freezing weather causes the water lines to freeze and burst. When spring arrives, and you're ready to hit the road, you'll have a water-damaged RV.
You could end up having to replace your holding tanks and water lines.
Issues With Windows and Slide outs

Unlike the seals on a house's windows, seals on your RV windows have a rubberized finish to help absorb shocks and prevent leaks. Exposure to the elements and constant jarring means that the seals may have to be replaced. If ignored for too long, the window may eventually need replacing.
An RV's slide-outs add spaciousness and comfort to your RVing experience when camping. If your slide-outs get stuck, you lose that benefit. If this happens to you, check if something is blocking the slide-out. If this isn't the case, you probably have issues with the mechanism that operates it. A Certified RV Technician may be needed to address the issue.
Toilet Malfunctions
Another common RV problem is RV toilets. Having your own bathroom at your fingertips on the road and at the campground is one of the best features of an RV. Unlike the toilet in your home, your RV's portability and bouncing and bumping along the road can shorten your toilet's lifespan. Common issues you're likely to experience with your RV's toilet include water not staying in or flowing around due to rubber seal or valve issues. Putting these issues off can lead to problems with your water supply and possible costly water damage.
Electrical Issues

Since an RV pulls double-duty as a car and as living quarters, you can have similar electrical problems for both. If the lights won't come on or you're having other electrical issues, check the circuit breaker panel for a tripped circuit breaker. Also, check for a tripped GFCI outlet. If you still don't have electricity, you may have to have a Certified RV Technician troubleshoot the problem. Trying to fix complicated wiring yourself can be dangerous.
You could also need a new battery if the motor doesn't start. Increase the life of your battery by regularly checking the fluid levels, test charging it, and disconnecting the battery cables when the RV isn't in use.
About The Author
Anna was born to travel the world, having studied languages all her life. Although she has traveled the world, she now calls Switzerland home and spends her time writing about her experiences on Expert World Travel.