FTC Disclosure: I get commissions for purchases made through some of the links in this article for more information, visit our Advertising Disclosure Page.
Best Options for Dinghy Vehicles
(Cars Towed Behind an RV)
"Since dinghy vehicles have become so popular, let's take a look at some of the best options available"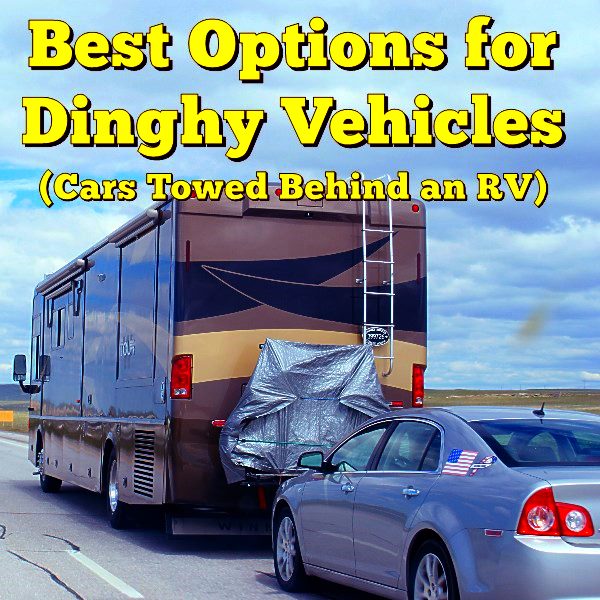 Picture Above by Bradley Gordon and published under Creative Commons Attribution 2.5

Best Options for Dinghy Vehicles
(Cars Towed Behind an RV)
By: Vince Evans
These days it seems that more and more people are turning to towing a dinghy behind their RV on trips.  Towing a dinghy or "toad" has many advantages.  For one, it saves money on the cost of renting a car as well as gas money.  Also, having access to a dinghy vehicle means that people can leave camp, while it is still set up, and run simple errands.  Since dinghies have become so popular, let's take a look at some of the best options available.
Share This Page
Save 10% on campground fees when you become a Good Sam member Today!
4WD/AWD
When talking about toads, the first thing that probably comes to mind is 4WD and AWD cars.  This is because these types of vehicles make excellent toads.  The most popular of them, seems to be the Honda CR-V.  This is probably because of the ease with which a CR-V can be towed, because the CR-V can be towed "four down" which means it can be towed with all four tires on the ground.  Other great options include both 4WD and AWD Jeeps such as the Grand Cherokee (pictured above) or Jeep Liberty.  Jeeps offer great off-road control which can be useful when camping.
Subcompact
Subcompacts also make excellent dinghies. They are small and light, which make them easy to tow, and they get great gas mileage.  One of the more popular subcompact cars used as a dinghy is the Geo Tracker.  Trackers are versatile and easy to tow.  Also, Ford makes some great toads including; the Fiesta, Aspire, and Festiva.  More recently, Chevrolet has released the Chevy Sonic which makes for a wonderful dinghy, as it is equipped with a touch-screen radio that works with smartphone navigation systems (as long as you're not too deep in the woods).
Sign and Drive Coverage with Good Sam Roadside Assistance! Plans Starting at $49.95! Shop Now!
Sedans
Sedans are very practical vehicles and are often used as dinghies. Sedans offer plenty of seating for passengers and get relatively good gas mileage.  There has been a recent trend of hybrid sedans being used as toads.  Some of the better hybrid sedan options include the Ford Fusion (pictured above) and Lincoln MKZ.  Both of these, because they are hybrids, make for perfect dinghies due to their excellent gas mileage.  The Buick Regal offers a nice non-hybrid option as it is towable in both the automatic or manual models.  
Unique/Alternative
While most dinghies on the road today fall under one of the previous three categories, there are some interesting alternatives to be found.  This category includes toads that may be unusual or unique.  For instance, when you think of dinghies, you probably don't think of Fiat.  However, the Fiat 500 is towable with its five-speed transmission and offers a small, but fun, convertible option.  If you are looking for more power, look no further than the Dodge Challenger, it has plenty.  While the Challenger may not be the most practical toad, it is certain to turn some heads when being towed behind your RV.  
Whether you're looking for economical and practical, or looking to make a statement, there are plenty of wonderful dinghy options to choose from. Bringing a toad along on your next RV trip can save you a lot of hassle and grief. Whatever your preference, I would suggest having a dinghy vehicle to any and all RV enthusiasts.

About The Author
Vince Evans has grown up around cars but is currently in between rigs after his used Ford moved on to greener pastures. When he's not trying to resurrect American muscle he writes about New Jersey used car dealers. 
Do you have any suggestions or comments on this topic? You can add them to this page by using the comments section located below.
Return to the RV Lifestyle Articles page from the Best Options for Dinghy Vehicles page