FTC Disclosure: I get commissions for purchases made through some of the links in this article for more information, visit our Advertising Disclosure Page.
Dream RVs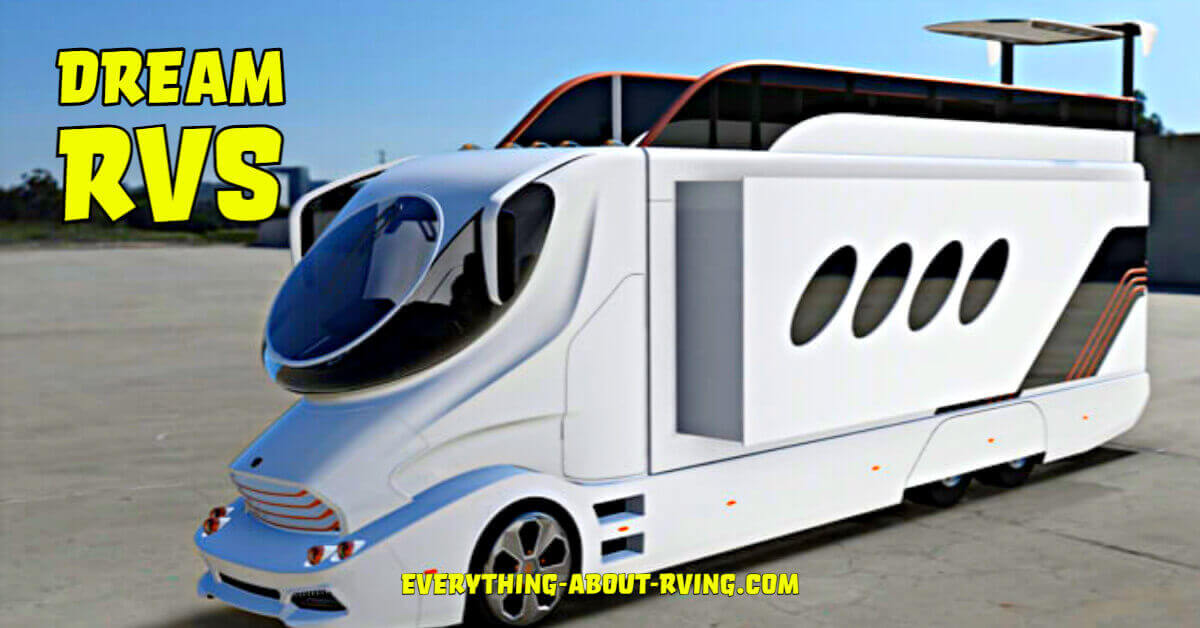 We chose 3 of the most luxurious Dream RVs for this list
It is impossible to be indifferent to these homes on wheels.  Even if you are not going to buy an RV or rent one, we are still happy to look at the photos, imagining how great it would be to spend time in it.  You can wake up and enjoy the mountain view, river, or ocean through the window.  Enjoy your breakfast in nature and then drive a little more and find yourself in a completely different place.  We made this list for those dreamers like us.  We chose 3 of the most luxurious Dream RVs for this list.  So, let's start our engines.
Marchi Mobile Elemment Palazzo
This RV (Pictured at the top of this page) is  designed with three floors.  Each of them contains a sleeping area, an area for receiving guests, and a unique platform on the roof.  The roof area is equipped with a small sunshade, under which you can spend time outdoors. 
The model has a bio-inspired design which provides increased aerodynamics that helps to reduce fuel consumption for such a large RV.  Inside there is a large TV,  internet, and satellite.  The RV weighs 20 tons, but thanks to the 500 hp engine.  It has a top speed of over 90 mph.  This RV is one of the best in terms of comfort because there is no difference between living in this RV or a small luxury apartment.  Those who have seen it in person report that it has a large bedroom, a fireplace in the living room, and a tropical rain shower in the bathroom.  It is the choice for the most demanding RVers who want to travel in luxury.
Porsche Designed Newell RV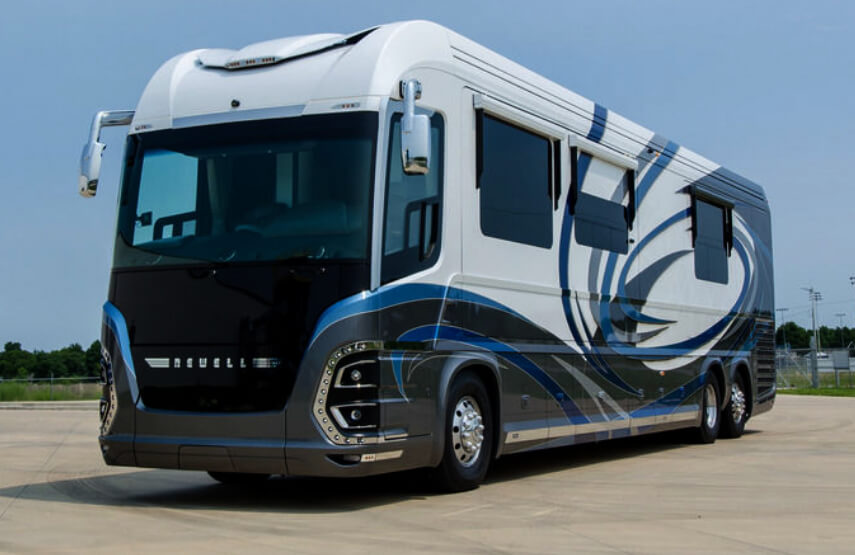 Another star on our list is the Porsche Newell RV which has a 605 hp diesel engine and a 20-kilowatt generator.  Once you step inside, you'll notice that you don't even need a key; the newest technologies will do everything for you.  The driver's seat has a built-in heater and a massager!  It's hard to get tired while driving with these seats like this.  
Inside you will find a fully equipped kitchen, dining room, bathroom, and a bedroom that can accommodate four people.  Everything is like a suite in an expensive hotel.  The equally chic kitchen is equipped with a dishwasher, garbage disposal, refrigerator, freezer, and dining area-all so you can fully relax after hours of driving.  But it's impossible to get tired of driving such a beauty like this.
Volkner Mobil Performance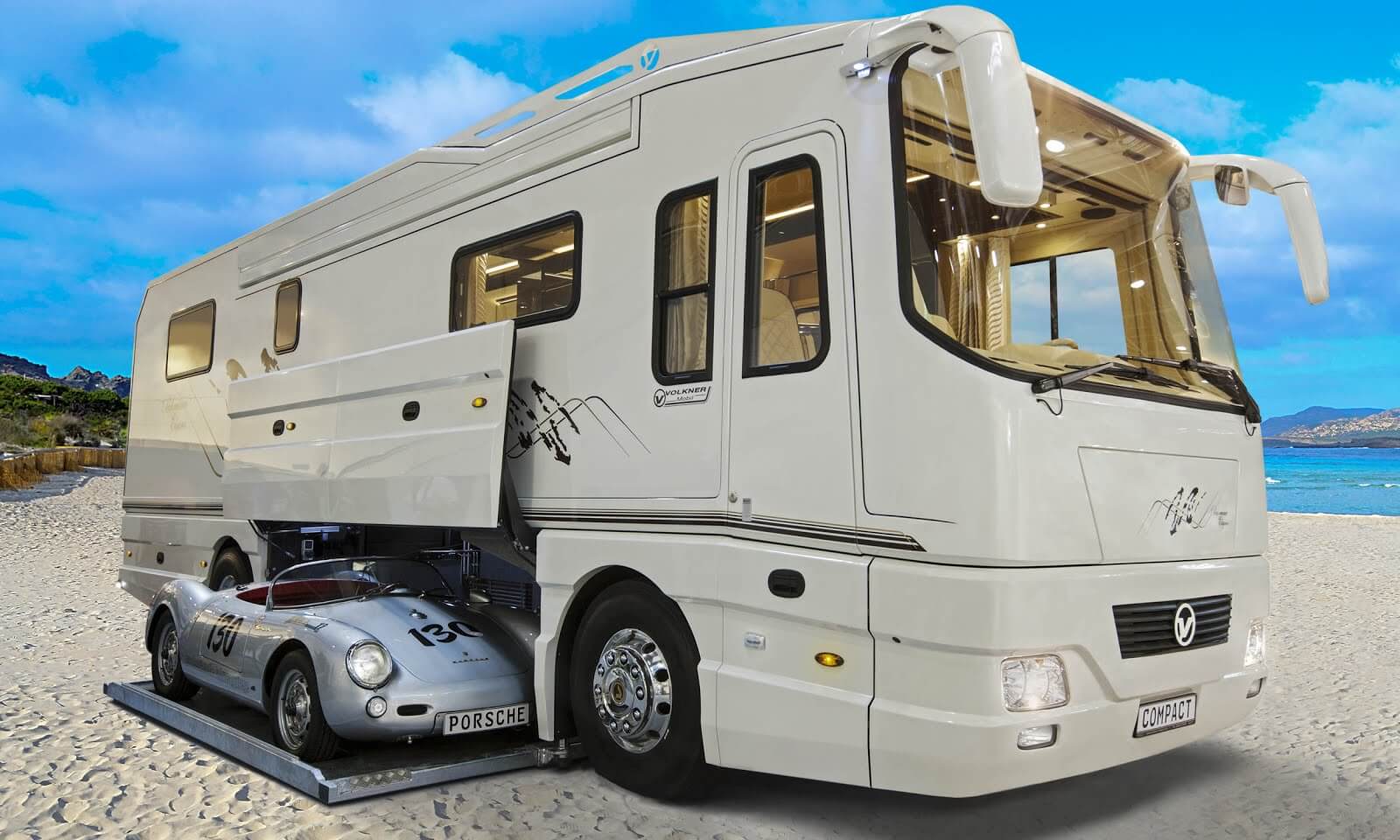 It looks like a huge truck, but you need to look inside to understand how comfortable it is.  The model has dimensions of 12x2.55x3.85 m and weighs 18 tons.  A diesel engine powers it.  The manufacturer offers an automatic air conditioner, auxiliary heater, leather seats with armrests, separate shower, TV, toilet, awning, and a bedroom with a huge bed.  In most reviews, users are pleased with the solar power system.  It has a Cozy environment with wooden tables, mats on the floor, and great interior lighting. 
The main feature of this Motorhome is the presence of built-in storage for a passenger car.  A sliding hydraulic compartment on the starboard side can easily fit a sports car like the one you can rent at rent supercars Dubai service.  This type of RV is extremely popular among UAE travelers and businesspeople who travel to the Emirates.  Because it allows you to take your own or rented supercar with you during an important trip or on vacation.  You can get to your destination in a huge RV and explore the area in a compact sports coupe. 
Rental services in Dubai are very popular.  A dream car can be rented in minutes, and prices vary so much that everyone can choose a car that fits their budget.
We hope you found our shortlist of the fanciest RVs and Camper trailers exciting and had a pleasant RV dream