FTC Disclosure: I get commissions for purchases made through some of the links in this article for more information, visit our Advertising Disclosure Page.
Five Favorite Places to Shop, Bargain & Barter While RVing on Baja
"These shops have those special "Hecho en Mexico" (Made in Mexico) items you are looking for"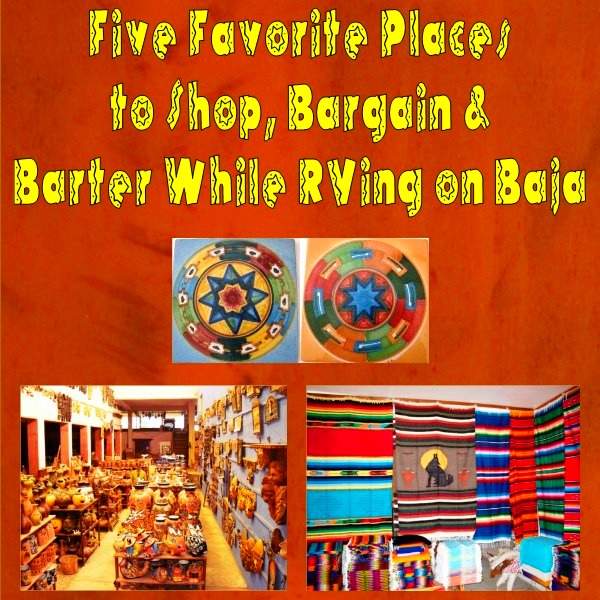 By: Dan & Lisa Goy

(Baja Amigos RV Caravan Tours)
A tour of Baja would not be complete without an opportunity to shop for those special items "Hecho en Mexico" (Made in Mexico).  Many RVers tell us they rated shopping at local markets, shops and beach vendors as one of the most rewarding travel experiences they encounter.  
Sometimes these are gifts for friends and family, creating a new Mexican theme at home, adding a new mat or blanket to the RV or perhaps just something tangible to remind visitors of their wonderful Baja experience.  The benefit of traveling in an RV is you have a lot more room to store purchases and our experience is folks do exactly that!  
Mexican vendors do love a good barter, but beware: if they feel you are trying to devalue their goods too much, they will become upset and may even refuse to trade with you.  You also have to be aware that all shops are not created equal, where items are priced then that is the price you pay, although sometimes even this is not always true.  Generally speaking you will find goods not priced at markets or shops in tourist areas subject to negotiation.  Almost always beach vendors (we have never found one that doesn't) will bargain, where you start and where you end up is totally in your control.  
We Shop at Many Stops and Locations Across Baja on Our Tours, These are Our Favorite Five
La Bufadora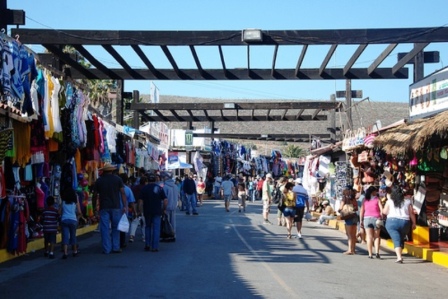 La Bufadora is a marine geyser or blowhole located on the Punta Banda Peninsula, we stay in an RV Park in Punta Banda about 10km (6 miles) away and have an excursion to this site.  La Bufadora is the one of the largest blowholes in North America, often shooting upwards more than 30 metres (100 ft) above sea level. The exhibit hall roof top is approximately 24 metres (80 ft) above sea level and the blowhole frequently sprays above it.  La Bufadora is a very popular tourist destination and regularly draws tourists visiting Ensenada, located roughly 30 kilometres (19 mi) to the north.  On days when cruise ships visit Ensenada, several bus lines compete to bring tourists to the site.  The last few miles of the drive are especially beautiful, with long vistas over the sea from cliff tops, but fog can sometimes obscure the views.     
In addition to this unique geological water feature there is what can only be described a gauntlet of vendors, often selling regional arts and crafts, curios, and food, congregate in small shops crammed side by side along a narrow asphalted road to the blowhole.  Although this may be a little intimidating there are great shopping opportunities here, including good selection and terrific prices.  Do not take your RV here unless it is a small one, really small.  As you approach the entrance you will have several parking attendants attempting to flag you in, just keep going slowly!  You can park at a municipal lot a short walk before the actual attraction for 25 pesos saving you time and money and shopping on your terms.  Our favourite vendor is Darby, the Guy with all the Bumper Stickers (Calcomania), we have many on our travel trailer.
The vendors here are assertive and very active, however they are also very respectful and lots of fun, just enjoy the experience.
Bahia Concepcion
This bay is 23 miles long and the largest on Baja, located a short drive south of Mulege and largely dominated by gringos.  The waters off most beaches are so warm, calm and shallow, even the most timid landlubbers enjoy frolicking in the waters of Bahia Concepcion.  The experience of camping on a beach in the Bay of Concepcion so grows on RVers, that many spend the entire winter.  The "large island" that can be seen way across the bay from these beaches is actually a large barren peninsula.  There are twelve (12) beaches used by many RVers, all dry camping (boondocking), here solar power is king!  Santispac, El Requeson, La Perla, Playa Los Cocos and El Coyote are the most popular with campers, all our groups now stay at Santispac.
Many Mexican families work the beaches collecting camping fees, selling baking, fruits, vegetables and fresh seafood.  Mulege vendors sell hats, hammocks, blankets, carvings, t-shirts, jewellery and much more.  The regular vendors are Adolfo, Pileo and Armando, both Adolpho and Armando have shops in the village of Mulege.  Adolfo is famous for his standard sales pitch "What color? How many? Almost free!"  These are our friends and we always look forward to seeing them as they are to meet our new guests.  This can be a short "no thank you" and they quickly move on or if you're interested they can empty their entire stock onto the beach and an hour later you are still bartering!
Artesano's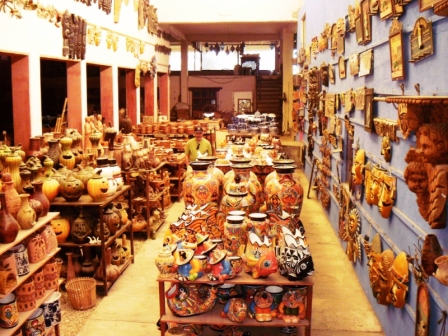 Located just on the outskirts of Cabo San Lucas at Km 4 on Mexico 1, Artesanos offers a wide variety of furniture, pottery, copper, pewter, ceramics and much more, mostly made in Mexico.  They have over 40,000 square feet of space and probably have the best selection of these items in all of Los Cabos. Artesanos began as just one man selling his wares next to a vacant lot.  Due to its popularity, the business slowly and persistently grew until it evolved into the huge business that now occupies the same area.  Artesanos is where home owners and restaurateurs alike go from throughout the area to shop for Mexican furnishings, dishes, and glassware, along with colorful handicrafts and ornaments.  We were first introduced to Artesano's years ago as it is only about 150 meters or yards past the Vagabundos Restaurant & Trailer Park.  You should leave at least an hour to look thru their vast variety and all prices are fixed, so no bargaining.  The prices are excellent and they are open 9am – 2pm Monday thru Friday.
Factory of Mexican Blankets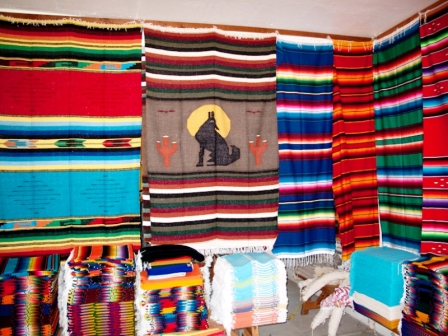 This shop is located at KM 69 on the westcoast highway #19 between Cabo San Lucas and Todos Santos, just south of Pescadero, owned and operated by Efren & Vivianne Parada.  There are many shops in Pescadero,  a real diverse collection of cultural delights, including the best handcrafted products of Mexico mixed in with the usual array of souvenirs.  We always look forward to this stop as do our guests, lots of parking across the highway for everyone and easy to see any traffic coming both ways, important with RVs.  We usually give Efren a heads up when we will arrive and he often has fresh sweet buns baking in his outside beehive oven , a nice touch very much appreciated.  Although they have this large roadside shop their primary business is supplying handcrafted blankets, spreads and rugs to the major hotels and tourists shops in Los Cabos.  Most of the products are actually made by the family business in Taxcala and ship to Pescadero.  They do have a large loom on site and Efren does make some rugs on site. Sometimes the shop is staffed by his mom, a great cook and hard bargainer for sure.  Bargain and barter is the modus operandi here, be fair and we assure you the price will be right.  The selection is really outstanding.

Ibarra's Pottery
Sign and Drive Coverage with Good Sam Roadside Assistance! Plans Starting at $49.95! Shop Now!
This is one of the best kept shopping secrets in La Paz.  This is a family run ceramic pottery business, founded in 1958 by Mr. Julio Ibarra and his Junita.  They had both attended the Art School of San Carlos located in Pachuca, Hildago.  In 1987 they moved to the Ciudad De La Paz
And their ceramic pieces have achieved national and international prestige, since this pottery has reached all parts of the world. These exquisite ceramics come from a great family tradition known for their unique designs, by mixing lines, colors and strokes; these unrepeatable pieces are completely made by hand.  
This family-owned pottery studio has a large selection of beautiful ceramic goods from small items (decorative tiles, kitchen items, dishes) to large pots and household decorative furnishings. 
Designs go from traditional to contemporary and you can actually watch potters working on site shaping the clay and painting the items.  Prices are fixed with a small mark up if you use a credit card. They will also make items to order with a week or two turn around.  Located four blocks inland from the Malecon at 625 Guillermo Prieto between Torre Iglesias and Republica.  Each piece is individually hand-painted or glazed, then fired, lead free and micro-wave safe.  Open Monday to Saturday from 9am to 3pm, please make sure you say hello to our friend Vicky who spent a few years living in Victoria, BC.
Honorable Mention
Of course we stop at many more locations and shops then these and would be remiss if we did not mention the following;
Luz Galvan's Art Gallery at Guillermos Place in Bahia de Los Angeles
The Blown Glass Factory in Cabo San Lucas
Alas y Olas Fine Art & Handmade Textiles in Todos Santos
Conchita's Curios Arts & Crafts in Loreto
Gecko's Curios, Gifts & Mexican Artesanias in Loreto
Art District in San Jose Del Cabo
Wood Carving shop at the topes on Hwy 1 in Mulege
Madero Mercado in downtown La Paz
Please remember that the people selling arts, crafts and artifacts are often artisans or vendors making a simple living and supporting a family.  Some may also be the creators of the wares they are offering for sale, so any deep devaluation of their work might be taken personally.  Be fair and reasonable and better discounts are always given when purchasing multiple items.
Enjoy the experience!

About The Author
Dan & Lisa Goy (Baja Amigo Tours) www.BajaAmigos.net
Do you have any suggestions or comments on this topic? You can add them to this page by using the comments section located below.
Return to RV Lifestyles Articles from Five Favorite Places to Shop, Bargain & Barter While RVing on Baja