FTC Disclosure: I get commissions for purchases made through some of the links in this article for more information, visit our Advertising Disclosure Page.

The Fifth Wheel Trailer Is Living Big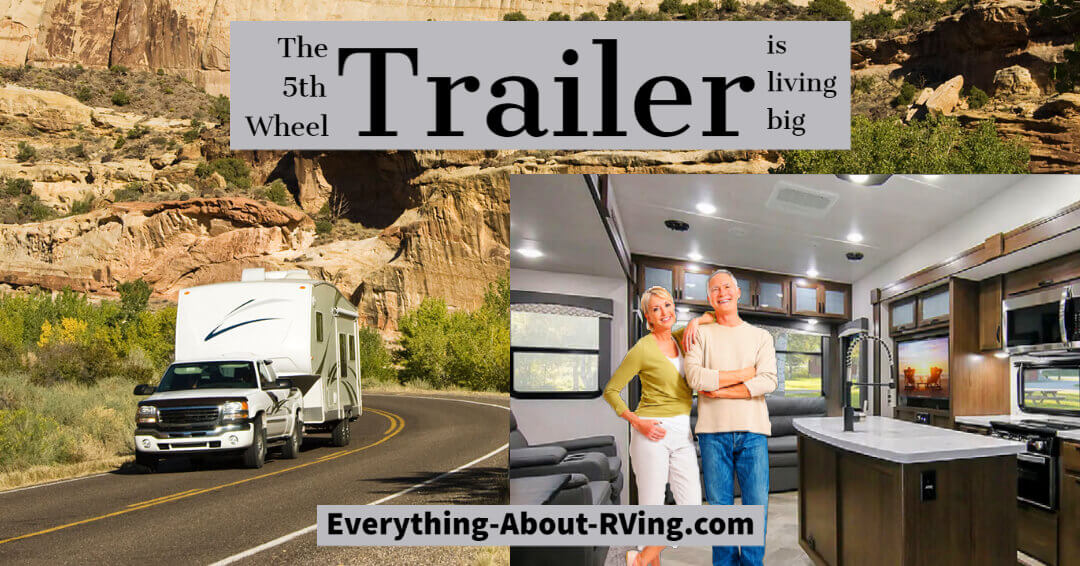 By Alan Wiener

Editor of Everything About RVing
The Fifth Wheel Trailer is One Classy Towable
The 5th Wheel Trailer (also known as the Fiver) has the most available living space of any RV.  They are also the most popular of the towable trailers category. If you want to experience the great outdoors and the great indoors at the same time, this is the RV for you.
Share This Page
Follow Us
The Fiver is not designed to be towed with a regular passenger car. To pull it you need a pickup truck and then you need to install a 5th wheel hitch on the truck. The hitch is identical to the ones that truckers use to attach and pull their trailers.
Because of the design of the trailer, up to 25% of the total trailer's weight is carried by the rear suspension of your truck.
The length of these trailers range between 20 and 40 feet. The bigger the trailer, the bigger the truck you will need to pull it (hopefully your eyes haven't glazed over yet from all this information). 
Because of their unique configuration the 5th Wheel Trailer has a bi-level design that puts a master bedroom or living room above the truck bed.  Now add 1 to 5 room slide-outs and you have one spacious RV.  
These fully self-contained trailers do; or can have every amenity that you now have in your house. That is why Fivers are popular with Full-Timers (a person or persons, who chooses to travel and live in their RVs permanently).
The 5th Wheel Trailer has one sub-type
The Toy Hauler
If your motto is "have toys will travel" then this trailer is for you.  A Toy Hauler is a 5th Wheel or Travel Trailer that has been designed to carry your toys such as quads, dirt bikes, dune buggies, your favorite Harley or even a small car.  
They have a big back door that doubles as a ramp.  Your toys are stored in a mini garage behind the main living area of the trailer. Once you are at your campsite and you have removed all of your valuable cargo, these mini garages can be converted into usable living space such as a bedroom, etc. (This depends on the model you have).  In some cases, the back door ramp can be converted to a patio, which increases the living and playing area of the trailer.
These special trailers can have up to three axles dependent on the weight they are designed to carry.  As with any RV there are Pros and Cons to owning one.
5th Wheel Trailer PROS and CONS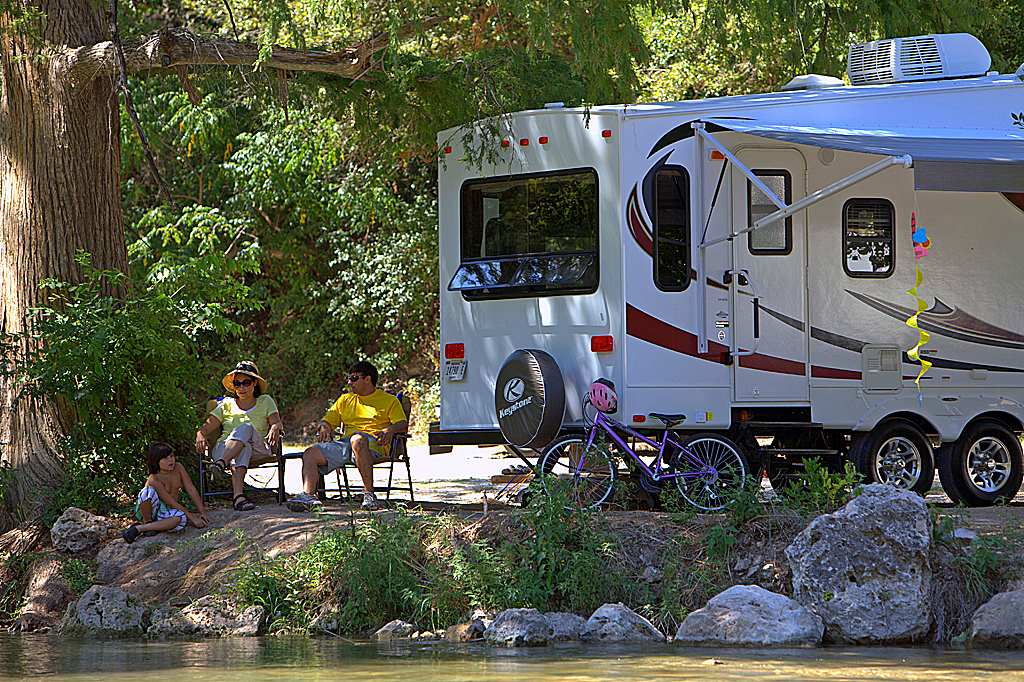 PROS of a 5th Wheel Trailer
Easiest to backup of all trailers due to the Fifth Wheel Trailer design (less arguing with significant other upon backing)
Toy Hauler option available (gotta have that quad)
CONS of a 5th Wheel Trailer
The larger the trailer the larger the truck needed to tow it
Due to the higher profile, low branches and low bridges are a concern
It can be hard to maneuver in tight spaces.
Depending on the length of your Fifth Wheel Trailer, you will find that some campgrounds and RV Parks will not accept an RV over thirty-five feet in length (as time goes on this limitation is fading away)
Requires a large storage area when not camping
Sign and Drive Coverage with Good Sam Roadside Assistance! Plans Starting at $49.95! Shop Now!
Hopefully, the above information will be helpful in steering you in the right direction. If you have decided that a Fifth Wheel Trailer is the right type of RV for you, you should now head over to the Buying a RV section of this web site to get some more helpful hints.
If you are still not sure, continue browsing the other Types of RVs that are available. One thing is for sure you will never regret becoming an RVer regardless of the type of RV you choose.

Get Your Article Published on Everything About RVing
If you have written an article about RVing, Camping or the Great Outdoors and you would like us to publish it on Everything-About-RVing.com, please visit our
Submit An Article Page.
Return to Types of RVs page from The Fifth Wheel Trailer Is Living Big page