FTC Disclosure: I get commissions for purchases made through some of the links in this article for more information, visit our Advertising Disclosure Page.
Finding an RV That Meets Your Needs and Your Budget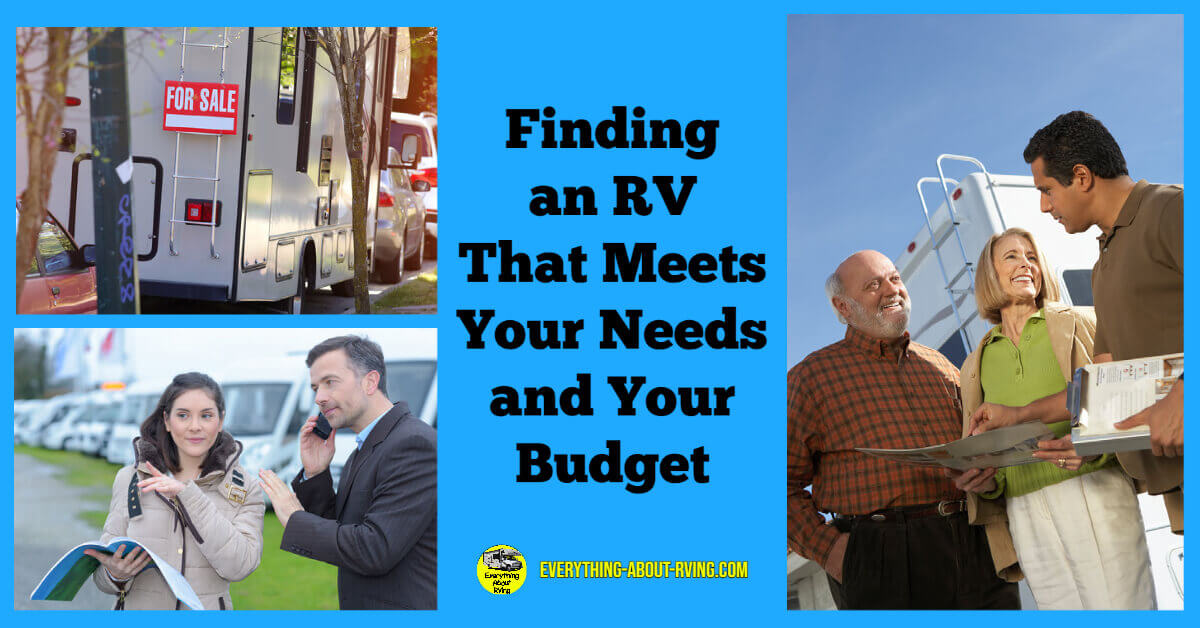 Finding an RV that meets your needs and budget is important
Whether you're considering living the RV lifestyle or want an RV for occasional travel, finding an RV that meets your needs and budget is important. After all, RVs are a significant investment, so it is a purchase you want to get right.
Share This Page
Save 10% on campground fees when you become a Good Sam member Today!
With so many RV options available at such a wide range in pricing, how do you know if a price is reasonable or not? The following tips for finding an RV can help you find a good deal on an RV.
Consider a Wide Range of Options
You don't want to just go with the first dealership you come across. The more RVs and dealerships you research for prices, the better deal you are likely to find. Sign up to receive RV retailers' email marketing campaigns to get updates on sales or end-of-season events when prices are lower.
Also, spend time researching different makes and models online. You can begin making a list of makes and models you like.
Attend a Few RV Shows
If you're unsure what options you want or need in an RV, go to a few RV shows to learn about all available. You might have to deal with a few pushy salespeople, but you'll get a feel for costs and options and be able to ask questions.

Make a List of Your RV Needs
Do you need an RV with lots of "garage" storage space for bikes or even ATVs? How much sleeping space do you need? Knowing your needs will help narrow your search and prevent you from buying too much or too little RV.

Determine Your Price Range
Before you begin RV shopping, determine how much RV you can afford. This will help you avoid buying more RV than your budget will allow.
Also, consider the costs of RV ownership that have nothing to do with the purchase. How much will insurance and gas run you? Will you need to pay for storage at any point throughout the year? Don't become an RV owner shocked by how much they cost to own.
Research Both Used and New Options
Many RV buyers become RV sellers of RVs with a lot of life left in them. The less you spend on your RV, the more you can afford to spend on customizations to make it better fit your needs.
According to J.D. Power NADA Guides, a new RV loses about 20% of its value when you drive it off the lot. If you can find a seller with an RV just a few years old, you might be able to get a great deal on an almost new vehicle.
Be Prepared to Negotiate
Buying an RV isn't unlike buying any other vehicle. You should try to negotiate a better deal than what the seller is offering. If you can't get the seller down to your price range, be prepared to walk away. There is an RV out there that will meet both your needs and your budget.

Look Into Bank Financing Before Dealership Financing
You want to get the best interest rate when financing your RV. You likely will get a better deal through a bank but compare your financing options carefully before signing for a loan.

Don't Make a Purchase You'll Regret
We hope this helps you in finding an RV, because there is an RV out there that will fit your needs and your budget. Take the time to do the necessary research and then patiently search until you find the best deal. With the right financing and negotiations with the seller, you will find yourself cruising the highways in your new home on wheels.