FTC Disclosure: I get commissions for purchases made through some of the links in this article for more information, visit our Advertising Disclosure Page.
10 Tips for a Successful First Time Fishing Trip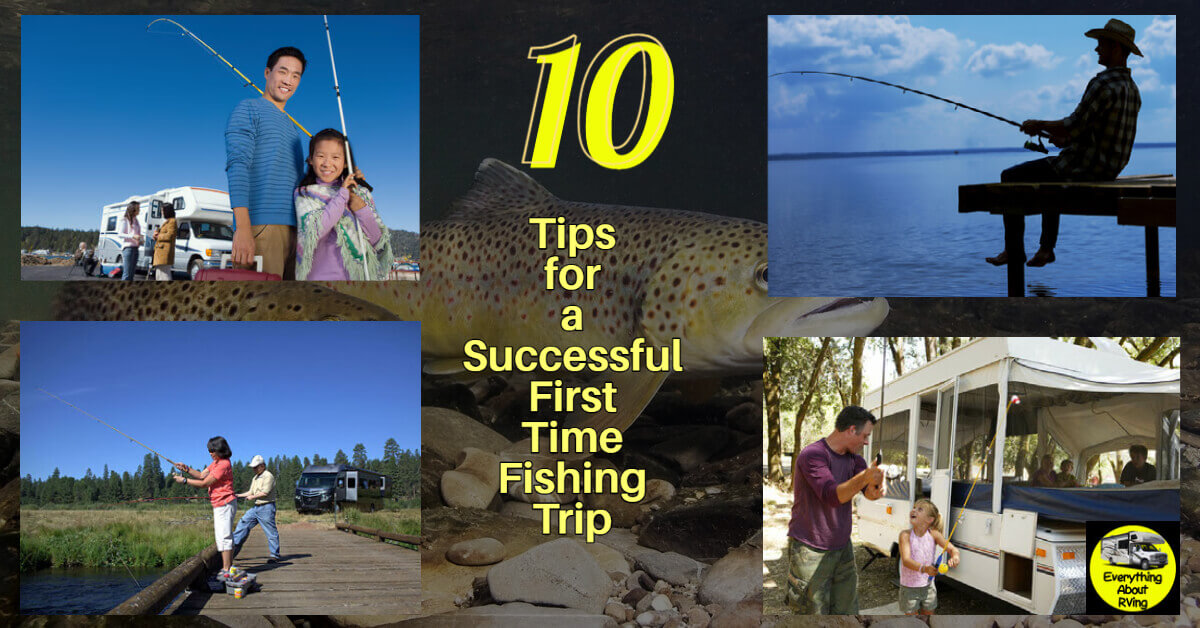 By Captain Tyler Brady
Going on your first time fishing trip and feeling a little overwhelmed?
Don't worry; we're here to help! We've put together 10 first time fishing trip tips that will make your first time fishing while RVing a success.
Fishing can be a lot of fun, and with the proper preparation, it can be easy too. Like RVing, it goes a long way to prepare with the right gear and craft a plan before you head out. So don't miss out on this great opportunity - read our guide and get ready for a fantastic fishing trip!

The Basics
Before we get into our ten fishing tips, it's important that we cover the basics. First, you need to make sure that you have a fishing license. This may vary depending on where you live, but in general, you will need to be at least 16 years old and have a valid ID. You can usually purchase a license at your local bait and tackle shop or online.
Purchasing a fishing license is the law and helps contribute to conservation efforts. The fees are minimal and protect our natural resources and provide opportunities to have local parks and fishing areas.
Once you have your license in hand, it's time to consider a few things before you head out; let's get to it.
10 Tips

1. Decide where you want to fish. There are so many great fishing spots worldwide and deciding on just one can be a tough choice! Some factors to consider when choosing a location include the type of fish you want to catch, how easily accessible it is, and what kind of scenery you prefer.

2. Get the right gear. Before you head out on your fishing trip, make sure you have all the essential gear. This includes a rod and reel, bait, tackle, and of course, a fishing license.

3. Choose the right time of day. The time of day can have a big impact on your success when fishing. Many fish are most active in the early morning or evening, so plan your trip accordingly.

4. Be prepared for weather changes. The weather can always change unexpectedly, so it's important to be prepared. Dress in layers so you can add or remove clothing as needed, and always bring along rain gear just in case.

5. Have patience. Fishing is a wonderful way to relax and unwind, but it can also be a lot of work! It takes time and practice to become good at it, so don't get discouraged if you don't catch anything right away.

6. Know your limits. It's important to stay within the legal catch limits for any fish you catch. Not only is it the law but knowing your limits can also help you avoid harming the fish population and prevent any potential fines or other penalties.

7. Be safe when handling fish. Handling a fish for the first time can be intimidating, especially if you're not used to it. Make sure you know how to safely remove the hook and handle the fish before attempting to do so.

8. Be respectful of other anglers. If you're fishing in a popular spot, there's a good chance you'll run into other anglers. Remember to be respectful of their space and be mindful of how much noise you're making.

9. Clean up after yourself. When you're done fishing for the day, make sure you clean up after yourself and leave the area as you found it. This includes taking your trash with you, putting away all of your gear, and not damaging any property in the area. Like RVing, you want the next person to enjoy their experience just as much as you did.

10. Have fun! While catching fish is definitely one of the best parts of fishing, it's not the only thing that matters. Relax, take in the scenery, and enjoy your time spent outdoors - You will definitely enjoy your first time fishing!

Wrapping Up
We hope our first time fishing tips has helped you feel more prepared for your first fishing trip. Just remember to relax and have fun - you're sure to catch some great memories, even if you don't catch any fish! So, what are you waiting for? Get out there and start fishing today!

About The Author
My name is Tyler Brady, the founder of A Fellow Fisherman. I am a USCG Licensed captain and one who enjoys fishing, whether it is in the surf, creeks, rivers, or the Chesapeake Bay where I grew up.