FTC Disclosure: I get commissions for purchases made through some of the links in this article for more information, visit our Advertising Disclosure Page.

RVing at the Hotel Serenidad & Baja Legend Don Johnson
"The hotel has a long and fascinating history"
By: Dan & Lisa Goy 

(Baja Amigos RV Caravan Tours)
A regular stop for us on tour always includes the Hotel Serenidad, located just south of Mulege, the gateway to the beautiful Bahia Concepcion.  The hotel has 7 RV spaces that include power, water, showers and dump stations at each site, all along the back of the parking lot.  These are not particularly fancy, however very practical, reasonably priced and best of all a 1 minute walk from the Hotel Serenidad, a real Baja treasurer for sure!  Two (2) different WiFi spots are available, one in the restaurant and another in the bar, which can be accessed from the outside patio and poolside.  The restaurant opens at 6am for the early birds and closes late as long as patrons want to stay and enjoy the ambience.
Share This Page
Follow Us
Mulege to many Baja travelers means the Hotel Serenidad, a tropical fly-in resort down near the mouth of the Santa Rosalia (or Mulege) River.  Many guests fly private planes into the adjacent airstrip.  The 4,000' x 125' graded strip is no longer called "Serenidad," having been renamed "El Gallito."  Over the years the hotel has drawn such regulars as John Wayne, Olivia Newton-John and many other celebrities.  When folks think of the Serenidad, they usually think about its affable host, Don Johnson.  
The hotel Serenidad has a long and fascinating history.  The Serenidad (Serenity) Hotel was originally developed in 1961 by Leroy Center.  Don Johnson, who had earlier been part owner of the Loma Linda, was the Serenidad's boat manager during the 1960s.  Later, with partners Fernando del Morel and Chester Mason, Johnson bought the resort in 1968.  Don Johnson and his wife Nancy, has owned the Serenidad ever since, his name synonymous with the place.  The airstrip next to the Serenidad has always been and still is the main source of travelers for the hotel. By the early 1970s the hotel offered modern accommodations, patio dining, a bar, and a new swimming pool.  The Serenidad became like its name, serene, with large, beautifully furnished rooms strung out across tropical grounds.  A large outdoor patio was built and is still used for dining alfresco.

Johnson, who seemingly has been around forever, actually hasn't, only almost forever.  He personally discovered Mulege in 1960, arriving that first time by boat from San Felipe.  Born in Springfield, Illinois, he was raised in San Jose, California.  At age 35, looking for a change and a better opportunity, he left San Jose to return to Baja, settling in Mulege.  Don married a local girl, Nancy Ugalde Gorosave, the granddaughter of Mulege area rancher Don Jose Gorosave and raised three daughters, Diana, Sara Laura and Sandra Lynn, until recently the oldest Diana ran the hotel.
Saturday Night Pig Roast
Don started a tradition that has been going strong for almost 45 years, we have attended many.  Every Saturday night is a Pig Roast and Baja pilots still fly in just for the feast which includes one margarita, all the roast pig you can eat and sometimes live music or other entertainment.  The tradition began as an occasional weekend celebration.  
Ray Cannon, author of the bestseller, Sea of Cortez, wrote about the Serenidad and the beginning of the pig tradition in 1970: "Most of our group stayed at the Hotel Serenidad, where another old friend, Don Johnson, is co-operator and where he sees to supplying gas and supplies to the boats at his pier.  Don had a whole pig barbecued for us on an old style spit beside the outdoor dining veranda.  The evening was a gay one…"

Occupation of the Hotel Serenidad
On July 14, 1996 three decades of serenity at the Hotel Serenidad came to an abrupt end.  It was a Sunday, and the hotel was packed with such regulars including a Superior Court Judge from San Diego, when 94 Mexican locals invaded and occupied the hotel. This was a dispute over land ownership and the ejidatarios, or Mexicans who own land communally, evicted the owners and guests and seized the rooms, dining room, pool bar and airstrip. Locals in cowboy hats replaced well-heeled tourists beside a pool which was soon filled only with two inches of green pond scum.  
Ultimately Don Johnson & Nancy Ugalde de Johnson, a fifth-generation Mulege native, spent six months in court to prove that Nancy, Mexican born and bred, was the legal owner.  Eventually a federal judge in Mexico City ruled that they had legal title to the land.  As we all know the hotel did reopen, however things were never quite the same with underlying tension amongst some members of the community in Mulege years later.
Baja Legend Don Johnson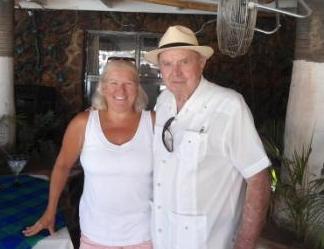 Don (Pictured above with Lisa Goy) has put his heart and sole into the Hotel Serenidad and has always been a true Mulege champion and promoter.  He never stops working on ways to improve the Hotel which is quite remarkable given the multiple hurricane and floods they have suffered just in the last 10 years.  Last season we showed up with the caravan and Don was in the parking lot directing a dump truck with a load of new gravel for the parking lot.  When Don saw us he grabbed a shovel to spread the piles around so not to catch the bottom of the RVs, not bad for a guy closer to 90 then 80 years old.  For the last couple of years he has been working on a new RV Park on the adjacent Shangila property, he knows that many of the larger RV caravans bypass Mulege because they have no where decent to stay that accommodate 20-to 30 rigs. 
Although Don no longer personally runs the hotel he still serves as the unofficial ambassador at the Serenidad, constantly visiting and chatting with his guests.  It's a comfortable role for him, as in 1980 he became the American consulate in Mulege, a job he performed for 13 official years and 20 unofficial ones.  Don loves to tell stories and engage the guests, he always has time to answer questions about the area, the history or listen to whatever it is you want to talk about.  You can always count on Don to be one of the most interesting and gracious hosts Mulege has to offer.
Whether you are RVing or not make sure to drop into the Hotel Serenidad and experience the unique character and tranquil ambience of this establishment, decades in the making, a real Baja treasure.  Don't forget about Nancy's gift shops and be careful of those Margaritas made by Roman!
Sign and Drive Coverage with Good Sam Roadside Assistance! Plans Starting at $49.95! Shop Now!
About The Author
Dan & Lisa Goy (Baja Amigo Tours) www.BajaAmigos.net
Helpful Links
The Hotel Serenidad
Mulegé
Get Your Article Published on Everything About RVing
If you have written an article about RVing, Camping or the Great Outdoors and you would like us to publish it on Everything-About-RVing.com, please visit our
Submit An Article Page.

Get Your Article Published on Everything About RVing
If you have written an article about RVing, Camping or the Great Outdoors and you would like us to publish it on Everything-About-RVing.com, please visit our
Submit An Article Page.
Return to the RV Lifestyles Articles Page from the RVing at the Hotel Serenidad & Baja Legend Don Johnson Page.