How Do I Winterize My RV?
by Vic
(Pierson, IA)
How do you winterize a 1996 Pace Arrow Fleetwood Vision? we just bought it and there are no books with it. Thanks for any help you might give us,

Vic Lambert

ANSWER: Greetings Vic thanks for submitting your question on our Ask An RV Question Page.

Luckily winterizing your RV is actually pretty simple and straight-forward and the good thing is that it does not matter what brand RV you have the steps are pretty much the same. We have a great article in our
RV Lifestyle Articles Section
called
Winterizing Your RV
. It tells you what supplies you will need and clearly walks you through the winterizing process.
There is also a great video by RVing Expert Mark Polk that you can instantly download to your computer called Winterizing and Storing your RV.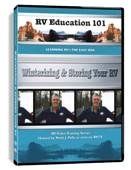 Winterizing and Storing your RV. This video covers more than just winterizing the water system on your RV, it goes into detail on the other steps you need to take to properly prepare your RV for winter storage. In the video below Mark Polk explains what else is covered by his great video.
For even more books and videos by RVing Expert Mark Polk visit our
RV Education Videos From The Experts
page.
I hope that this information has been helpful.
Do you have any suggestions or comments on this topic? You can add them to this page by clicking on the "Click Here To Post Comments" link located near the bottom of this page.
Happy RVing
RVing Al
Join the Good Sam Club Today! The Official RV Community Club
Check out what's on Sale at Camping World! Hundreds of Items - Huge Savings. Click here to shop!