How Do I Wire The Auxillary Batteries In My Motorhome?
by Roger
(Perkins, OK)
I just bought a 2000 Fleetwood Jamboree 24' motor home. The aux. batteries are located under the entry steps. There are two batteries. The Inteli Power 9100 converter, model PD9140A blew the two 30 amp fuses when I hooked up the electricity and turned on the air conditioner.

The book on the converter says that the fuses will blow if a battery is hooked up backwards. Do you have a diagram showing how they are supposed to be hooked up? there isn't such a diagram in the literature that came with the motor home.

Thanks

ANSWER:
Greetings Roger thanks for submitting your question on our
Ask An RV Question Page.
I am not really sure based on your description that your house batteries are the cause of your problem, but as per your request here are some instructions and diagrams for hooking up your house batteries properly. I am going to assume that you are using 2 six volt batteries as house batteries.
If you have any doubts after reading the outline below about hooking up the batteries in your RV, you should get a more knowledgeable friend or neighbor to help you hook up the batteries on your motorhome. If this process is done incorrectly it can cause severe damage to your batteries and the 12 volt electrical system on your motorhome. There is also the risk of starting an electrical fire in your motorhome.
Leave your RV repair bills to us—Good Sam Extended Service Plan

This information is not meant to scare you; it is meant to make you aware that you may be better off having an RV Technician do the job for you. The money you spend to have the job done correctly will cost far less than repairing the electrical system on your motorhome.

That being said let me get started on the guidelines.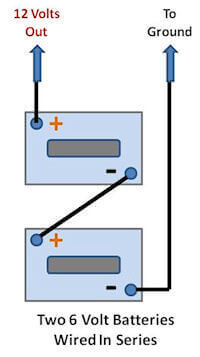 Again I am assuming that the two batteries that are being used on your RV for the house battery system are two 6 volt batteries hooked up in series. The way you tell if they are
6 volt batteries is by looking at the top of the battery. A six volt battery will have three caps on top where you add distilled water. If they have 6 caps each then they are 12 volt batteries and the wiring diagram below will not work for two 12 volt house batteries.
First make sure that all 12 volt systems in the motorhome are turned off and the ignition of the RV is in the off position and that the motorhome is not plugged into shore power. If you have a battery cutoff switch in your motorhome it should be in the off position.
OK it is now time to hook up the two 6 volt house batteries of the motorhome. These two 6 volt batteries need to be hooked up in series in order to power the 12 volt system of your motorhome. Take a look at the diagram to the left to see how to hook up these batteries.
Now here is the problem, if you are not sure which cables lead where then I am going to again suggest that you have an experienced RV Technician do the job for you. You may have optional electrical accessories in your motorhome such as power inverters, etc. that are hard wired to the house batteries. Again if these electrical accessories are hooked up to the batteries incorrectly it will damage them.
Hopefully this information has been helpful to you.
Do you have any suggestions or comments on this topic? You can add them to this page by clicking on the "Click Here To Post Comments" link located near the bottom of this page.
Now protect all of your Vehicles and your family while on the road: Join Good Sam Emergency Road Service Today and save!
Happy RVing
RVing Al
P.S. Did You Know that you can build your own Web Page on Everything About RVing? Just Tell Us Why You Love RVing, Share An RVing Tip Or Trick, Tell Us About Your Favorite Camping Or RVing Destination or Share a Funny RVing Story With Us.