How Do We Fix Our RV Furnace? It Won't Turn On
by Jeanine Ward
(Nampa Id.)
We just inherited an 89 Country Coach motorhome and we don't have a clue as to where the fuse box is we know where the circuit box is but can't seem to find the fuse box and the next question is our heater is a suburban furnace and for some reason, it will not ignite. The fan comes on but it still won't ignite.

The motorhome has sat for around 5 years w/out anything being done to it. Every so often it was started and ran for a little bit. Prior to that, it looks like it has had the best of care.

Thanks,

CJ Ward

ANSWER Hi CJ your circuit breaker and fuses for the house portion of your RV should be located in the electrical compartment of your RV. The electrical compartment is usually located in one of the outside storage compartments of your RV. I cannot tell you exactly where it is in your motorhome; as the location varies by type of RV and make and model of RV you have. Believe me, you will know it when you find it.


Good Sam Extended Service Plan is mechanical breakdown insurance for your RV, 5th Wheel, Trailer, and Tow Vehicle! FREE Quote
The fuses for your RV's chassis are usually located in the engine compartment of the Motorhome. You may also find some fuses under the dash on the driver's side of your motorhome.
There are two problems that can stop an RV furnace from igniting.
1. The furnace is not getting propane. This can be due to a bad regulator on the propane tank, a bad or clogged propane valve in the furnace. Clogged or blocked exhaust vents on the furnace will not allow it to turn on the flow of propane. This can also be caused by a bad electronic control board on the furnace.
2. The propane
is not getting ignited, this can be due to a dirty or bad igniter, broken wiring between the igniter and the furnaces electronic control board or a corroded igniter connection on the furnace control board. Again, a bad electronic furnace control board can cause this problem.
A lot of the above-mentioned problems can be prevented by performing preventative maintenance on your RV's furnaces. At this point, I would suggest that you take your motorhome in and have a qualified RV Technician diagnose and repair the problem with your furnace.
I know that you just inherited this motorhome that has been sitting around for 5 years; so the lack of maintenance is not your fault. One thing I would suggest is that you start right now on catching up on the routine maintenance on your motorhome. Don't worry you do not have to be a mechanic to perform routine care and maintenance on your RV. By performing this routine maintenance you can prevent some costly repair work on your RV.
I highly recommend that all RVers get RV Expert Mark Polk's RV Care and Maintenance video below. This reasonably priced instantly downloadable video can and will save you hundreds of dollars in future RV repair bills.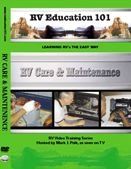 RV Care & Maintenance:
Let RV Expert Mark Polk show you how easy it is to properly maintain and care for your RV in this information packed instant download video. This video is loaded with information on the proper care and maintenance for the interior of your RV, the exterior of your RV, RV appliances, LP gas system, water system, electrical system, RV generators, RV batteries, chassis & frame and RV tires. An ounce of prevention can save you time, money and headaches.
I hope that this information has been helpful to you.
Happy RVing
RVing Al
Over 1,500,000 successful roadside rescues—Good Sam RV Emergency Road Service