FTC Disclosure: I get commissions for purchases made through some of the links in this article for more information, visit our Advertising Disclosure Page.

How to Tow a Jeep Behind an RV
How to Tow a Jeep Behind an RV
Step by Step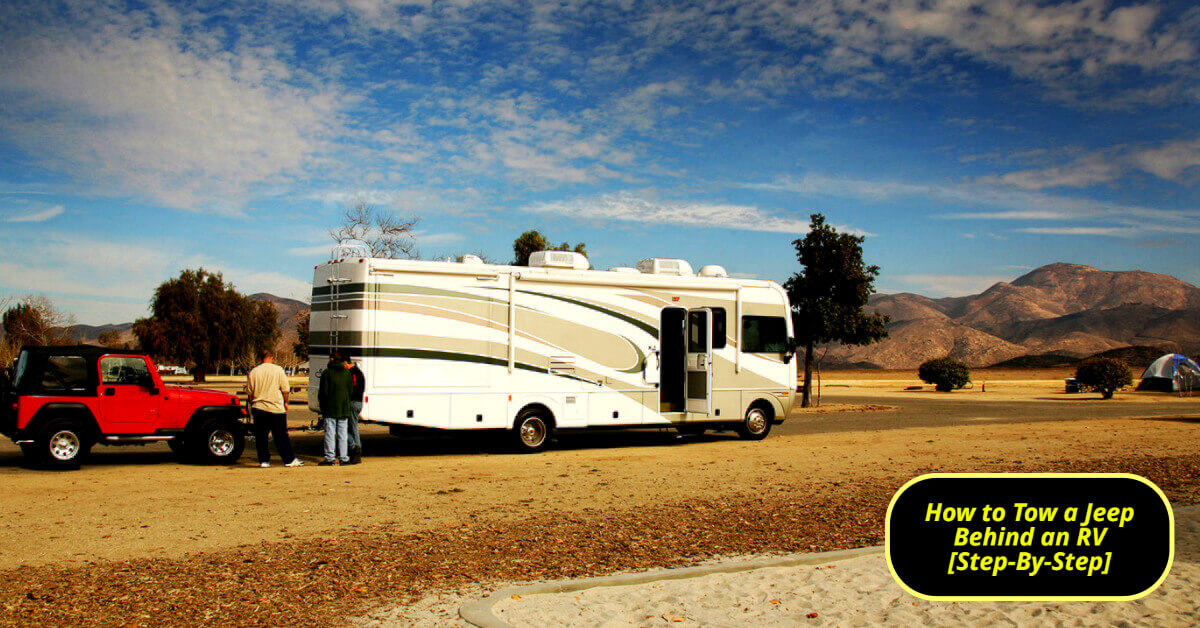 Here is the Step-By-Step Process on How to Tow a Jeep Behind an RV
So, why do you need to know how to tow a Jeep behind an RV? It's because you want to travel with your RV like you often do. But this time, you want to take your Jeep to experience adventurous off-road driving. No issue. Instead, towing a Jeep behind an RV is something RV owners often do. 
Share This Page
Follow Us
But how to tow a Jeep behind an RV? The process is pretty straightforward. After you have additional accessories to connect your Jeep to your RV, you can get down to the task. You will also require a tow bar to connect the two vehicles and skills to ensure you can tow a Jeep behind an RV
Be clear! This article will provide a step-by-step process on how to tow a Jeep behind an RV. It will also give you essential facts to remember before performing this exciting yet crucial task.
What You Need to Know Before Towing a Jeep Behind an RV
As you know, towing a Jeep with an RV is exciting, but it's important to be aware of some essential factors. Towing a Jeep with your RV can be dangerous if you don't properly prepare your RV and Jeep for towing. Moreover, you should make a to-do list before towing your Jeep with your RV.
This is how to tow a Jeep behind an RV.
First, you must ensure that your RV has the towing capacity to tow your Jeep Wrangler.
You need to determine your Jeep Wrangler's current weight. The more lightweight your Jeep is, the better the RV can tow the Jeep. So, don't add additional weight to your Jeep.
Adding items to your RV's storage compartments instead of the Jeep is a great idea. Your RV is the best place if you want to carry something. For an easier tow, you can also use aluminum even if the bumper of your Jeep is steel. You will find many 4x4 bumper aluminum bumpers for your Jeep.
Besides, you have three options while towing your Jeep behind your motorhome. These are:

Flat Towing. 
Trailer Towing. 
Towing Dolly. 
Flat towing is the easiest and risk-free way to pull a Jeep with an RV. And, here in this detailed guide by Jeep Advices, we will explain how you can flat tow your Jeep.
These Are the Components You Need to Tow Your Jeep Behind Your Motorhome

Camping World Clearance! Up to 70% off - While Supplies Last!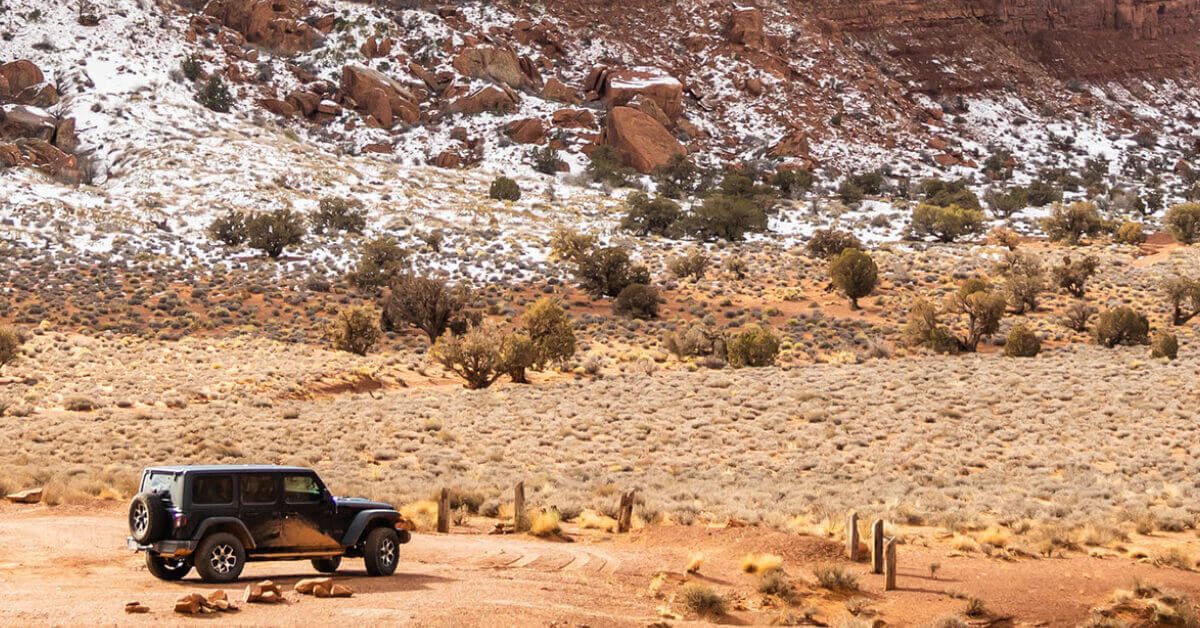 | | |
| --- | --- |
| Towing Equipment | Price Range |
| Towing Bar | $600-$1000. |
| Jeep Bumper (4x4) | $1200-$1800 |
| Braking System (Electronic) | $1500-$1800 |
| Tow Bracket | $70-$100 |
| Towing safety cable | $70-$90 |
| Brake light cables | $40-$50 |
Towing Equipment Approximate Price Range Towing Bar $600-$1000. Jeep Bumper (4x4) $1200-$1800 Braking System (Electronic) $1500-$1800 Tow Bracket $70-$100 Towing safety cable $70-$90 Brake light cables $40-$50
How to Tow a Jeep Behind an RV

So, you've marked off the checklist you are supposed to create before towing your Jeep Wrangler behind your RV. You have all the necessary equipment. What's next?
We will show you exactly how to get your Jeep behind a Motorhome. Let's move!

Step 1: Connect the Tow Bar with the Universal Bracket of Your Jeep

This is the first and, needless to say, the most important task you should perform while towing your Jeep with the motorhome. You must connect the tow bar to the motor home hitch receiver.
Next, you should pull the tow bar's arms and connect them to the universal brackets mounted on your Jeep. You'll find two tow-bar arms out there.
While towing, it is essential to ensure the RV and the Jeep are positioned at a safe and appropriate distance. The space between two vehicles should be enough to keep them in control but not so close that they can collide.
Once you are done connecting the arms of the tow bar with the universal brackets of your Jeep, make sure you put the pins on the mounting hole of the brackets.
Doing this allows the pins to engage and hold the tow bar's arms and the universal bracket together. You must put two pins for each mounting hole on your Jeep's universal brackets. You will get the pins with the tow bar most of the time.

Step 2: Install the Safety Chain
Now, you have to bring out the safety chain of the towing system and create a connection between the Jeep and the RV. For this, you should first hook up the safety chain on the rear hatch of your RV.
Next, you need to cross the safety chain over the towing bar and hook it up to the bumper of your Jeep. The safety chain can keep the Jeep connected to the RV if something happens with your tow bar while driving.

Step 3: Install the Brake Away Switch/Cable

This step is similar to what you were supposed to do with the previous step. To install the brake away switch or cable, you should hook up the brake cable on the rear hatch of your RV and hook up the other part of the cable on the D-ring on your Jeep's bumper.
However, you might get a built-in braking system in some of the tow bars. And we recommend you buy one of them. When you brake your RV, your Jeep will push up against the RV and activate a lever that pulls the cable and finally pulls the Jeep brake.

Step 4: Install the Brake Light Cable
The brake light cables will allow you to turn on the brake light of your Jeep when you press the brake on your RV. To install the brake light cable, you should attach one side of the brake light to the brake spot at the rear end of your RV.
And then, you should attach another part of the four-pin connector to the Hopkins connector in the bumper of your Jeep.
Step 5: Prepare Your Jeep for Towing

You are done with connecting towing equipment between the Jeep and RV. Next, you should prepare your Jeep for towing. To do this you should: 
Turn on your Jeep.
Pull the gear shifter down into neutral. 
Pull the transfer case into the neutral position.
Turn off your Jeep. 
Move the gear shifter back into the Park (P) position. 
Step 5: Install the Electronic Braking System
If you can't rely on the mechanical braking system, the electronic braking system is for you. And we recommend you use the electronic braking system as well. You can go with the Hopkins brake buddy in this case. 
To install the braking system you should:
Place the brake system underneath the driving seat of your Jeep. 
Attach the clip of the braking system to the brake pedal of your Jeep.
Push the braking system as far as possible so it can be in a tight position attached to the driver's side seat. 
Power the braking system with the wire connected to it from the central console of your Jeep. 
Once you are done with this, press the 'auto start' button and see whether the braking system pushes the brake pedal of your Jeep or not. Additionally, check whether the brake light in the rear end of your Jeep comes on.
Note: The Ready Brute Elite is a good option if you want a braking system with the tow bar and want to avoid installing any electronic braking system.
Step 6: Check Through All the Towing System Components
This is the last step you must perform. It is essential to thoroughly check all the components of the towing system before towing a vehicle or trailer.
If some of the connections remain loose, you need to tighten them. Moreover, make sure all your cables are hooked in the right places. 
It would be better if you also make a checklist of the abovementioned steps. So, whenever you need to tow your Jeep behind an RV, you can follow that and avoid mistakes.
Towing your Jeep with your RV or motorhome is relatively easy. And that's why in most cases, you can perform the task on your own. However, if you find the procedure confusing, you can hire a technician also.
Also, drive carefully when driving your RV and towing the Jeep behind. Don't take unnecessary turns; try to avoid rough roads. Besides, ensure you don't excessively use the brakes.
It is highly recommended that you keep all your towing components in a safe place so that you can use them again when needed in the future.

Now you know how to tow a Jeep behind your RV, Happy RVing
What components do I need to set up my RV to tow my Jeep?


Tow Bar, Braking System (Electronic), Tow Bracket, Towing safety cable and Brake light cables

Get Your Article Published on Everything About RVing
If you have written an article about RVing, Camping or the Great Outdoors and you would like us to publish it on Everything-About-RVing.com, please visit our
Submit An Article Page.