I Hooked Up The House Batteries Wrong On My RV, Now What?
by Pete
(Kentuck, USA)
I connected the two 6 volt batteries wrong. Everything works when I have the generator on or the RV plugged in. The unit does not work otherwise. Where is there a fuse that might have been blown? I have a 2000 Pace Arrow Vision Motorhome.

ANSWER: Hi Pete the fuses for your 12 Volt DC electrical system for the house portion of your RV are located in the Electrical Compartment of your RV along with the circuit breakers for the 120 volt systems of your RV. In a lot of motor homes, the electrical compartment is located in one of the exterior storage compartments of your RV.

You may also need to check to si if you have an inline fuse or fusible link on the cables leading to your house batteries to see if you might have blown one of those.

For future reference you may want to look at the diagram below to see how to properly hook up two 6 volt batteries.


Good Sam Extended Service Plan is mechanical breakdown insurance for your RV, 5th Wheel, Trailer, and Tow Vehicle! FREE Quote
Hooking up 2 six volt batteries to house battery system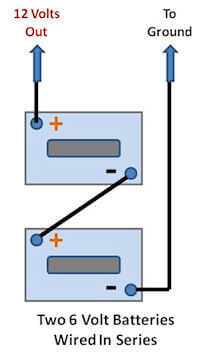 I hope this helped.
Do you have any suggestions or comments on this topic? You can add them to this page by clicking on the "Click Here To Post Comments" link located near the bottom of this page.
Over 1,500,000 successful roadside rescues—Good Sam RV Emergency Road Service
Happy RVing
RVing Al