FTC Disclosure: I get commissions for purchases made through some of the links in this article for more information, visit our Advertising Disclosure Page.
RVing In La Paz – Gateway to Baja Sur Southern Loop
"La Paz was noted for its black pearls (metallic gray) and was harvested for over 400 years"
By: Dan & Lisa Goy (Baja Amigos RV Caravan Tours)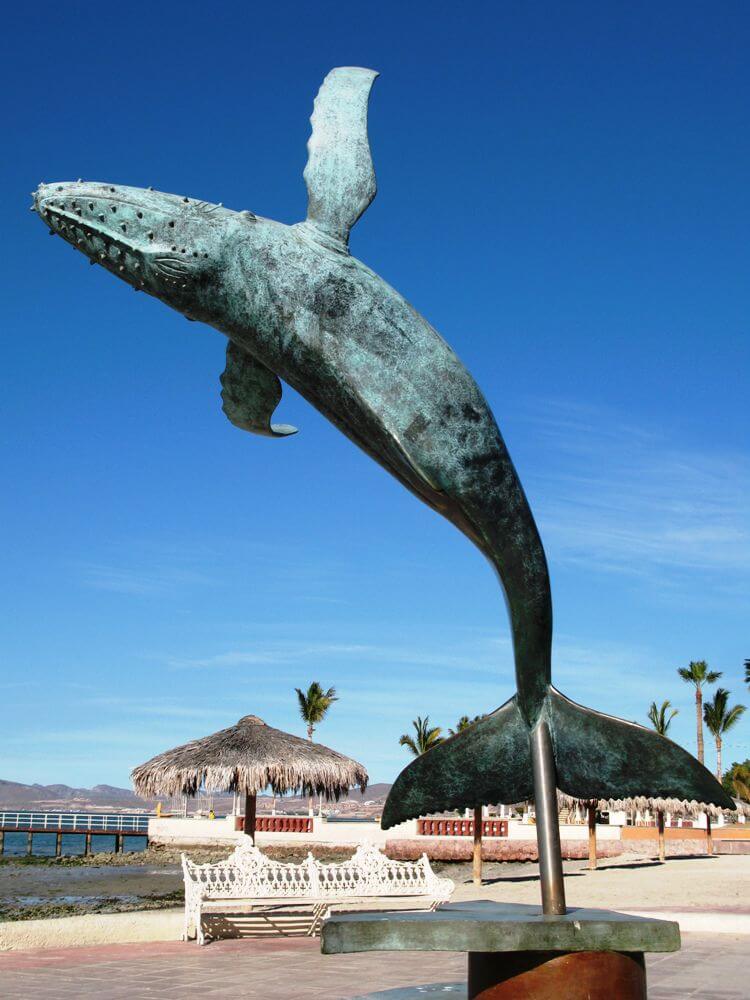 La Paz (The Peace in Spanish) is the capital city of the Mexican state of Baja California Sur, admitted to the republic in 1974.  We currently stay at Campestre Maranatha, just north of La Paz in the community of El Centenario.  This is a great RV Park which doubles as a Bible Camp operated by our friends Jose & Lucinda (Cindy) Nunez.  Cindy's parents were missionaries and the site was originally a runway, lots of room for RVs of all sizes, good showers, a pool, horseshoe pits and an expansive area for Caravans.  This is the last remaining RV Park for La Paz, a big change from years gone by.  We stayed at Oasis de Aripes in 1985, also in El Centenario, however they have been closed for many years.  The last RV Park to close in La Paz proper was Casa Blanca in 2009, prior to that Aguamarina, El Cardon and La Paz Trailer Court closed their doors over the past ten years.  Development, owners retiring and a lack of RV traffic have all contributed to these campgrounds closing, the good news is Jose & Cindy have expanded their facility to easily handle everyone although it can be tight in January and February when you add in a couple of RV Caravans into the mix.
La Paz is an important regional commercial center and has a metropolitan population of roughly 250,000 because of surrounding towns like el Centenario, el Zacatal and San Pedro.  La Paz was first inhabited by Neolithic hunter-gatherers at least 10,000 years ago who left traces of their existence in the form of rock paintings near the city and throughout the Baja peninsula.  On May 3, 1535, Hernan Cortes arrived in the bay by La Paz and named it Santa Cruz; he attempted to start a colony but abandoned his efforts after several years due to logistical problems.  In 1596 Sebastion Vizcaino arrived, giving the area its modern name, La Paz. 
La Paz was noted for its black pearls (metallic gray) and was harvested for over 400 years.  In the late 1800's the beautiful abalone shells themselves were also harvested and shipped.  By 1861 the population was about 800 people and was named a free port and was able to receive foreign goods.  Now Pichilingue is the principal port and ferry terminal which departs to Topolobampo and Mazatlan on the Mexican mainland.  By 1941 the pearling industry had gone entirely, as the pearl oyster disappeared due to over harvesting and disease.  Nobel Prize-winning writer John Steinbeck visited La Paz and based his book The Pearl on his experience.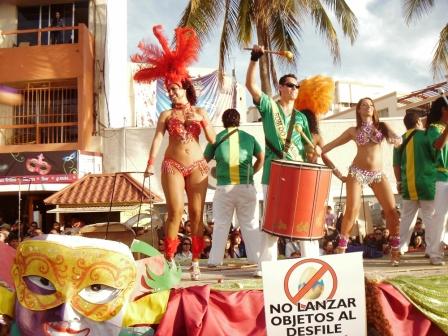 La Paz holds several annual events including Carnaval held for six days before Ash Wednesday, Fiesta de La Paz, held May 3rd, a parade for Dia de la Revolución – Mexico Revolution Day, November 20 and every second year the race finish for the Baja 1000 (Baja Mil).  This year our caravan arrives in La Paz the same day Baja Mil finishes, this will be exciting, lots of crowds cheering our arrival!  We have attended both Carnaval and the Dia de la Revolución parade, if you have the opportunity do not miss these.
Eco-tourism is the major source of tourism income as people come to enjoy its marine wonders, as well as its diverse and often unique terrestrial species endemic to the region.  There are some 900 islands and inlets in the Gulf of California with 244 now under UNESCO protection as World Heritage Bio-Reserves and the Espiritu Santos Islands group, which borders the south eastern portion of the Bay of La Paz and are considered the crown jewels of the islands of the Gulf (also referred to as the Sea of Cortez/Mar de Cortes), the primary tourist destination of the area.  Its diving, snorkelling and kayaking are considered second to none.
Malecón (beach boulevard) Alvaro Obregón
This is a great stroll; along this five kilometre boulevard you will find restaurants, hotels, night clubs, bars and specialty stores.  You can take a relaxing walk on its wide and well illuminated sidewalks; or just simply enjoy its reddish sunsets that include live music on the weekends.  We have a favourite lunch stop at a hot dog stand.  You can see El Mogote a small peninsula, the cruise ship port and a series of bronze sculptures including one of the most outstanding El Cristo de Mar.
Plaza Constitución (Jardin Velazco)
Another must see is La Paz's tidy downtown zócalo, enclosed by Avenida Independencia and Calles 5 de Mayo, Revolución de 1910, and Madero.  At the southwest side of the plaza is the post-missionary-style Catedral de Nuestra Señora de La Paz, which replaced the original mission church in 1861.  Architectural beauty surrounded by old buildings, where the Paceños meet, with its gardens, benches, kiosks and the unique fountain Hongo de Balandra makes these gardens something special.  At the northwest side of Plaza Constitución, opposite the cathedral, is the Biblioteca de História de las Californias (Library of Californias' History).  Housed in the 1880s-era former Casa de Gobierno (Government House), the library is filled with Spanish and English-language volumes on Alta and Baja California history.
Sign and Drive Coverage with Good Sam Roadside Assistance! Plans Starting at $49.95! Shop Now!
Nuestra Señora de La Paz Cathedral
Founded as a mission on December 3, 1720 by the priests Juan de Ugarte and Jaime Bravo, it was abandoned in 1735 due to the hostility of the Indians of that region.  In 1871 the current building of the Cathedral is built with a Latin cross base and covered by a two sided roof and two pyramidal towers.  In the interior it has a beautiful altar dedicated to the virgin that gives it its name.  Although the twin-towered brick edifice looms over the plaza, it lacks the charm of earlier Jesuit missions. Inside, only an image of Nuestra Señora del Pilar and a few theological books survive from the earlier 1720 mission.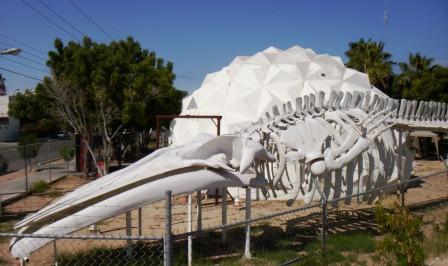 Museo Regional de Antropología e Historia
(Regional Museum of Anthropology and History) is a short walk from the zócalo and features valuable archaeological and ethnographic objects and 1200 samples related to the peninsula's geological evolution are on display in its modern rooms.  You can appreciate fossil remains, rocks with inscriptions, photographs of the rock paintings, books about the missions and regional craftsmanship whilst touring this museum, inaugurated in 1981. It also offers details regarding the extraction of gold and pearls.  The museum is located at the Cultural Unit of Agora, between Altamirano and 5 de Mayo Streets.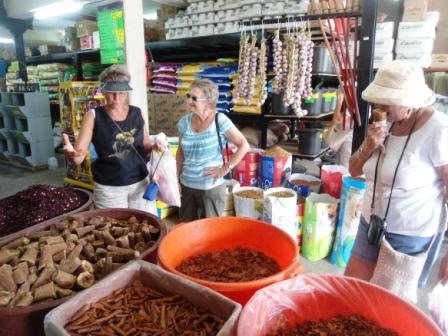 A few other favorite stops for us is the Juarez Public Market where you can find anything including a tasty lunch at a reasonable price, Ibarra's Pottery where our friend Vicky manages the family business that produces high quality unique pottery, Los Tamarindos, a Garden  Restaurant located in the market district of downtown La Paz featuring fabuloso affordable Mexican dishes and very entertaining folklorico dancing, Gaston & Cecy Castanier have a very unique place.  Also do not miss the Whale Museum (Museo de La Ballena) where you always get a personal guided tour and can also practice your Spanish and of course Allende Books, operated by our friends Kathy & Bruce Bennett, looking for a Baja or Mexico book of any kind? You can find it here!
Helpful Links
www.mexbound.com/la-paz-attractions.php
Share This Page
Save 10% on campground fees when you become a Good Sam member Today!
About The Author
Dan & Lisa Goy (Baja Amigo Tours) www.BajaAmigos.net
Return to the RV Lifestyles Articles Page from the La Paz – Gateway to Baja Sur Southern Loop Page.