FTC Disclosure: I get commissions for purchases made through some of the links in this article for more information, visit our Advertising Disclosure Page.
Driving Your Motorhome For The First Time
"The Motorhome is longer, larger, higher and heavier than the cars you are used to driving"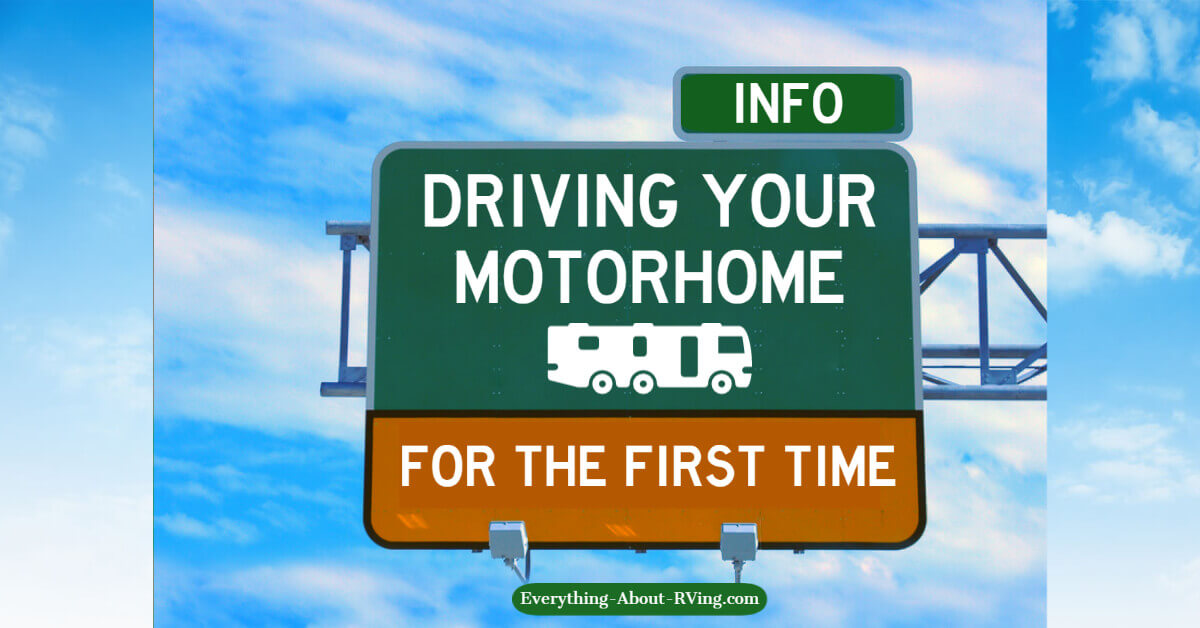 By Birgit Jurock
Here you are! You waited with great anticipation for this moment - Holidays are here!
There it is - your motorhome. Fully equipped, beds are made, a breakfast basket on the little table by the window, the tank is full, and you are ready to go.
You probably have some questions when you handle a large vehicle for the first time. The change from driving a car to "piloting" a Motorhome requires some special attention and concentration. Always obey rules and regulations and use common sense.

The Motor home is longer, larger, higher, and heavier than cars you are used to driving but they are easy to handle. After the first miles of driving, you will find that they respond beautifully and are fun to drive. So don't worry!
Please read the motor home's instructions carefully before you get behind the wheel. You will avoid mistakes and your travel through our beautiful country will be pleasant and trouble-free.

Many of the hazards encountered on the road result from incorrect loading of an otherwise safe Motor Home. Overloading is the most common cause of accidents. A slight overload or poor weight distribution can seriously restrict steering and braking. It can also result in sudden blowouts and breakdowns. You can help control this situation.
To minimize swing and wobble keep the vehicle's center of gravity low. Store heavy items low, forward and between the axles: lightweight items high. Try to balance the load between the vehicle's two sides. Make sure everything is in place and easy to get at when needed. Secure all cargo inside and outside the vehicle or it will shift. Always leave room for the usual ground gear: leveling plank, wedges, water hose, jack, and tools.
Avoid carrying spare gasoline; if you must, carry it in the storage container possible, tape the lid shut to prevent spillage and protect it with a shield.
While you are at the gas station check your motor oil, automatic transmission oil, radiator water, battery water and tire pressure. Heat in the desert can affect the tire pressure, over or under pressure can cause problems in steering your Motorhome.
Check your travel route every morning before you start. Plan for a camping place for the night for rest stops and dump stations. Also consider gasoline stops, especially if you travel in the desert.
Reserving a campsite in advance can save a lot of frustration later, especially during high season. When travelling without reservation, the earlier in the day you stop, the better your chances of getting to a good campground.
driving into the campsite, especially at night, scout around the area of you on foot. A large log, a hydrant or other obstacles can punch through the paneling, tearing pipes or wiring and causing costly repairs.
Make sure you park level at the campsite. A board under one wheel or under one side might be all you need to do this. Check for rocks and jagged outcrops near the entry door. Avoid loose wires or hoses around the Motor Home. Check fuel lines and all connections before you use your appliances. Use a soap and water solution to detect leaks, NOT a match!
Should there be a leak somewhere, (it can happen because your Motorhome is constantly in motion) be sure to air the entire unit thoroughly, before using any matches or open flame. Your Motor Home is equipped with a fire extinguisher. Use it if needed. Dirt and baking soda are also great and effective agents to fight a fire. Do not use water! It can be extremely dangerous. Water on a gas or oil fire results in a bigger fire. Water on an electric fire can result in death or injury.
When you leave the camping place, it is a good idea to check your packing list for all items. It also helps to check the members of your travel party. You'd be amazed, how many travelers forget wives and kids. Disconnect all wires and pipes, shut off appliances (except the refrigerator). Drive the Motorhome off the boards or other supports and stow away. look around the Motorhome campsite for any articles left there. Always allow a little more time than you think you will need, to get started. Check your planned route and rest stops.

About The Author
Birgit Jurock lives in Roberts Creek on the Sunshine Coast in British Columbia, you may reach her at birgit@jurock.ws.
Return to the RV Lifestyle Articles page from the Driving Your Motorhome For The First Time page