Step by Step Guide To Mount a Flat Screen TV in an RV
Learn the proper way to install a new flat screen TV in your RV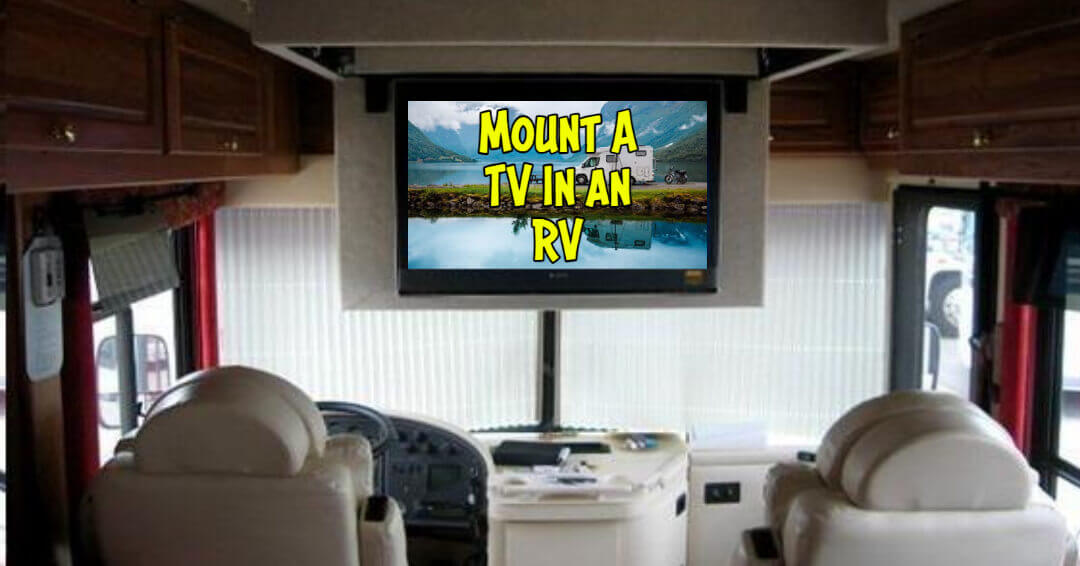 If you plan on zipping across the country in your trusted RV, then the television can be an excellent co-passenger to prevent you from slipping into the clutches of boredom. Additionally, it is a wonderful addition to make your RV feel like home. Mounting a TV in your RV may seem like a mammoth task. However, with the right set of tools and equipment, paired with some guidance, you can have your TV up and running in just a couple of hours!
Here is a complete guide on how to make it happen!

Why Must You Get a Flat Screen TV for Your RV?
If you own an older model, then your RV might come equipped with the standard box slots to contain a CRT TV. Yes, there was a time when CRT TVs were very much in rage. You might even have one mounted as a keepsake! However, its use and popularity have dwindled in the past few decades. 

So, of course, if you plan to deck up your RV with a TV, it wouldn't make sense to invest in dated technology such as the CRT. After all, we are living in the time and age of smart TVs that can directly stream Netflix! Hence, it's about time to upgrade the interiors with a modern, flat-screen TV. 
If you need any more convincing, here are a few reasons to invest in a flat-screen TV:

It is lightweight as flat-screen TVs only weigh a mere fraction of their CRT counterparts.
With the influx of HD, UHD, QHD, and other such technologies, flat-screen TVs are a visual upgrade from the grainy display of CRTs
As flat-screen TVs become more popular, they have also become cheaper. CRT TVs are harder to come by and difficult to maintain, effectively raising its price.
Flat-screen TVs are lightweight and compact, allowing greater flexibility for mounting these on any surface of your RV.
General Information on the Types of Mounting Brackets
Before you get started with mounting your flat-screen TV, you need to get an idea of the different types of mounting brackets, along with their advantages. Here is an overview of the same:

Flat Wall Mounts
Flat Wall mounts, otherwise known as Flush TV Mounts, are best suited if you want to pull off a clean, minimalistic look. Some flat wall mounts come with movable pieces that add tilt to its functionality. The tiltable mounts are best if the slot for TV is not at eye level, and you wish to enjoy a comfortable viewing angle.

Articulating Mounts
Articulating mounts are one of the most common mounts for flat-screen TVs in RVs. Its compactness, paired with its ability to extend from surfaces and to tilt from side to side, making the TV viewable from every angle. However, you will have to restrain it while the RV is in motion.

Full Motion Mounts
Full motion mounts are an upgrade to your articulating mounts, which cannot swivel up and down. These mounts allow your TV to move in all four directions, sometimes even extending up to 360-degrees! However, it is also one of the most expensive TV mounts out there.

Flip Down Mounts
A flip-down TV mount is perfect if you want to keep your TV in a discreet location without ruining the aesthetics of the surrounding. Apart from blending in, it also saves you space. These also offer flexibility for adjusting your viewing angle. All in all, it is one of the most practical ways to mount your TV at your RV's focal point - above the dashboard.

Under Cabinet Mounts
If you have a small flat-screen TV measuring about 10 to 24-inches, then you can mount it under the kitchen cabinets or overhead storage cabinets. You could even install these inside shelves for space-saving. Some cabinets are stationary, while others are motorized units that move your TV in or out of the space.

Guide to Mounting Your Flat Screen TV in Your RV
Once you have decided on the kind of TV mount, get hold of its accessories and implements that you would need to mount your flat-screen TV. Depending on your selection, you would require additional components, such as a motor for the motorized TV mount, and so on.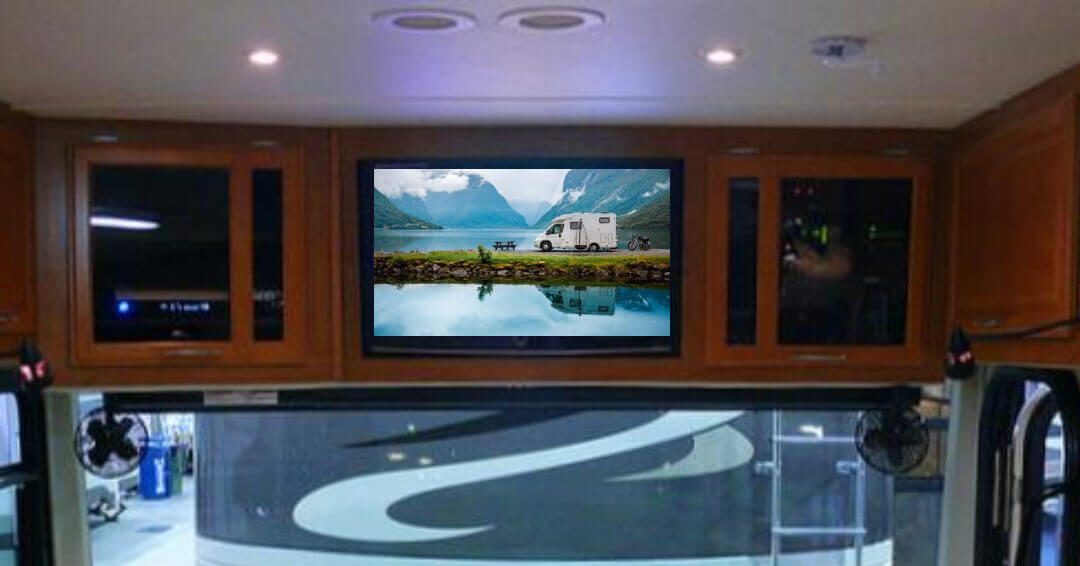 Here is a step-by-step guide on how to install a flat-screen TV in your RV using a TV mount:

1. Start by measuring the space where you wish to install your TV. If it is inside the CRT TV box, ensure that your TV is a perfect fit.

2. After identifying the location, check for the depth or angle of movement, and clear the area. Make sure that the space required for the TV does not clash with any other part/appliance/equipment.

3. With the above consideration, figure out the framing to hold your TV and the ideal spot for securing your mount. Even if the area looks robust enough to support your TV, a little assistance from the frame goes a long way.

4. Use a 3/4" thick plywood and cut four pieces of 2x4 frames. Set two aside as your horizontal mounts and two as your vertical support.

5. Install the vertical beams using 3" wood screws with at least four screws at every corner of the mount.

6. Place the horizontal frames according to your TV positioning and mark the location for installing the wall mount in the middle of the frames. If the wall mount has three placeholders for the bolts, position the side with the two bolts on the top.

7. Use the 1/4" drill bit to pre-drill the holes for the wall mount.

8. Secure the horizontal beams first, and then install the wall mount.

9. Finally, attach the TV to the wall mount.

Conclusion
Thanks to the advancements in technology, you can carry your entertainment with you everywhere you go. As TVs become cheaper, lighter, and more compact, you will find it easier to get one for your RV. All you need is the perfect kind of mount to install any kind of TV of your choice painlessly!

Get Your Article Published on Everything About RVing
If you have written an article about RVing, Camping or the Great Outdoors and you would like us to publish it on Everything-About-RVing.com, please visit our
Submit An Article Page.
Do you have any suggestions or comments on this topic?  You can add them to this page by using the comments section located near the bottom of this page.
LEARN HOW TO RUN 2 RV A/Cs ON A 30 AMP CONNECTION

Shop Best Prices on RV Fridges, Kitchen Appliances, Griddles, Stoves, Gas Ranges, Fireplaces at Way Interglobal Today!
Get Your Article Published on Everything About RVing
If you have written an article about RVing, Camping or the Great Outdoors and you would like us to publish it on Everything-About-RVing.com, please visit our
Submit An Article Page.
Fill out the form below to receive The Free
Everything About RVing Gazette
Newsletter