Only Half Of My 5th Wheel Trailer Has Electric
by Mark S.
(Atlanta, GA)
I had a security light plugged in to the outside of on my RV. During the storm it blew down and stayed plugged in. Obviously it broke both lights in it. I don't know if this is what caused the problem or not, but I replaced the 20am circuit breaker. It's a BD2020 (space saver 20/20 side by side) I have done everything I can think of to try and get power back to that side but can't. It's funny, that particular breaker works the AC (Thank goodness it works) but the other side works the coffee pot outlet, tv outlet and a few others that aren't working. Just seems to be outlets in the front of the RV, nothing wrong in the rear.

So why am I not getting any electricity in those outlets? I have a new breaker and it actually does the exact thing the old one does. Only half works. The outlet outside doesnt work now either. So, if anyone can PLEASE tell me what the deal is I would most certainly appreciate it.

If it helps, it's a Thor 5th Wheel 35' 2000 modle.

Thanks,
Mark

ANSWER
Hi Mark, sorry to hear that you are going through this with your 5th Wheel. I have a sneaking suspicion that the problem that you are having is not with the breaker but with a tripped
GFCI Electrical Outlet
. Take a look at the picture below.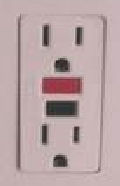 Although this kind of looks like a normal electrical outlet it also acts like a circuit breaker. When this trips every electrical outlet that is connected to it also stops working. You may have more than one of these
GFCI Outlets
in your 5th Wheel. Once you find the GFCI outlet press the reset button and see if this solves your electrical problem. This would explain why only a portion of your RV has electric.
Take a look at the short video below to see why your RV has a GFCI.
If this does not solve the problem and you have checked all the breakers in your RV's electrical compartment, I am afraid that you may have to have a qualified RV Technician diagnose and repair the problem.
If any of our visitors have any tips or suggestions for you they can add them by clicking the add a comment link located near the bottom of this page.
Happy RVing
RVing Al