FTC Disclosure: I get commissions for purchases made through some of the links in this article for more information, visit our Advertising Disclosure Page.
5 Tips for Organizing Your RV for an Uncluttered Trip
Are you fed of having a disorganized RV? If so Read On...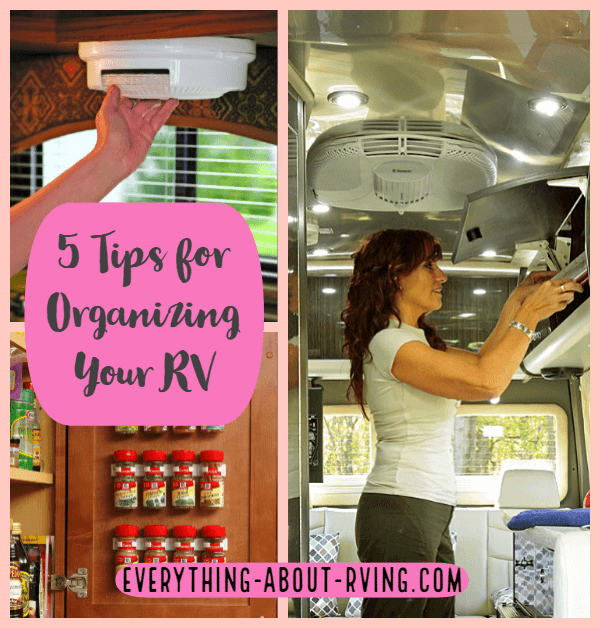 5 Tips for Organizing Your RV for an Uncluttered Trip
By Jonathan Holmes 
Space as we all know is a premium commodity in all RVs.  You might look at pictures on other blogs or on Pinterest and get a pang of jealousy at how clean, organized and spacious they look.  However, bear in mind that these pictures are not a reflection of real world RVs, I challenge anyone to prove it otherwise.
Despite the space constraints, it doesn't mean you can't be clever about the organization in your RV. 

We've pulled together 5 simple and we hope clever tips that should help you keep your RV better organized. 

1.Think Geometrically
Most RVs are full of straight lines and 90-degree angles.  No matter where you look, you're likely to see rectangle and square cupboards, slides and work surfaces are all square shaped. 

Rather than trying to force a round peg in a square hole, embrace it and learn to utilize square storage. 

Square Plates
You can buy square plates and bowls, and you can even take it to the next level switching to boxed goods rather than round. You can even buy square frying pans.
Once you've replaced your round items for square you should be pleasantly surprised at how well everything now fits in your cupboards and how much more space you now have. It's a small change that can have a significant impact. 

2. Go Vertical
Your RV is full of unused wall space so why not utilize it to its full extent and store whatever accessories you need in your RV in out of the way spaces. 

You can quite easily hang additional shelving in order to store lightweight items such as kitchen utensils, vegetables and fruit.  Space is a commodity, so you may need to think creatively to maximize what you already have. 
Most RVs have plenty of areas that contain dead space, most often above cabinets, above doors and next to slide outs.  If you're able to add a shelf or a cabinet to these areas you may find you've increased your storage capacity by a huge amount. 

You can use hooks to hang items in high out the way spaces, if you're not going to be using the broom for a few days, hang up somewhere using hooks to keep it out of the way. 

3. Stacking and Nesting
Collapsible Kitchen Storage
There are a ton of clever storage items you can buy online, from collapsible colanders, to stack-able and folding storage boxes, all of these can help you utilize your RVs space better.

At heart I like to reuse and recycle items, I prefer not to replace things that I have unless I absolutely have to.  However, when it comes to my RV, I prefer to make an exception. 

One of the best ways we've found of increasing the available storage space is by replacing larger bulkier items with the equivalent stacking or folding option.  I would strongly suggest that you check online for items that can collapse flat or can nest together.

When it comes to choice of stack-able items, there are quite a number of options to pick from.  From pots, pans and bowls, to bins and clothes racks, if you can think it, chances are there's a more compact, folding or stacking option available.

4. Chuck the Waste
I think we're now more than ever aware of how much waste we produce as a species.  If you buy a weeks supplies of groceries and unpack everything, you'll quickly find that there's almost as much packaging as there is produce. This is not only a problem for the planet but it's a problem when you have limited space in an RV.

To help combat the space hogging effects of packaging try and shop for loose items or products with minimal packaging.  If you make a conscious effort to reduce your reliance on packaging, you might be surprised at how much extra space you'll get in your RV. 

Another way to free up space is to combine half empty boxes into one airtight container.  For example, if you like biscuits or crackers, why not store all the types in one single container.  The same goes for pasta, mixing a few half full boxes of pasta into one container is a great way to save space.  The mixed pasta is great for making soups. 

5. Don't Use The Floor For Storage
When we first got our RV I thought it would be a great idea if we used the floor as an extension of the storage space, to that end I went out and bought storage boxes to fill up with all the things I thought we'd need.  The problem is, the floor is meant for walking on, and if you have things in your way, it quickly becomes tiresome. 

Within a couple of days of having these storage boxes blocking my way I was going crazy, they looked bad, they made the place seem messy and there were constantly in the way.  I couldn't handle it for more than 3 days before I decided I needed to do something. 

In the end I moved the storage boxes into the shower for the duration of our trip and it instantly made the place look much better and much bigger.  I would never make that mistake again. 

I now have a rule, if I can't fit something into the storage we already have, then it's simply getting left behind.  It's surprising how much stuff you don't need when you go away.  Chances are if you don't have it with you, you won't miss it. 

This obviously doesn't apply to essentials such as weather appropriate clothing, first aid, tools etc, but do you really need those trousers that you haven't worn in 12 months?

About The Author
Jonathan Holmes is the owner of Crow Survival, a blog with a focus on the outdoors, including RVs and camping.  Over the years Crow Survival has gathered a wide audience of readers and followers on social media.
They've recently put together an extensive list of must have RV accessories that may help you better organize your RV.  You can read more about it here: https://www.crowsurvival.com/rv-accessories/