FTC Disclosure: I get commissions for purchases made through some of the links in this article for more information, visit our Advertising Disclosure Page.
6 Reasons to Camp in a Popup Trailer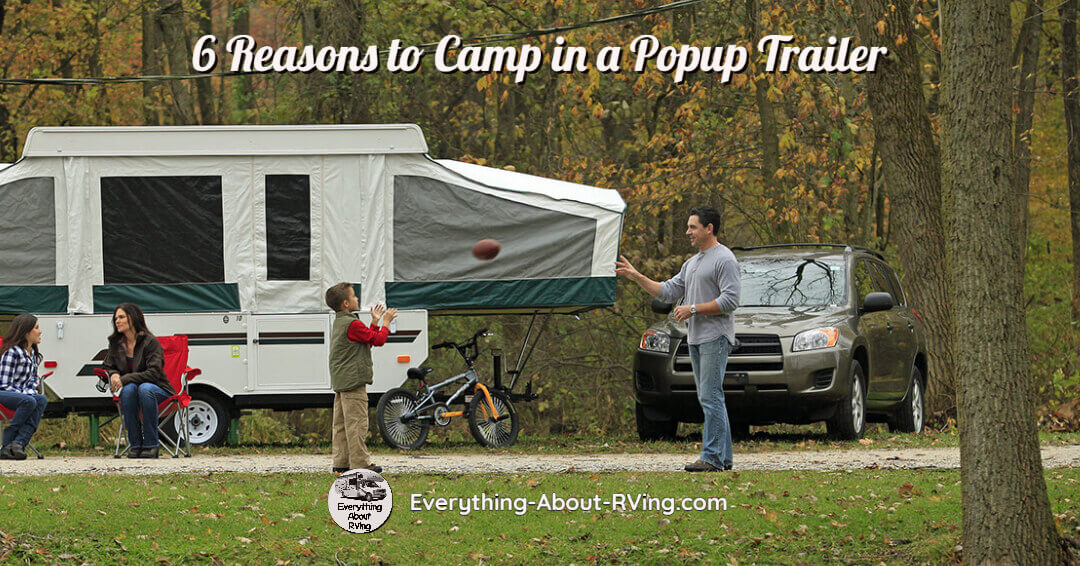 By Raymond Laubert
Popup Trailers are also called Tent Trailers
My wife and I have been campers for many years. When we first met, her family camped each summer in a tent in Delaware and I would just 'happen' so show up with a little pup tent and backpack. Over the years we grew up, had a family, and continued to camp in tents. About 10 years ago we purchased our first popup trailer. Popups are also called Tent Trailers and consist of a rigged frame on wheels with either a canvas or hard-shell top. Inside you can have all the comforts of home, including heating, air conditioning, microwave, hot and cold running water, toilet, shower, radio, television, refrigerator, stove and oven. Not to mention full-, queen- or king-sized beds.
There are a lot of reasons people use popups for camping versus other recreational vehicles.  Here are the top 6 from my point of view:
1.   Easy to tow.  Popups are lightweight and fold up to be small enough to tow with most SUVs and small trucks.  This alone makes them very popular with people with children.  When camping with other recreational vehicles it is often required to have a special size vehicle or to bring two vehicles with them.  Popups allow the family to pull the home away from home and still get out and sight see.
2.      Easy setup.  At first you may think that a popup trailer is harder to set up than a tent or other recreational vehicle, but in fact it is much easier on the back (when you get older hehe) and much faster to get out of the weather (liquid sunshine).  We have had 3 popups so far.  The first two setups required that you back into the camping spot, place a level on the popup trailer and then place wood or leveling blocks under the wheels. 
Once the popup trailer is level, disconnect it from your car or truck and crank up the popup trailer with a hand crank.  With the top up, you next dropped the stabilizing legs, connected the water, electric and sewer lines and the outside setup was done. 
Inside, you had to put the door down and check the electric.  One unit required you to lift the kitchen sink off the floor.  It was on a lift assembly and once in place it enabled the electric to the rest of the trailer.  Our latest trailer is all electric, no cranking required.  But the process is still basically the same. Back in, level, raise, stabilize, connect and done. 
Save 10% on campground fees when you become a Good Sam member Today!
Some popups will have slide outs.  These are extensions built into the popup trailer that literally slide out from the body of the trailer to provide extra room inside.  Our latest one has a table slide out, giving us about an extra 3 feet of floor space. 
Setup today takes about 15-20 minutes.  When we were camping, we had to put down the ground mat, put up the tent (family size sleeps 8), bring in the sleeping bags, air mattress, set up the cooking area, and HOPE you were close enough to the bath house for the late night 'I have to go potty' runs. 
It also seemed that tent campers were always the furthest from the bath house.  I still remember the last camping trip we took in a tent.  We forgot to check the weather and ended up camping in the remains of a tropical storm.  It just so happened that we were placed in the runoff from part of the campground.  We had water running through the tent.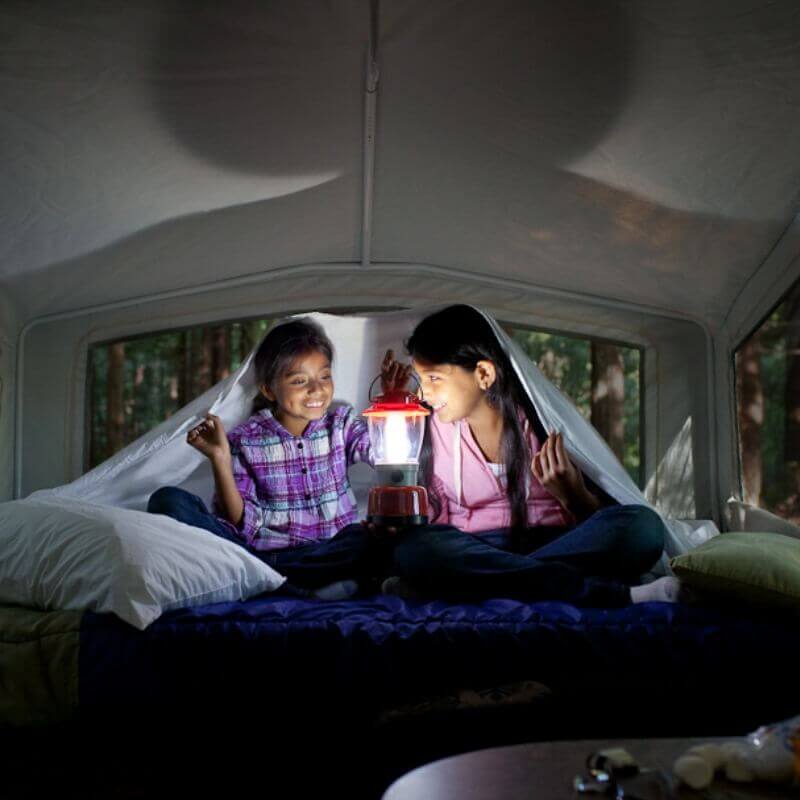 3.   Security  I guess would be my second reason for the popup trailer.  I am not talking about people stealing things.  In all the years we have been camping, I can't remember ever having someone steal anything from us.  But we have camped in some pretty unique areas.  
We were in Mississippi and camped next to a lagoon.  Found out that we were in the 'visiting' area for some very nice size alligators.  With kids and a dog, it was not a safe place to tent camp.  We had the kids sleep in the back of the truck that trip and we took the dog with us whenever we went anywhere.  
Camping is by nature a wilderness experience for most of us.  Very few campgrounds are in the city, so nature is always an issue.  Even though a popup is still cloth, we feel much more secure in it than in a tent at night.
4.  Convenience   Would rank high on anyone's list for using a popup trailer.  With all the amenities available with popups it is hard to want for anything more.  I know of some campers who have it better in the popup than they do at home.  
We love to cook outdoors, but when you are camping sometimes Mother Nature just doesn't want you to play with fire. It may be too wet or too dry to have a campfire. You may have some poor weather which prevents you from cooking over a camp stove. 
Almost all popups today at least have a stove so that the kids can be fed.  Our current popup trailer has all the conveniences that were mentioned above.  So, our middle of the night 'emergencies' are handled just as they are at home.  No having to get dressed, put shoes on, walk to the bathhouse and then come back, undress, get back in bed then try to fall back to sleep after all that activity.  
We don't have a TV or DVD player in our popup, but we know plenty of people that do. It helps to keep the kids entertained on rainy days.
Sign and Drive Coverage with Good Sam Roadside Assistance! Plans Starting at $49.95! Shop Now!
5. Quick getaway   Would be on my list as a reason to buy a popup.  My wife and I never were ones to plan a vacation or weekend getaway when we were younger.  It was always a Friday afternoon thing of "let's go camping", then rush around to pack the vehicle, kids, dog, clothing, food, cooking utensils, etc.  
One time we went camping and totally forgot all the cooking and eating supplies.  We ran to the store and picked up some plates and plastic ware and cooked using aluminum foil and the cans the food came in.  It was a memorable experience and one that taught us a lesson, have a checklist.  
With the popup, all the cooking, bedding, eating supplies are stored inside the popup. Even some food stuff can be stored (we keep coffee, tea, creamer, and sugar in ours year-round without any problems).  
With our popup, we pack some clothes, hook up the popup and go. Coming home from camping is also much easier.  When we get home there is no unpacking and putting away all the things that you had to take with you, it is simply backing the popup into storage and taking the clothes and left-over food stuff into the house.
6.      Finally, I think that popup owners are friendlier.  The size of a popup means that you really want to hang outside and visit.  Having camped for so many years I have found that the 'Big Rig' people seem to hang inside enjoying their conveniences rather than the opportunities that the campground offers. 
I used to travel around the country teaching computer courses.  Many times, I had to stay in a hotel for an extended period of time.  Other than the hotel staff, speaking with people was a challenge.  You try to strike up a conversation with someone at breakfast, in the lobby or elevator and they kind of cringe and shy away wanting to blend into the background, unsure of why you are talking to them.  But in a campground, a walk around the park and say hi to someone sitting outside more than likely will mean a 20–30-minute conversation and even an invitation to sit and drink or even dinner. 
I remember one trip to Pittsburgh, PA when I stayed in my popup, I came back to the popup after work and started talking to the neighbor, it was an hour later when I said I had to grab some dinner, the wife insisted that I eat with them.  She said it was her responsibility to care for me since my wife wasn't with me J. 
On another trip, early in the year, I had several people come over and ask if I wanted to stay with them as it was supposed to snow that night.  Even the campground manager made a trip to the site to check on me and let me know I was welcome to stay in the restroom if I got too cold.  You don't find this very often in the hotel world or even at home for that matter.
I think camping in the popup also has some other advantages.  For me it is still the being close to nature that tent campers have.  The canvas covering still lets me hear the sounds of nature, the rain hitting the canvas is so soothing at times, hearing the animals run around, the birds singing and even the other campers waking up to another wonderful day of camping is something you don't get when camping in a travel trailer or other RV.
About The Author
Ray and his wife Daisy currently live full time in a fifth wheel recreational vehicle.  Ray is the General Manager for Camping Embroidery and Daisy is a legal secretary.  They have four children and thirteen grandchildren.  Camping is still a big part of their lives and they do so in a popup trailer whenever they can. 
Return to the RV Lifestyle Articles page from the 6 Reasons to Camp in a Popup Trailer page