FTC Disclosure: I get commissions for purchases made through some of the links in this article for more information, visit our Advertising Disclosure Page.
Prevent RV Theft by Protecting Your RV
By Samantha Greene
Find out how to prevent RV theft and what you may do when it's stolen
Do you worry about your RV getting stolen while you're camping? Find out how to prevent RV theft and what you may do when it's stolen

Share This Page
Good Sam members enjoy instant discounts on fuel. Join Today!
Prevent RV Theft by Protecting Your RV

Daily, thieves are notorious for coming up with plans to steal RVs. Some people may lose everything they own due to such theft, and for some people, it may be a hassle while camping outdoors. Many RV owners may not worry too much unless they sense a threat from someone at a particular location.
Save 50% Off Campsites with Passport America

Experienced thieves may successfully steal RVs regardless of where you park them. In these situations, it may be too late to act when you've already lost your prized possession. As an RV owner, you should know how to protect your RV from theft and what to do if it gets stolen.
We'll discuss how you may protect your vehicle using different locks and advanced tools. Besides, learn who to call for reporting the theft and getting your investment's worth.
How to Keep Your RV From Being Stolen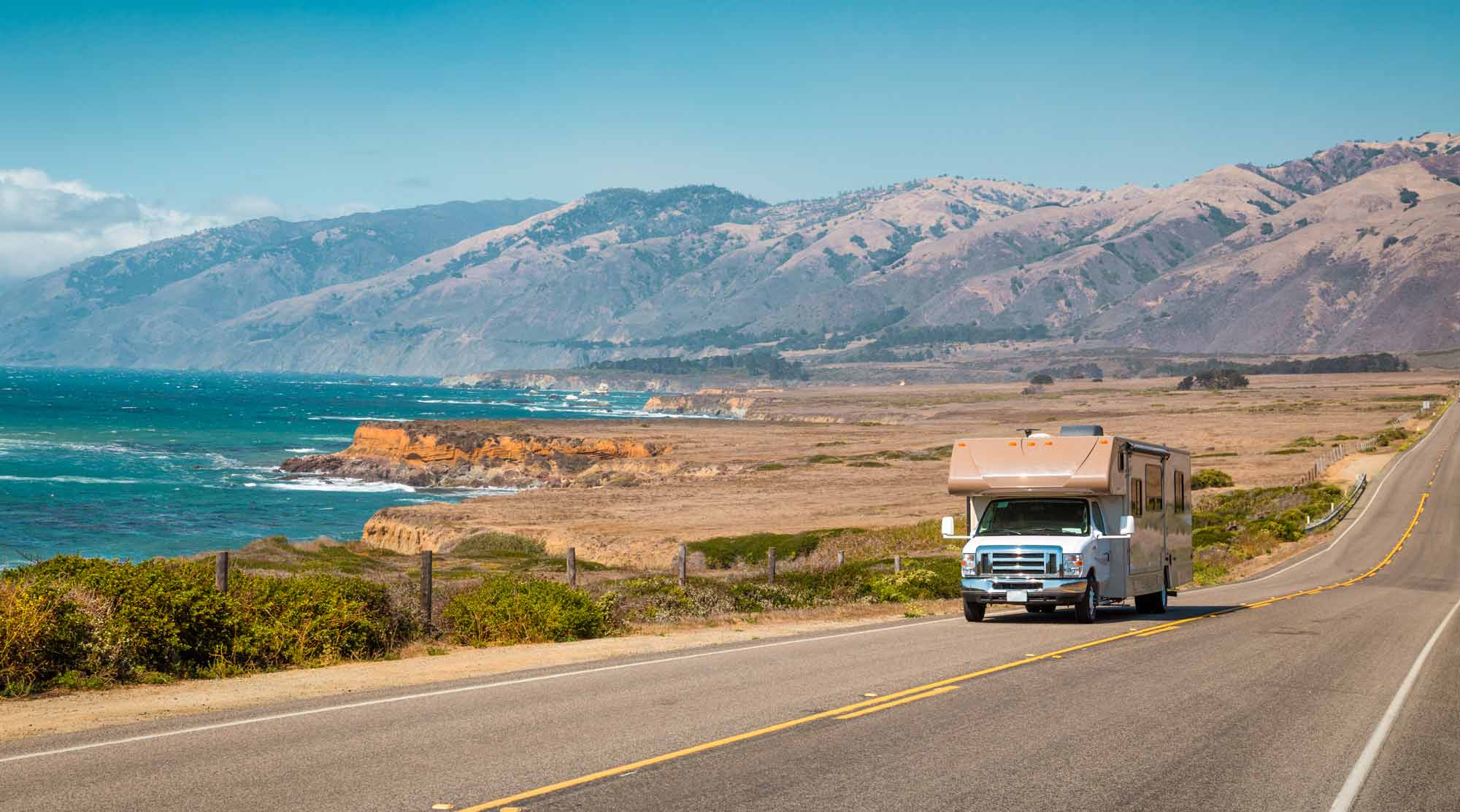 RVs serve as homes on wheels, and you may lose most of your belongings in case of theft. Here are some things you may do to prevent RV theft. 

A Reliable Electronic Security System
The security system will ensure you sleep peacefully at night and leave your RV protected while you're away. You may choose advanced surveillance models that offer 24/7 monitoring and security. Install motion sensors, alarms, and glass break sensors to notify your mobile and local authorities in emergencies.
Moreover, use video surveillance to keep an eye on the surroundings. This will discourage trespassers and potential thieves from coming close to your vehicles.
Use X-chocks on Wheels
If your RV has multiple axles, use an X-chock to secure it. These locks use X-shaped mechanisms sliding between the tires to secure the wheels and prevent them from moving. This will ensure that the thief cannot roll the RV wheels and tow it away. Make sure you check these locks every other day to ensure they are functioning correctly.

Simple Tire Boot Locks
Tire boot locks wrap around the tires to prevent the wheels from moving. This inexpensive way to safeguard your vehicle is reliable as these locks are constructed from steel, making them hard to cut and remove. These locks are visible on the tires; hence, they will discourage thieves from attempting to steal your RV.

Hitch Locks to the Rescue
You may choose different hitch and pin locks to secure your RVs. These include coupler locks, tongue locks, kingpin locks, hitch locks, and cable locks.

Coupler locks may be used even if your vehicle is hooked to the tow vehicle.

Tongue locks are ideal if you wish to add chain locking mechanisms to deter thefts.

You may choose specially designed kingpin locks for a 5th wheel trailer.

Hitch locks are difficult to remove as they go inside the hitch.

Cable locks are a temporary solution to lock your vehicle and work on a hitch pin lock mechanism.
Don't Forget the Steering Wheel Locks
These are essential for motorhomes. Steering Wheel Locks use a large metal bar locked over the steering. These are easy to install and make it impossible to move the vehicle in any direction. As a result, no thief will think of coming close to the vehicle.

Pick the Right Spot

Picking the right spot to park your RV is crucial, and if you are in a high-crime area, don't leave it unattended. Choose a safe storage area, campsite, or parking spot. You may want to find out if the RV park you are staying at has onsite security.
An additional security element will offer you peace of mind knowing your vehicle is safe. Also, do not leave your valuables in the RV, as that may attract attention. For similar reasons, keep the blinds closed so thieves cannot peek in and see your belongings.
Now you know most methods on how to protect your RV from theft. These measures may work by delaying the theft, notifying you via cell phone to take immediate action, or preventing attacks in the wee hours. 
Even after taking these measures, you'll need to be vigilant and know the next steps. Before choosing, consider all the measures' pros and cons and your vehicle type.
How Common is RV Theft?
RV owners may think their belongings and vehicle are safe in a secluded place. Those who attempt to steal an RV may know about all the measures an owner may take to safeguard their RV. As a result, they may have a plan to break in and steal without getting caught. Even slight carelessness may cost you the loss of your RV and all of your belongings. 
Samantha Greene, San Diego's leading theft crime attorney, says, "RVs have become a soft target for thieves. According to the National RV Dealers Association, there was an 867% increase in RV theft due to the pandemic as many people resorted to stealing in such trying times."
RV theft statistics confirm that California is one of the most common states for vehicle theft. Therefore, RV thefts are more frequent. Many robberies are well planned, and the thieves take advantage of an RV owner's carelessness and inadequate anti-theft measures. They may choose a time when the owner is away, or the RV isn't locked securely. 
Does RV Insurance Cover Theft?

Ideally, your vehicle policy should cover your trailer in case of theft. But you must confirm it with your insurance agent to verify the policy coverage. If the policy does not cover the RV, make the necessary changes to ensure everything is insured. 
Moreover, ensure your insurance covers the items inside your trailer so that you know your investment will be safe in unfortunate scenarios. Also, keep all the records with you offline and online so that you may show proof to the police in the event of a theft. 
What to do when your insurance company refuses to cover the theft damages
First, you should always contact your insurance company as soon as possible to report the theft. Many companies have a time limit for filing claims, so it's essential to act fast.
If your insurance company refuses to cover the damage, you may consider filing a claim with your state's insurance department. You can also file a complaint with the National Association of Insurance Commissioners.

In some cases, you may be able to sue your insurance company for damages. Contact an attorney for more information. Your lawyer can help you negotiate with the insurance company and may be able to get them to pay for the damages.
About The Author
Samantha Greene, the leading attorney at Sevens Legal, APC in San Diego, is one of the top attorneys in the country. She has been practicing law for over ten years. Throughout her career, she has represented clients in a wide range of legal matters. She graduated with a Juris Doctor from the University of San Diego School of Law. She has been recognized by her peers as an expert in her field and has won the Client Choice award from AVVO and the Top Attorneys award from San Diego County. Greene is a skilled negotiator and mediator, which has led to her success in settlements and alternative dispute resolution.