Ray's Place; A Truly Tasteful RV Park
by Dan & Lisa Goy
(Surrey, BC)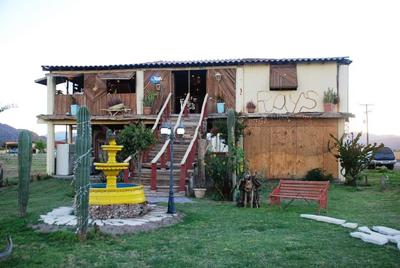 Ray's Place
Editor's Note This story was submitted on our What Is Your Favorite RVing Or Camping Destination Page

Many of us remember Ray's Place on Playa Santispac in Bahia Concepcion south of Mulege, Baja Sur. As we know this is long gone as are many of the Casitas along the same beach. Ray & Favi Lima relocated to the Mulege valley and rebuilt much more. They have operated the "Hacienda de la Habana" Resort and "La Finca Restaurant" for a few years now.

The Resort also includes an RV park, clubhouse which includes a pool, rental bungalows and upscale Casas for sale on quarter-acre plots. The restaurant on the second floor is very popular with Snowbirds and locals alike. The menu is limited to a few regular seafood choices and a great filet mignon. "La Finca" is only open for business Thursday, Friday and Saturday after 5 pm, reservations are not mandatory however recommended for larger groups.
We always have dinner at Ray's Place when we are on tour in Mulege and fortunate to be there on Thursday, Friday and Saturday. The drive out with a van full of RVers is always an experience as the valley and mountain views unfold, sunsets are gorgeous. Ray & Favi advertise the menu as "Fine Dining" and trust us, this is an understatement.
We always invite our caravan guests to join us at Ray's, to date everyone has, and no one has ever been disappointed. Whether it is the Oysters Rockefeller Papagayos, Catch of the Day, or Calmarie, the meal is absolutely superb, something you might expect at a 5-star restaurant in any major center around the world. Yes it is really that good!
Let The Good Sam Extended Service Plan Pay Your RV Repair Bills
The Oysters Rockefeller are freshly harvested, topped with spinach, home-made hollandaise sauce, a drop of lemon juice and Tabasco sauce, a bit of cheese and baked in the oven. We have taken
folks who are world travelers and eat at very good and expensive high-end restaurants and they are literally blown away with their meal. When you add the ambiance of the restaurant, the great hosts and stunning vistas in the valley this is a must-stop for sure and a terrific place for lots of fun!
The RV Park has 24 pull-thru sites and is okay for big rigs. You are on grass which means you do not have to worry about tracking dirt, sand or mud into the RV. Although the road out can be quite dusty to Hacienda de la Habana, not so in the campground which is great. The park includes 20 amp electrical outlets, dump stations, hot showers, flush toilets, internet, access to a pool and a beautiful lounge area.
Getting to the RV Park can be the challenging part. Although only about a 10-minute drive (2.3 miles/3.7 km), the road is dirt, as I said before, dusty, a bit narrow and can be kinda bumpy, all well worth it though. The road to access sits just north of the entrance to town on the "Icehouse Road" named Calle Manuel M De Leon (not that you can find a sign). Once you get to the Icehouse turn left and follow the signs "Rays Place".
Protect your RV and your family while on the road: Join Good Sam RV Emergency Road Service Today and save!
Whether you just go for dinner, or stay overnight at the RV Park or just hang out for a while to enjoy and explore the surroundings we highly recommend a visit "Ray's Place"!
Submitted by Dan & Lisa Goy
Baja Amigos RV Caravan Tours
www.bajaamigos.net/

Tell us about your favorite RVing or Camping Destination
Do you have any suggestions or comments on this topic? You can add them to this page by clicking on the "Click Here To Post Comments" link located near the bottom of this page.