Red River RV Resort
by Marilyn and Tim
()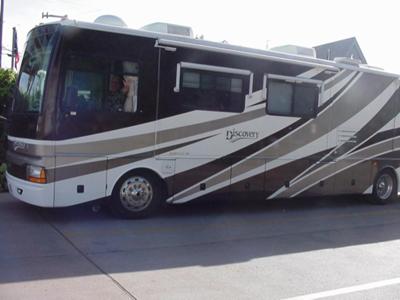 Our Motorhome
This story was submitted on our Why Do You Love RVing Page

We have met some really nice people along the way so far and to add to that while staying at Austin Lone Star RV Resort we were blessed to have made friends with Phil & Lynn. They are what is called "camp workers" meaning they travel and while stopped will offer to work at the resort. In their case, they have decided that they liked the area so well they have agreed to stay a year. Together they take care of running the restaurant, including Phil doing all the cooking and believe me, it was great. They are really precious people.

We left there on May 12th and stayed the two wonderful days in world-famous Caddo Mills, which is where I lost my bracelet. We left there on Sun. morning, Mother's Day, and traveled to Red River RV Resort, just outside Gainesville, TX. This is a nice place, a little out in the middle of nowhere again, but OK. It's in a little town called Thackerville and as we were driving in I saw the town sign, we drove a little further and I said to Tim, I guess we haven't gotten to the town yet, he says, honey, we just went through it. Ok now, little is little, but this place only had about 8 buildings and 4 were churches, now that's LITTLE. The upside is that there is plenty to see in the area of about 50 miles, so we will be taking little day trips.

Mother's Day was great, my daughter Rhonda called about noon, it's always so good to hear her voice, and then my son, Don, called about 4. I got to talk to him and Clarissa and Curtis, my twin grandchildren, it was great. Tim got me two beautiful cards, he always gets me the most wonderful cards, and then took me to a great Italian Restaurant. The food was good, but the company was great.
Now I know you're all waiting for the latest "happening" and well, this one is a little "different". We realized yesterday before we started running around that we needed some things from the store. Of course I made a list because neither one of us can remember if it's more than 2 things. But, you guessed it, we came home and of course forgot to stop at a store at all and the most important item on the list was toilet tissue. Tim leaves and tries
the little store here in town (one of the eight buildings), nope they're closed. Oh well, we'll go to the store tomorrow, right, but for now, we have NO toilet tissue.
The place where we're staying has a number of outbuildings, laundry, showers, rec hall, etc. Tim walks all the babies as soon as he gets up because they're all going crazy and on his way back from walking Brianna, the baby, of course, they get walked "in order" of age, Pepper first, then Sushi and last Brianna. Well on the way back Tim realizes that he needs to visit the men's room, bad, and runs to the shower building only to find out that he needs a passcode to get in, wonderful, now he's running all over the place, but knows he can't make it back to the RV. Finally, in complete desperation, he tries the laundry room and yes, wonderful, it has a men's room too AND it's unlocked. This is great, there's nothing like starting your day off with a major happening already. Yep, our first job this morning is trying to find a store.
Let The Good Sam Extended Service Plan Pay Your RV Repair Bills
Now yesterday we decided to hunt out a place called Turner Falls, turned out it was about 45 miles away but was well worth the drive. Not a very big place, locally owned, but was very pretty and we found someone there to take our picture.
I have always known that my oldest grandson Kyle was very special, he is one very neat kid, extremely smart and very talented, BUT, I didn't realize that he actually has a parkway named after him, though it really doesn't surprise me.
I wanted to let all of you know how much we have enjoyed reading the messages that you've left for us and we're so glad that you're enjoying traveling with us because we are having a ball.
Love to ALL of you,
Tim & Marilyn
Tell us why you love RVing
Are you paying too much for your RV Insurance? Click here for a free quote from Good Sam
Do you have any suggestions or comments on this topic? You can add them to this page by clicking on the "Click Here To Post Comments" link located near the bottom of this page.
Join the Good Sam Club Today! The Official RV Community Club
Check out what's on Sale at Camping World! Hundreds of Items - Huge Savings. Click here to shop!