FTC Disclosure: I get commissions for purchases made through some of the links in this article for more information, visit our Advertising Disclosure Page.
How to Buy the Right RV
"There is an RV for any spending level"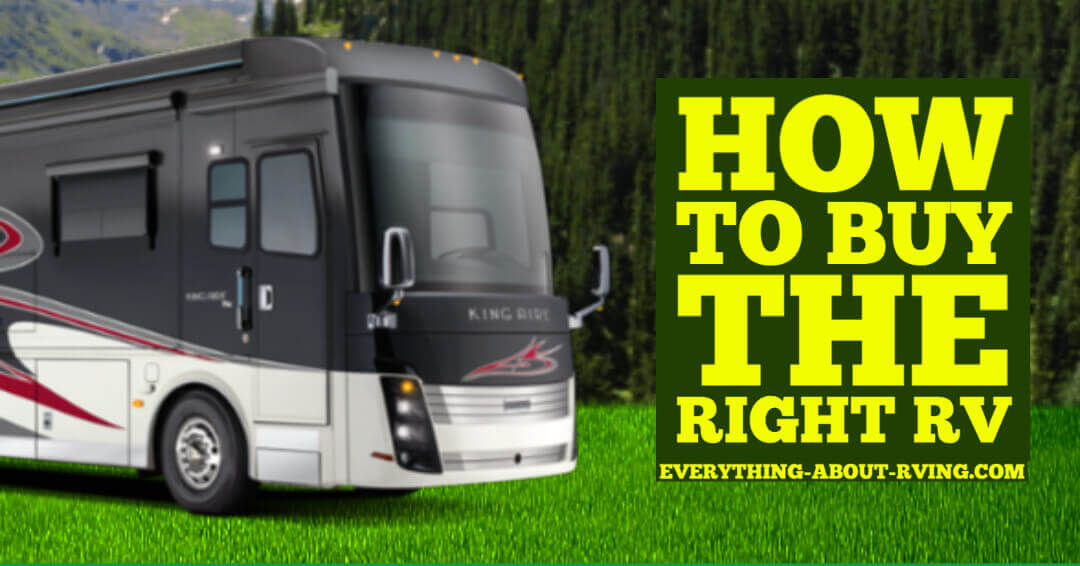 by Jason Kay
You've been considering the purchase of an RV.  While you want to evaluate any vehicle purchase, here are a few things you may not have thought about Recreational Vehicles.
Share This Page
Save 10% on campground fees when you become a Good Sam member Today!
First, there is an RV for every spending level. You can find tent trailers for a few hundred to a few thousand dollars, depending on whether you want new or used, and the size and options included. And you can find mega-RVs that cost more than some houses. Find an RV that meets your requirements for comfort and roominess. Most models come in several trim levels, so if you're looking for a new RV, you can weigh the benefits of the various options against the costs. But remember that there are many used RVs out there that are very well cared for, and you may be able to find one that's just a few years old and save yourself some money.
But what kinds of RVs are there to choose from? In the broadest sense, there are tow-behinds and fifth-wheels, which have no motor as part of the RV, and motorhomes, which have the motor as an integral part.
Tow-behinds can include tent trailers, which are an excellent way to try out RVing. They're very reasonably priced and lightweight. You can find a tent trailer light enough to tow behind almost any vehicle. Tent trailers set up (and down) in a matter of minutes, and the "tent" part of it is watertight these days, so there's no more worrying about water coming through to drip on your forehead.
Tow-behinds can also include teardrop trailers (think "I love Lucy"), standard recreational trailers, and also the newer "toy hauler" trailers, with which you can bring along everything, including the kitchen sink. Teardrop trailers are not as lightweight as a tent trailer, but they are pretty light, mostly because they aren't all that large. The interior is typically reserved for sleeping, with the kitchen facilities on a fold-down tail in the rear.
Standard trailers come in a huge variety of lengths, from twelve feet or so to well over thirty feet. You can find models with just the basics to ones with options you hadn't even imagined-and, of course, prices to match. The "toy hauler" models are very similar, but many of the interior features like beds and sofas fold or otherwise stow away so that your ATVs or motorcycles can come along for the ride. The floors typically have recessed D-rings for strapping your toys down.
Save 50% Off Campsites with Passport America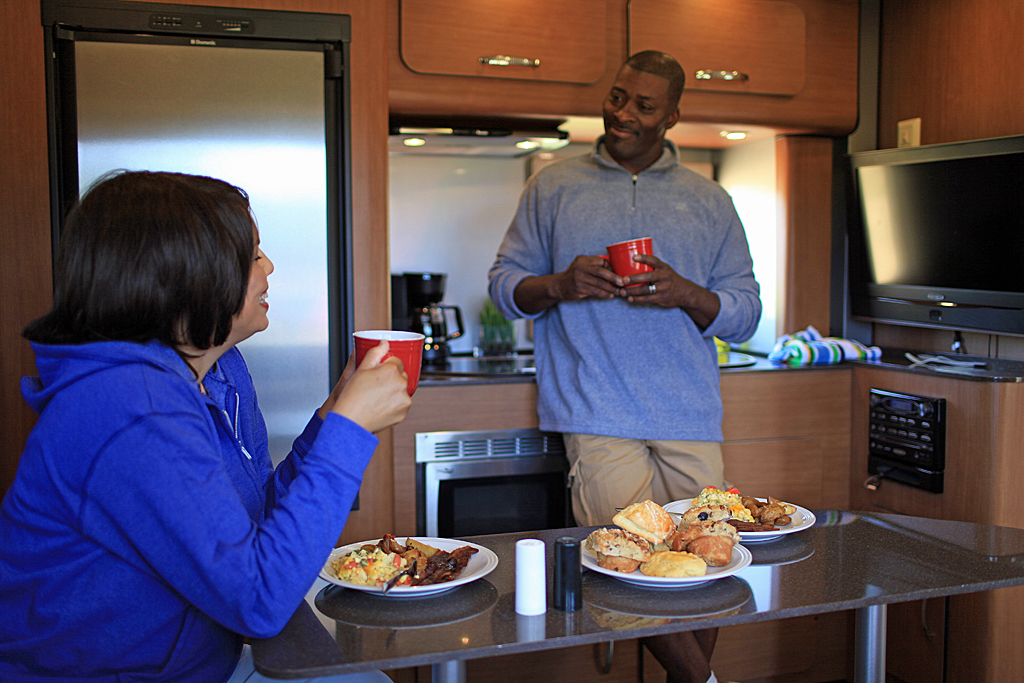 The final type of tow-behind is a fifth-wheel trailer. These hook into an adapter in the bed of your truck, rather than on a ball on the bumper. This can make the overall length a little shorter, although the front of the trailer, the part that rides over the truck bed, isn't as tall as the rest of the trailer. One nice thing about fifth-wheels is that they turn and corner in a shorter radius than standard tow-behinds.
Then there are the motorized RVs, typically called motorhomes or motorcoaches. The nice thing about these is that, when you pull over to camp, there's no getting out or setting up. You just unbuckle your seatbelt and you're ready to go. However, with a tow-behind you're not devoted to your engine-you can get a new car or truck and still keep your trailer. With a motorhome it's all or nothing. Some people tow a small car behind the motorcoach so they can get to the grocery store without taking the RV.
Of course, since the engine is included, a motorcoach is typically more expensive than a trailer or fifth-wheel. But don't forget to consider the cost of the tow vehicle into your calculations.
After deciding what type of RV you want and the price you're willing to pay, it's time to start looking! Don't discount an RV that's a few years old. Remember, few RVs are used on an ongoing basis. The vast majority get taken out only a few weeks or months of the year.
Save 10% on campground fees when you become a Good Sam member Today!
Many banks offer financing for RVs-check with yours first. Sometimes with an attached checking or savings account, they'll lower the interest rate a bit. Belong to a credit union? Some of them offer RV financing as well, often at better rates than the banks or savings and loans. You may find a special financing deal on a model offered through the dealer.
With any type of financing through any source, be sure to read, read, read that contract. Question anything you don't understand. Make sure the interest rate, term, payment amount, and any other important aspects of the loan are clearly outlined on the note you'll sign. Get a copy of the contract right there, when you sign. You'll protect yourself from later hocus-pocus by anyone else.
Call several places and get firm quotes on rate and terms. If you'd prefer to deal with Lender A, but Lender B is a quarter-percent lower with the same terms, call up Lender A and let them know. You'd be surprised how often Lender A will meet or beat Lender B's offer in order to get your business.
An RV offers you flexibility in your travel plans, and the comfort of being able to stay in familiar surroundings. Your family can spend time together, and you're not worried about creepy hotel rooms or third-world food. You'll create memories that will last forever, and family ties that will bind.
So get out there, explore the world of RVing. You'll be glad you did!
Do you have any suggestions or comments on this topic? You can add them to this page by using the comments section located below.
Return to the RV Lifestyle Articles page from the How to Buy the Right RV page