FTC Disclosure: I get commissions for purchases made through some of the links in this article For more information, visit our Advertising Disclosure Page.
How to Tow a Vehicle Behind Your RV
"This article will tell you how to tow a vehicle behind your RV"
How to Tow a Vehicle Behind Your RV
By Lydia Berg
Many RV owners choose to tow a vehicle behind their rig for a variety of reasons. Having a smaller tow vehicle gives RVers the freedom to explore cities, go off road, and just be more flexible while travelling. However, towing a vehicle behind an RV does have some downsides and complications. This article will tell you how to tow a vehicle behind your RV.
Touring the country in an RV is a great way to travel. You can drive across the country from the California coast to Manhattan Island in New York City while sleeping in your own bed in air conditioned comfort the entire time. However, a giant RV is not always easy to maneuver, especially on city streets and in traffic. This is why pulling a tow vehicle behind an RV is so appealing. The tow vehicle can be disconnected and RVers can leave their rig behind as they go shopping, run errands, and go sightseeing, all with greater flexibility and far better gas mileage.
Of course the benefits of a towed vehicle may be obvious, but what are the drawbacks? Towing a vehicle will reduce your gas mileage a bit, and it will make your RV a bit harder to control. It can also make backing up a huge pain. None of these things is likely a deal breaker, but they should be noted and expected for those who decide to go the towing route. 
Now that you know what you are getting into, we can get to the how to portion. There are three ways to tow a vehicle behind an RV. They are four wheel down (or dinghy towing), two wheels down (using a tow dolly), and four wheels up (towing on a trailer). Each of these have their advantages and disadvantages. 
Don't Miss Out! All Good Sam Roadside Assistance Plans Are 50% Off! Learn More!
Four Wheel Down
This is the most convenient type of towing using a Tow Bar (pictured above) because the vehicle can be unhooked quickly and has minimal effect on gas mileage and handling. The downsides are that you will need a vehicle that supports this type of towing. This type of towing also puts wear on the tires, suspension, and other parts of the tow vehicle. The vehicle you tow must have a manual transmission or an automatic transmission that allows 4 wheel down towing.
Two Wheels Down
Tow Dolly
This method of towing is less convenient than four wheel down as the front two wheels of the vehicle are secured onto a tow dolly (pictured above). It can be difficult to align the wheels onto the dolly and it must be removed from the dolly each time you want to use it.
Four Wheels Up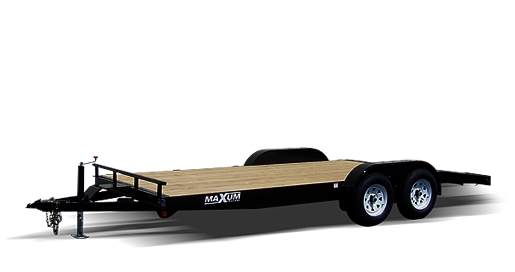 Car Trailer
This is towing your vehicle on a Car Trailer (pictured above) the same way you would tow an ATV.  This is a good way to tow a vehicle that was not made to be towed. This keeps all wheels off the ground and saves wear and tear on the vehicle. Of course the vehicle must be carefully driven off and on the trailer before you can move on, which can be a hassle. 
Once you have chosen a tow method just remember to be aware of the extra length when driving and changing lanes. Also be aware of changes in vehicle handling and turning radiuses. It is also a good idea to use tow chains, hazard lights, and any other safety gear required where you will be travelling. 
Get Your Article Published on Everything About RVing
If you have written an article about RVing, Camping or the Great Outdoors and you would like us to publish it on Everything-About-RVing.com, please visit our
Submit An Article Page.
Do you have any suggestions or comments on this topic?  You can add them to this page by using the comments section located near the bottom of this page.
LEARN HOW TO RUN 2 RV A/Cs ON A 30 AMP CONNECTION

Recommended Reading For You
Over 1,500,000 successful roadside rescues—Good Sam RV Emergency Road Service
Good Sam Travel Assist: Emergency coverage for you, your family, and pets. Plans Starting at $59.99 Shop Now!
Return to the RV Lifestyle Articles page from the How to Tow a Vehicle Behind Your RV page