FTC Disclosure: I get commissions for purchases made through some of the links in this article for more information, visit our Advertising Disclosure Page.
7 Hacks to Make Your Old RV Look New Again
These hacks will help you make your older RV look new again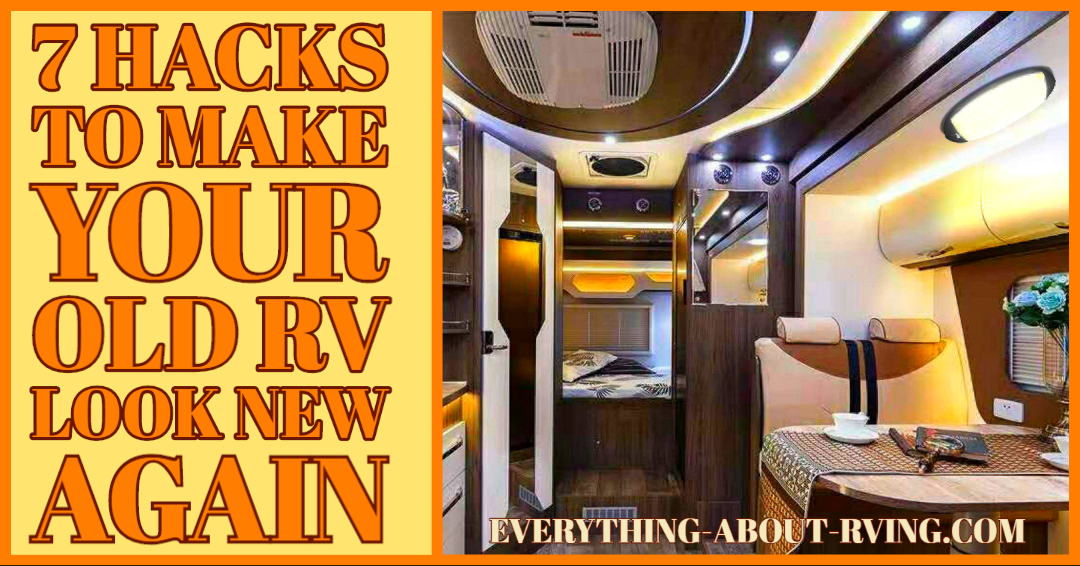 By Nicole Cowart
Your old RV should not look old. Sure, it has taken some punches on the road but you can pump new life into it. There are many hacks that you can implement to revamp your RV. They are quick and easy to implement and can be accomplished with materials that are affordable and readily available. Don't hold back on the potential of your RV, try as many remodeling ideas as you can.
Share This Page
Save 10% on campground fees when you become a Good Sam member Today!
From decorating your walls with trendy wallpapers to repainting the exterior of your RV in colorful designs, here are the 7 hacks to make your RV look new again.

1. Use wallpaper
The interior walls of your older RV have probably been painted but the painted or have older wallpaper. Well, there is a better alternative, wallpaper the walls with new more trendy patterns.  You can use as many colorful designs as you want to match the mood of your interior.
2. Install LED lighting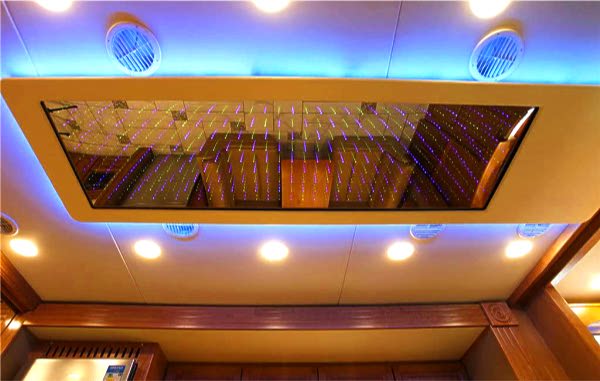 One of the best ways to revamp your old RV is to install new LED lighting. LED lights can replace older lights on the wall or the ceiling of your RV. For dark areas inside your RV that don't have existing lights, you can install battery-operated long lasting LED lights, that you can switch on when needed.  You can use solar powered lighting to light up the area on the outside of your RV. 
3. Use command hooks and tension rods 
Vertical spaces of walls are rarely fully used in RVs  You can use command hooks in your kitchen to hang cooking utensils. You can use them in your closets to hang coats, and in your RVs common area to hang pictures. Use tension rods in the shower to hang towels and damp clothes. 
4. Reupholster the furniture
The fabric on your older RV's furniture could be worn, faded, torn or an out of date pattern. You can simply buy new more stylish material and reupholster your old furniture.  If your upholstery has completely lost its density, you might consider re stuffing your couch.  This could be a Do I Yourself project or you can have a professional do the job, either way it will cost less than buying new RV furniture.

5. Add Indoor plants to add life
Save 10% on campground fees when you become a Good Sam member Today!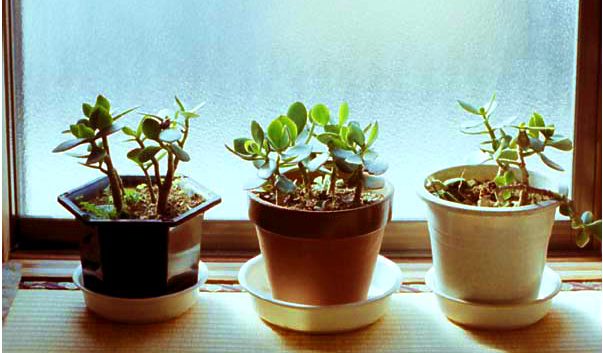 If you want your RV to have an outside camping feeling. There's no better way to do it than to introduce indoor plants. You should place flower pots and hanging green gardens at the corners of your RV where no one can run into them. They will provide a rejuvenating outdoor ambiance giving you the inspiration for performing other creative tasks. 

6. Use mirrors to make your RV look larger
Mirrors make any space feel bright and airy. This is the same reason you should use them in your RV. Fit them on bare walls where the lighting is sufficient. Go for all fun shapes and sizes, do not limit yourself to rectangular and square ones. Great use of them will make your interior feel twice as large and will reduce the need for artificial lighting during the day.
7. Paint the exterior of your RV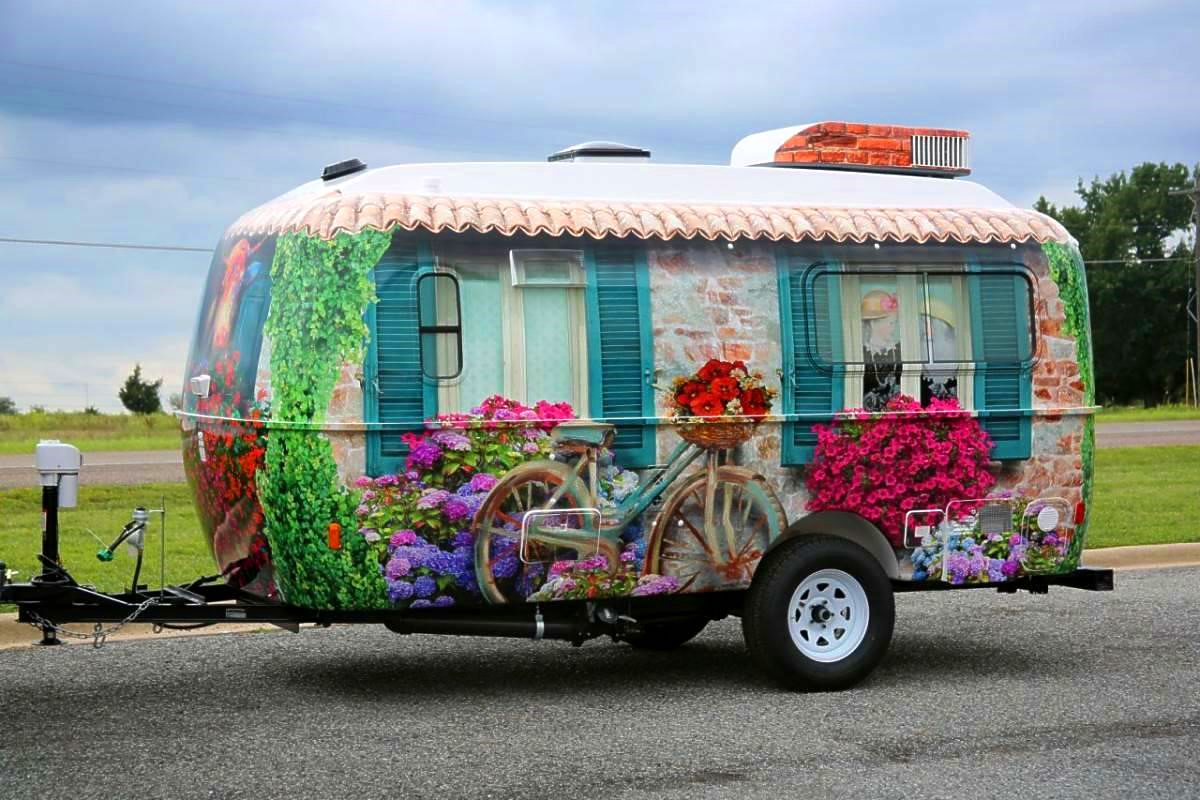 If the exterior of your RV is faded, you can paint it.  If you want to get real creative, you can turn it into a piece of art like the Travel Trailer pictured above.  Before you start painting your RV exterior, you want to clean the surfaces first, scrape and sand to remove loose paint. Of course, you can always take it to a professional to repaint your RV.  Repainting an RV costs far less than buying a new one.
Conclusion
The best RV remodeling ideas are DIY friendly (depending on your skills); they cost less and take little time. You do not need to carry out hefty tasks of redoing the floors and the ceiling or even fitting new windows and installing new counter-tops. The hacks above are simple and perfect for any type of RV project; whether you are upgrading a large motorhome or a pop-up camper. Another advantage to these improvements is it can increase the value of your RV.

About The Author
Nicole Cowart writes articles and essays on a variety of DIY topics at https://customwriting.com/. She is an expert in hacks for RV remodeling. Her tricks and tips come in handy for interior designers and motorhome owners looking to try out new ideas.
Do you have any suggestions or comments on this topic? You can add them to this page by using the comments section located below.