FTC Disclosure: I get commissions for purchases made through some of the links in this article for more information, visit our Advertising Disclosure Page.
Summer RV Maintenance Tips to Extend the Life of Your RV
During the summer, the temperature inside of your RV can rise to more than 40 degrees higher than outside of your RV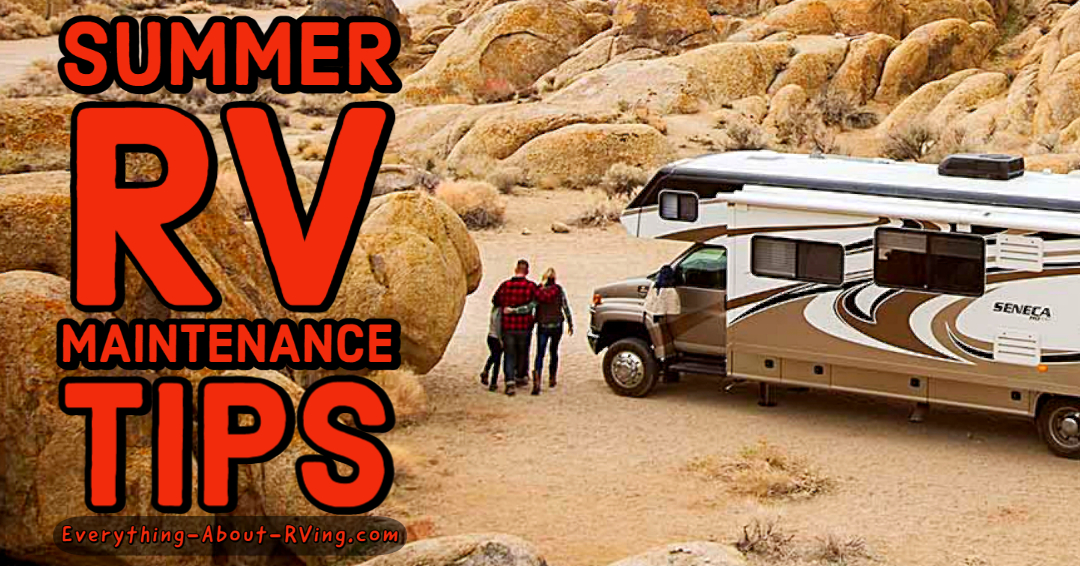 By Brian Shreckengast
How can you protect your RV during the summer? The summer sun can cause permanent damage to your engine, battery, tires, paint, interior and even airbag – this article will cover what you can do to mitigate the sun's effects and prevent serious damage from occurring.
Share This Page
Save 10% on campground fees when you become a Good Sam member Today!
Protecting Your RV from the Harsh Summer Sun
RV maintenance during the summer is just as important to the lifespan of your vehicle as during the winter. If you want to extend the life of your RV, you will also need to take measures to protect it from summer weather. This will require more than an oil change and checking your tires at the beginning of summer -- sun exposure and heat can cause permanent damage to an RV's: 
During the summer, the temperature inside of your RV can rise to more than 40 degrees higher than outside of your RV. In order to protect your RV from the damage caused by the sun, I have written down some steps you can take before, during and after summer. 

Under-the-Hood RV Maintenance
Change Your Engine Fluids
Prevent your RV from overheating by topping off the following fluids at the beginning and throughout summer:

When topping off your radiator fluid, you should wait at least an hour after driving before opening the cap. Before taking your first trip during the summer, be sure to get a radiator checkup and have your hoses checked for cracks and leaks to prevent any unforeseen issues brought on by summer heat. Since more dust circulates during the summer, you will also want to examine your air filter, which, if clogged, can lead to mass air flow sensor damage.
Sign and Drive Coverage with Good Sam Roadside Assistance! Plans Starting at $49.95! Shop Now!
Extend Your Battery Life 
Battery fluid tends to evaporate in hot weather, so it is important to refill your battery fluid and test your battery at least twice each summer. Bring a bottle of distilled water on the road in case you need to top off your battery fluid. When your RV is not in use for a long period of time, such as during storage, disconnect your battery to prevent corrosion on the nodes. 
Protect Your RV Interior
Keep Your RV Clean & Protected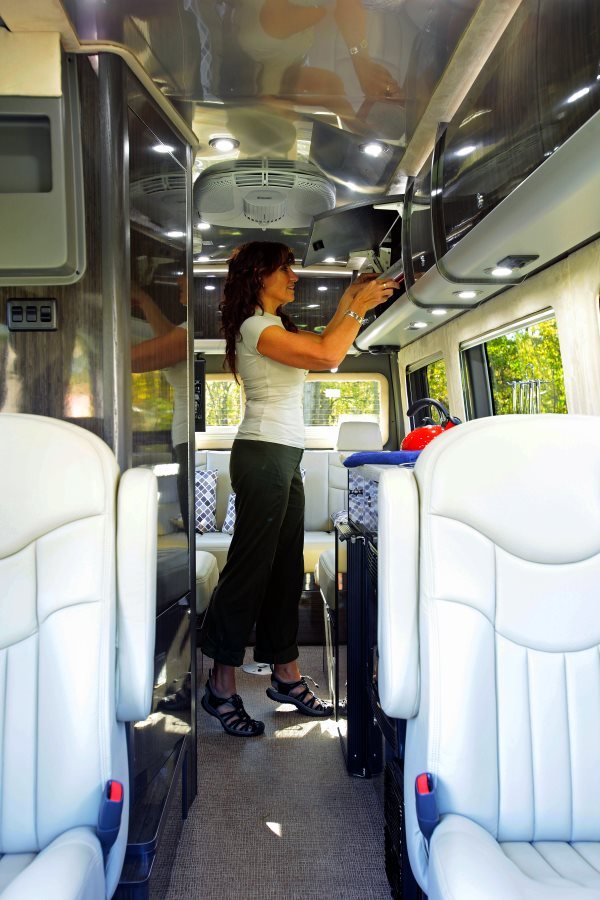 In order to protect your seats, dashboard, steering wheel and other sections of the interior, you should apply an interior trim and seat protectant at the beginning of summer. Be sure to read the labels on the products you are using to verify that they are appropriate cleaners and protectants for your interior materials. For leather, use an oil or conditioner-based cleaner or protectant to prevent your seats from drying out and cracking after long and repeated sun exposure. 
Keep a hand vacuum on hand to clean up messes before they melt and adhere to your interior. When battery-operated devices are not in use, batteries should be removed and placed in a zip lock bag to prevent any acid corrosion brought on by heat from ruining your interior or devices.

Save 10% on campground fees when you become a Good Sam member Today!
Keep It Cool
The UV rays that crack steering wheels, dashboards and seats can also damage airbags. Use seat and steering wheel covers to protect materials. Placing a sunshade in your front windshield and rear window will save your interior from being bleached and dried out by the sun. Using sunshades, window shades, UV-blocking film and patio and window awnings can also help keep your interior around 50 degrees cooler.
When air gets trapped inside of an RV, just like a car, it can heat up quickly, which can raise the steering wheel, seat and seatbelt temperatures to 150 to 180 degrees depending on your location and level of shade. Opening a window can be an easy and economical way to reduce the temperature inside of your RV, but using an air conditioner when a vehicle is not moving can also help save your interior from damage.

Save 50% Off of Campsites with Passport America

Protect Your RV Exterior
Clean & Wax Your RV
Exterior paint, rubber and plastic trim can be damaged by the summer sun. To protect your paint, wash your RV often to remove dirt and grit that can cause scratches and chipped paint. You will want to wax at least once at the beginning of the summer to prevent further scratches from dirt, protect your paint and create a shiny surface that will reflect more of the sun's rays, further reducing radiant heat. Be sure not to wash your tires too frequently, as this can strip the tires of oils and age the tires.

You can also reduce the foggy appearance on your headlights, allowing for clearer light, by polishing your headlights with toothpaste and car wax. After waxing your RV, apply a rubber trim protectant to prevent cracking of trims and window seals (and roof if applicable). Don't fail to protect your decals and graphics from dirt and sun damage with a paint protection film. Cleaning, drying and waxing your awning will help prevent discoloration caused by dirt, bugs and UV rays and mildew from a damp and dark environment when it is enclosed.


LEARN HOW TO RUN 2 RV A/Cs ON A 30 AMP CONNECTION

Park & Store Wisely
Choose a shady area to park so that your RV is not left in direct sunlight for a long period of time, reducing the temperature of the interior and exterior. Using a reflective tarp, UV-protective cover, canopy or carport can protect your RV from UV rays, heat, bird droppings, oxidation and acid rain. Be careful when using a plastic tarp as a protective barrier as it can trap moisture, cause rust and isn't the most durable option long-term. If your vehicle is left uncovered, you can extend the life of your windshield wipers by either purchasing a blade cover or, a cheaper alternative, a swimming noodle to cover your wiper blades.

Because heat causes the air in tires to release more quickly, you need to check your tire pressure at least monthly during the summer season (should be checked in the morning hours when it is the coolest). This can help avoid tire blow outs on the road from underinflated tires, which are very common during hot weather. Hot pavement can deflate a tire quickly and cause cracks in the tire's tread. Parking on a non-asphalt surface and covering your tires will extend the life of your tire and help prevent it from cracking due to heat and sun exposure. 

If you are parking your vehicle for a long period of time when it is not in use, choose an indoor storage facility that is air conditioned or temperature controlled, and keep your tire pressure at the recommended level during storage to prevent any damage from under-inflated tires.

About The Author
Brian Shreckengast is a writer and designer at SelfStorage where he writes about moving tips, organizational techniques, and self storage solutions, including indoor vehicle storage: https://www.selfstorage.com/vehicle-storage
Do you have any suggestions or comments on this topic? You can add them to this page by using the comments section located below.
* Photo Reprinted under Attribution: CC license: Flickr, Larry & Teddy Page
** Photo Reprinted under Attribution: CC license: Flickr,  JTOcchialini