FTC Disclosure: I get commissions for purchases made through some of the links in this article for more information, visit our Advertising Disclosure Page.
RV Spring Cleaning Tips 
RV Spring Cleaning Tips 
By: FMCA

Here are a few less-routine RV spring cleaning tips to help you prepare your RV for the season ahead
Spring is in the air! FMCA has gathered a few less-routine RV spring cleaning tips that are easy to overlook when you're excited to prepare for the season ahead.
Exterior Cleaning 
Insects, especially mud dauber wasps, like to build nests in refrigerator burner tubes, rooftop tank vents, water heater vents, and furnace chimneys. Check and remove any obstructions.
Spring is a good time to seal your RV's exterior with a wax or poly sealant. This will provide a barrier to the elements and protect your rig throughout the year. Consult your RV owner's manual for recommendations for the particular finish of your RV.
Windows, door frames, vents, and any rooftop protrusions (plumbing, air conditioner, satellite, or antennas) should all be cleaned. They also need a good bead of sealant to prevent water intrusion. Check for any cracked caulking, and re-caulk any problem areas.
Don't forget to check your RV storage areas. Odds are that dust and dirt have settled here. Sweep out and, if needed, wash these compartments.   
Good Sam Travel Assist: Emergency coverage for you, your family, and pets. Plans Starting at $59.99 Shop Now!
Carpet and Furniture
Carefully check your RV's carpet and furniture. Unfortunately, an RV can be a haven for insects, mice, or other rodents during the cold winter months. Mice have been known to chew through carpet or furniture to make their nests.
Wash items that you may just spot-clean throughout the year, such as heavy bedding, rugs, pillows, etc. Before you hit the road this spring, now is the time to take care of items that can be difficult to clean while on the road.
Clean upholstery and furniture per your RV owner's manual instructions. Some finishes, such as suede or leather, need special care. Leather can keep its beautiful finish for years if properly maintained.
Spring is a good time to vacuum and steam-clean the carpet. This will help prevent odor problems and is another task that is more difficult to complete during the RV season.
Kitchen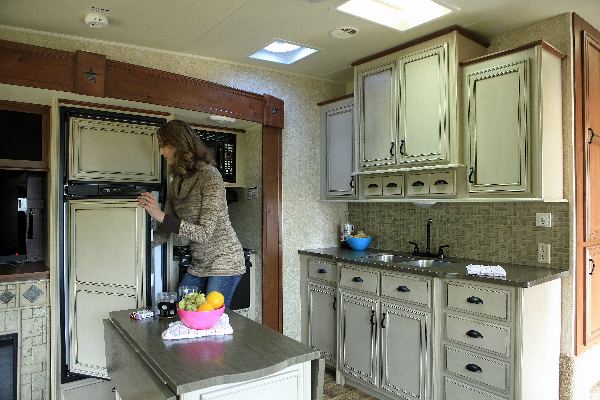 Clean the air filters on the microwave oven and stove hood exhaust. Replace as needed.
Speaking of filters…there may also be filters on your water lines for incoming water. Check filters for the sink or ice maker, and clean as needed.
Clean the interior of the refrigerator with a good disinfecting cleaner. Leave the doors open to allow for air circulation.
Bathroom
Clean the toilet, sink, and shower with a mild cleaner such as lemon juice and baking soda. Try to avoid bleach products, as they can degrade the seals in your holding tanks over time.
Check your bathroom cabinets for expired medications and products. Make sure your first aid kit is stocked.
Removing RV Odors
The need for odor and moisture control is greatest when an RV is closed up and placed in storage during the off-season. Mold, mildew, and bacteria love to grow in enclosed spaces where the air is not refreshed. Air fresheners help, but they merely mask odors rather than remove them. To remove odors that have a foothold in your RV, consider using an activated charcoal odor removal substance, such as Bad Air Sponge.
Save 10% on campground fees when you become a Good Sam member Today!
And Don't Forget
Spring cleaning is the perfect time to check the batteries in your fire detector and carbon monoxide detector. This is a simple and important step to protect your family throughout the year. 
Hopefully these less common tips provide ideas as you begin your RV's spring cleaning. Happy RVing!

About The Author
FMCA RV Club brings you this monthly tech tip to Enhance Your RV Lifestyle. FMCA delivers RV know-how to its members. Learn more at FMCA.com or FamilyRVingMag.com. 

This information is for educational purposes. FMCA shall not be responsible nor retain liability for RVer's use of the provided information. Prior to making any RV service decision, you are advised to consult with an RV professional.