FTC Disclosure: I get commissions for purchases made through some of the links in this article for more information, visit our Advertising Disclosure Page.
RVer Business Ideas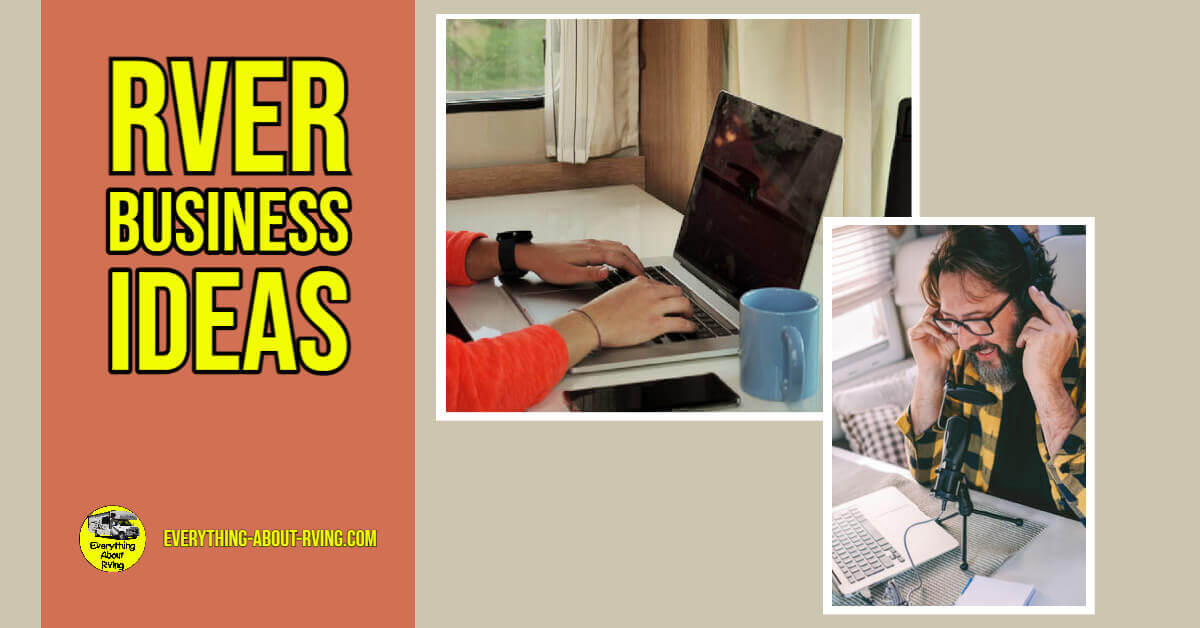 By Lafond Wanda
These RVer business ideas will help you earn enough to sustain your RV lifestyle
Leading the RV lifestyle gives you endless opportunities to travel and be independent. On the other hand, it can limit you when it comes to your job opportunities. Yet, there are many Rver Business Ideas you can try to earn enough to sustain your RV lifestyle.
Share This Page
Save 10% on campground fees when you become a Good Sam member Today!
Living or traveling in an RV opens endless opportunities for you. There are so many places you can visit, things you can experience, people you can meet, and events you can attend. That being said, you are also limited in your options when it comes to finding a job to sustain your lifestyle.
Luckily, many RVers have faced this problem and successfully solved it. You could do many things to earn enough for your RV lifestyle. Here are the best RVer business ideas for you to review.
#1 Freelance Content Creation

The first and likely most popular option is providing content as a freelance writer. Freelance writing is one of the best options for RVers because it allows you to work from anywhere and usually on your own schedule. It is a very flexible setup for anyone who can offer services that can be delivered remotely.
Obviously, content creation takes the lead within the umbrella term of freelancing. Freelance writers, editors, graphic designers, etc., are very common nowadays. Companies, both big and small, work with such independent professionals. That being said, you could also work for individual clients if you don't want to work for companies.
#2 Dropshipping Online Store
If you like managing something instead of creating, opening a dropshipping online store might be ideal. Dropshipping has been around for a while, but it has become even more popular in the past few years because of the growth of the e-commerce industry due to the global pandemic.
The barrier of entry is relatively low for dropshipping, but you will need patience and determination to kickstart your business. Do some research and find the niche that you want to work with. Choose your suppliers and set up your dropshipping store – and start selling! There are many free online resources you can use that will help you get started, but you will find some of the best tutorials on the Shopify Blog.
#3 Personal Online Store

Some people like managing their online store without creating their products. However, if you have always dreamed of selling things you made, opening your personal store could be a good alternative. Here are some options depending on what kind of products you create:
Clothes (including recycled clothes) – Sell them on platforms like Depot
Art – Set up your own store on Shopify or use a print-on-demand platform like Redbubble
Jewelry and Home Goods – Start selling them on Etsy or open your online store on a separate website
Computers and Tablets at Great Prices
#4 Academic Assistance
Some people don't want to sell products – created by themselves or others – and would rather sell services. If this is the case, then you should consider academic assistance as an option. If you have a high school, undergraduate, graduate, or post-graduate degree to prove your qualifications, you could start offering your academic help services.
There are many ways you can offer such help. For instance, you can write literary summaries for websites like SuperSummary. Or you can help students solve their homework by completing physics and mathematics exercises. Or you can become an academic writer and get listed on the writing services reviews site Rated by Students to start providing academic writing services.
#5 Online Tutoring

Directly related to academic assistance is online tutoring. You could sometimes teach students at the high school or college level. In other cases, you could be teaching subjects that don't belong to a specific level of education, so they could be taken by anyone who is interested in the subject matter.
For example, you can create a course about living the RV lifestyle. If you know a lot about gardening, you could teach people about that. If you are experienced in graphic design, you could create a course about it. Even if you simply know English very well, you could teach English. Platforms like Skillshare make it easy to start offering your own courses.
#6 Virtual Assistance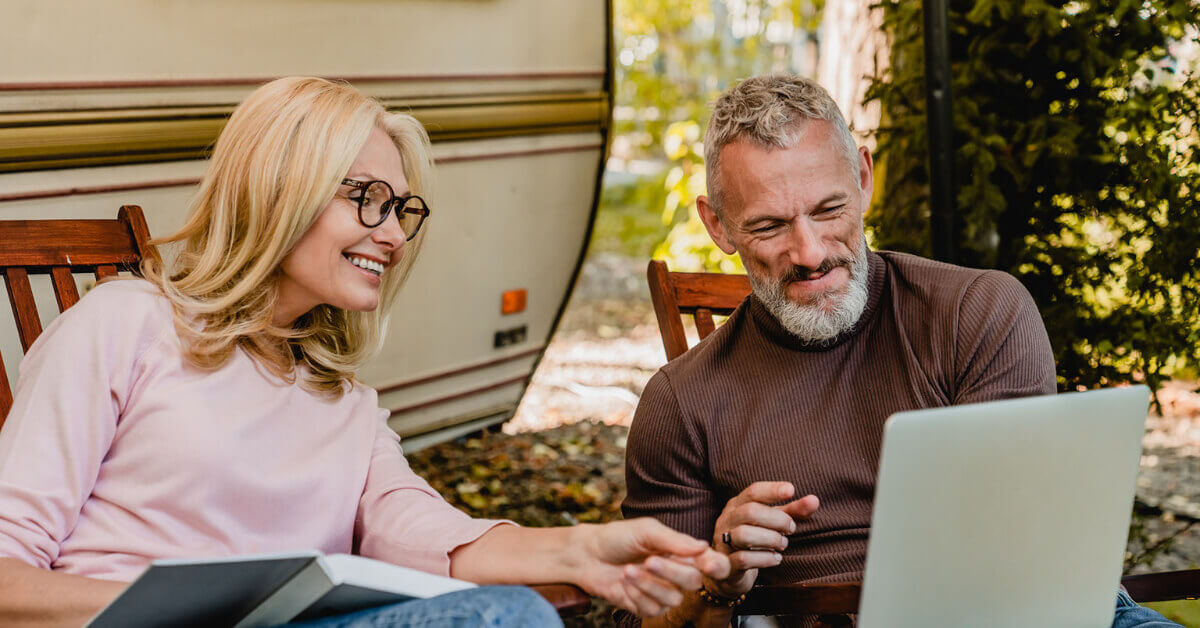 If you don't have a particular skill you want to utilize to offer your services, you could consider becoming a virtual assistant. The requirements for such jobs can vary, but most virtual assistants need to perform various tasks for the person they are assisting, ranging from scheduling to online research.
Essentially, a virtual assistant is like a personal assistant or secretary who performs their tasks remotely. It's an excellent alternative for those who don't want to be present in the office while still performing the tasks a personal assistant or secretary normally would.
#7 Being an Influencer
Though this may sound unrealistic to you initially, becoming an influencer is a legitimate option for you as an RVer. Just think about it: you are leading a lifestyle that is unfamiliar to many people. By starting a YouTube channel or opening an Instagram account, you can share your experiences with these people and become a travel blogger or influencer.
Once you have a big enough follower base, you can start getting brand deals and earning money from such sponsorships. Alternatively, you can become an affiliate of the brands you like by enrolling in their affiliate programs (e.g., Amazon Affiliate Program). In both cases, you would use your influence to promote products and make money that way.
#8 Book Writing
If you like writing but don't want to become a freelance writer, you may want to consider becoming an actual fiction or non-fiction author. Such writers aren't expected to sit in the office all day and write their books. In most cases, authors write their books on their own and keep in touch with their editors via email.
This means you have a lot of freedom to do what you want, including traveling in your RV. If you want to be an author but don't think you can manage all of your book writing on your own, you can always hire professional writers from the custom writing reviews site Top Writing Reviews to help you write more books.
#9 Independent Reporting
Another option for writing enthusiasts is to become an independent reporter. Because you are traveling so much, you can attend different events and report on the latest news from where they happened. As a result, you can become an excellent independent reporter or journalist.
Besides, you could combine your love for writing with your passion for something else. For example, if you love sports, you could travel in your RV to all the sports events you are interested in and report on them. You can submit your articles to sports-focused media outlets or publish them on your blog.
#10 RV-Related Services

Last but not least, consider offering RV-related services such as fixing RVs, refurbishing RVs, giving consultations, and so on. You are an RVer, so you have a fair amount of knowledge and experience with RVs, which makes you an expert on the subject. There will be people new to the RV lifestyle who want to have someone who can help them. Be that person and offer your services!
Final Thoughts
To summarize, living in an RV doesn't immediately mean that you can't have a good salary that can sustain your lifestyle. In fact, you could find an excellent job that will let you stay independent. Or you could start your own business like you always wanted to! In any case, consider the business ideas in this article and choose what works best for you.
About The Author
Lafond Wanda is a professional content writer, copywriter, content strategist, and communications consultant. She started young with her writing career, from being a high school writer to a university editor. Now she is a writer on professional writing platforms— her years of expertise have honed her skills to create compelling and results-driven content every time.