RVing Dog Days in Tecolote, Baja Sur
by Dan & Lisa Goy
(Baja Amigos RV Caravan Tours)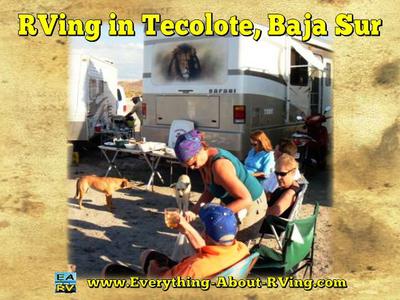 RVing Dog Days in Tecolote, Baja Sur
Editors Note: This was submitted on our What Is Your Favorite RVing Or Camping Destination Page

One of our favorite stops on tour is Playa Tecolote, a very popular public beach frequented by La Paz locals. Normally we see little public traffic here other than RVers from December through February; the crowds do start to grow on weekends as the weather warms up (remember we see Mexicans wearing ski jackets at 20C/70F in January). 10 years ago we would be sharing the beach with 30-50 RVs over the winter, these days 10-20 campers. Mostly Canadians, lots of Europeans and always a few Americans.

What has remained constant is the dogs we find there when we arrive. A few of the dogs actually belong to local fisherman or residents, others are homeless, running as a pack, scavenging food and water whenever and wherever they can. Rarely do we see the same dogs from season to season, they are either rescued and adopted or eliminated by local authorities prior to the summer crowds arriving. The vast majority of Tecolote dogs have been born on the beach, often the mother has a den in the back dunes or near one of the many restaurants. Some of these canines are much friendlier than others, the group packing behind the beach are skitterish and very fearful of people. Many (including us) place fresh water out and occasionally feed all the dogs, in return you gain a security service at night, as they sleep around your rig barking out an alarm when
disturbed.
We have 2 dogs, Jitterbug & Lulu, (both Baja adoptees) and for the most part everyone (dogs and people) co-exist well. Sometimes they mix other times they keep the pack at bay, we let them figure that out. Last winter we met an American named Peter, who regularly fed and watered the dogs, many of which were later adopted by RVers. Any dogs adopted from Baja are extremely loyal, they seem to know instinctually that a better life awaits them. We encourage folks on tour with us to always consider returning home with a pooch from Baja, they will love you forever.
Playa El Tecolote, (Owl Beach) is located at the tip of the short peninsula which juts into the sea of Cortez a short 24 km from La Paz. This beach and has been described as one of the most beautiful beaches on the peninsula. Swimming and kayaking are always popular here and because El Tecolote is open to the stiff breezes of Canal de San Lorenzo the camping is largely insect-free. This is a boondocking (dry camping) spot and many RVers make this beach their winter home for the entire season; the days are warm, the nights cool and simply perfect.
Dan & Lisa Goy
Baja Amigos RV Caravan Tours
Tell Us About Your Favorite RVing or Camping Destination
Do you have any suggestions or comments on this topic? You can add them to this page by clicking on the "Click Here To Post Comments" link located near the bottom of this page.